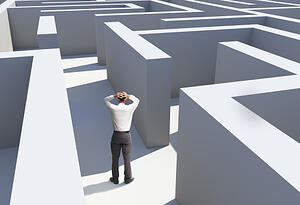 Just about anyone who's read anything about marketing in the past few months has seen articles and data supporting the need for content marketing within your company's marketing mix.
And anyone who's tried to execute a content marketing campaign has had at least one or two challenges with efficient execution or the performance of that campaign.
Once you start executing a content campaign, it's easy to get trapped in what we call the Content Marketing Maze.
It's a maze of the reoccurring tasks associated with creating content, without ever realizing the benefits and leads promised by all of the experts.
So, here are some secret passages and trap doors to get you out of the maze and into a slew of highly qualified leads for your business.
Plan Out Everything
You can't wing a content campaign. If you're writing without a content marketing strategy, you're going to be disappointed in the results. And the only reason you're creating any content in the first place is to get leads. There is a very specific methodology to ensure that your content garners leads, but if you don't follow it, content becomes a major drain on resources. The first part of planning out a content campaign is knowing what questions your prospects are asking during the awareness, consideration and decision phases of their buyer journey.
Then, take the keywords and keyword phrases that you want to be found for and integrate them into the answers to those questions. Now, you have the framework for what to write about. The next step involves understanding how much content you need in order to get the leads you want. To keep that simple, let's consider two types of plans: Plan A involves daily blogging and monthly content creation, while Plan B includes weekly blogging and quarterly content creation. If you're looking for major increases in lead generation from inbound marketing, you should consider Plan A. If you're looking for more modest lead generation or you want to go slow at first, Plan B is probably better for you.
Use A Methodology
Once you pick a plan, the actual content creation requires a structure. We utilize the hub-and-spoke methodology, and I'd suggest that you consider something similar. A methodology ensures that your premium content, blog articles, social media, email marketing, video marketing and search engine optimization efforts are forever synchronized. This synchronization triggers an improvement in both visitors and leads.
Create Content For All Phases Of Your Buyer's Journey
Another mistake that many people make is having content for the top and bottom of the funnel but not for the middle. Sometimes, bottom-of-the-funnel offers are weak content offers. "Sign up for a demo" is an overused one that often fails to deliver the amount of leads necessary to hit preset revenue goals. Make sure your content offers add value for your prospects.
This is where we talk about the No-Risk Offers for the top of the funnel. These offers typically look like whitepapers and e-books, and since they need to be risk free, they usually only require an email address for people to access the content. Low-Risk Offers are for the middle of the funnel and typically look like webinars, workshops or online assessments. These require prospects to give you more information, as you'd expect for attending a webinar.
Finally, Direct Business Offers fit perfectly for the bottom of the funnel and need to be interesting enough for prospects to feel comfortable. One of our better bottom-of-the-funnel offers is "Get 30 Blog Ideas In 30 Minutes." This has something of value in it for our prospects, and in exchange, we get to speak with them personally about their company, their marketing and their interest in what we do.
Create Content For All Types Of Buyers
This is an easy one. Not everyone wants to read. So, when you look at your content in its entirety, make sure you have written, video, graphic, slide show and even interactive content that connects with all types of people. This ensures that you don't miss any opportunities to turn visitors into leads when they land on your website.
Track, Test And Optimize Weekly
Today, content is 100% measurable. Within just a few days, you should be able to know if it's working or not. This requires you to be connected to the performance of your content. Monitor blog articles daily, watch long-form content (like whitepapers) weekly and keep tabs on more creative bottom-of-the-funnel offers monthly. Once you see the results you're looking for, let it run or maybe even double down. If you see lower-than-expected performance, try adjusting the title, tweaking the landing page or changing up the call-to-action button. If you're still underwhelmed, remove that content from your program and replace it with something else.
Content can be complicated if you don't manage it effectively. More important, content can waste a lot of time and money if you're doing it just for the sake of doing it. If you're not seeing leads as a result, it's time to pause and review how to turn the effort into a lead-generating machine.
Start Today Tip – Here's the first question to answer: Are you getting leads from your content marketing efforts? If not, or if you think you should be getting more, you need to evaluate all aspects. Are you integrating search with your content creation? Do you have content for all phases of the funnel? Do you have content for all types of people? If you're answering "no" to any of these questions, you're probably going to need different types of content in various formats, and you should consider how you deploy that content on your site and within your sales process. For more insight on how to do this, check out the January issue of 2Inbound.
Square 2 Marketing – Leading The Reality Marketing And Inbound Marketing Revolutions!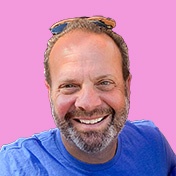 Mike Lieberman, CEO and Chief Revenue Scientist
Mike is the CEO and Chief Revenue Scientist at Square 2. He is passionate about helping people turn their ordinary businesses into businesses people talk about. For more than 25 years, Mike has been working hand-in-hand with CEOs and marketing and sales executives to help them create strategic revenue growth plans, compelling marketing strategies and remarkable sales processes that shorten the sales cycle and increase close rates.