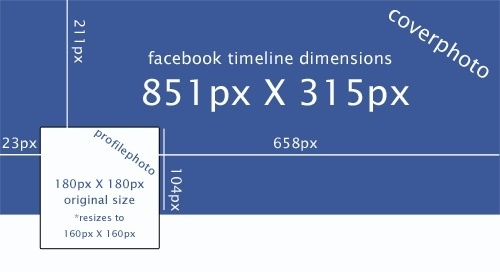 Do you ever just need all those social media image dimensions in one place? Between cover photos, profile photos and things constantly changing, it can be challenging to keep it all straight. The thing is, is that there are a lot of great images from infographics and such out there with different social media image dimensions and guidelines, but no one likes going to 5 different sites to find them all.
So, here's a nice little guide with examples for your social media image dimensions.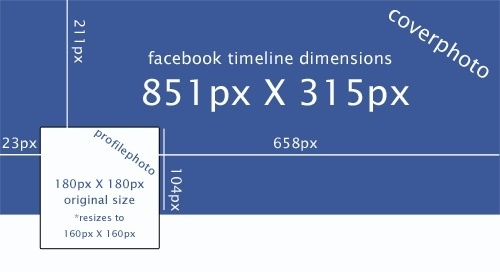 Facebook
The Cover Photo - 851 x 315 px
Profile Photo - 180 x 180 px (resized to 160 x 160 px)


And bringing it to life...


Timeline Photos

Status Update Photos - 403 x 403 px
Photos uploaded directly to the Facebook Timeline from status updates allow an image size of 403 x 403 px. Images larger than will display the center of the image and the rest of the image will not appear until the user clicks on it to enlarge.
Highlighted Photos - 843 x 403 px- o

n company pages, you have the option to highlight a photo so it stretches the width of the page at 843 x 403 px.
Twitter
Cover Photo & Profile Photo


This is the layout for the new Twitter look that is currently in the process of being rolled out, not to mention, I love it.
Checkout the way Hubspot utilized the new format
(Please ignore my who to follow suggestions the side. Must be from my recent Zac Efron follow. #embarrassing)
In-Stream Twitter Images - 440 x 220px
These are images you share to your feed. They are 440 x 220 px, vertically and no larger than 3MB.
Google+

The Profile Photo - 250 x 250 px
The Cover Photo - 2120 x 1192 px
Uploaded shared images to Google+ - 800 x 600

Bringing it to life once again...




Gimme that MK bag. Stat.
Instagram
Profile Picture - 161 x 161 px
Instagram is realitively painless. Any size photo can be uploaded that is not taken with the instragrm camera, it will just be cropped to fit the square image. The lightbox stream photos are imported at 612 x 612 px on desktop and 510 x510 px in the image feed.
Youtube
Profile photo - 800 x 800
Channel Art - 2560 x 1224
Video Thumbnail - 1280 x 720
Youtube channel art on different devices, to vary quite a bit:
Tablet Display: 1,855 x 423 px
Mobile Display: 1,546 x 423 px
TV Display: 2,560 x 1,440 px
Desktop Display: 2,560 x 423 px

Linkedin
Profile Photo - 200 x 200 px
Cover photo 646 x 220
Your business page on Linkedin needs a little personality too, give it a good cover photo.


Pinterest

Profile Photo - 600 x 600 px
Board Thumbnail - 222 x 150 px


Now, it's time for you to get rolling! Have questions about any of the dimensions? Let me know in the comment section below!