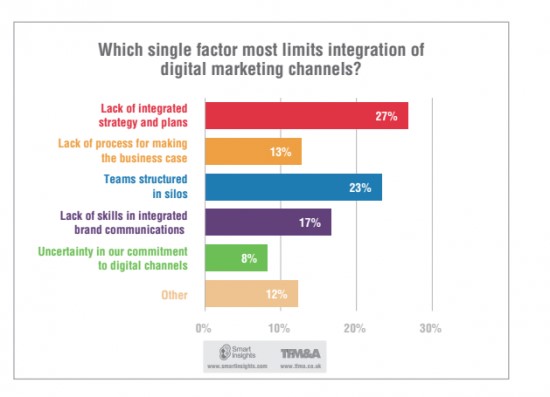 Inbound Marketing Requires Planning If You Want Results
We talk to so many CEOs and VPs of marketing who want to move to inbound or have tried to do so but are still challenged to see results that we started looking around to identify what might be holding them back.
While we certainly have our own theories on what the major issues are, we were surprised to find the following data from Smart Insights. This research shows that the leading factor limiting the results from digital marketing is lack of integrated strategy and planning. In fact, 27% of the respondents identified this as an issue.
In addition, 23% of them felt that their siloed teams were holding them back, so you could make a case that almost 50% of the companies running digital marketing campaigns are missing key strategy and planning components. That makes it an epidemic in our minds.
Here's how to address concerns around creating an integrated marketing strategy, removing siloed teams and showing results so you can build an ongoing business case for more inbound marketing resources.
Connect Inbound Strategy To Business Strategy
When you talk to a CEO or business owner about their business, and you ask them to tell you what makes it remarkable or what the business does, the answer is almost always lacking the most critical elements. They talk about themselves, use jargon or say the same thing all of their competitors say. This makes their marketing strategy insufficient to impact results.
If you want to improve the marketing strategy at your company, look in the mirror first. If you're not leading your company to be remarkable, if you're not guiding your team to tell stories that illustrate how you help clients or if you can't tell your story in 10 to 20 seconds, your marketing strategy is the reason you're not getting more leads.
What I'm suggesting you do isn't easy, but it's required. If you can't get this done on your own, consider bringing in experts who will walk you through a series of exercises to help you create your stories, build your differentiation and hone your messages to quickly engage prospects and draw them into your sales process.
Make Inbound Marketing Goal-Oriented And Quantitative
Inbound is the only marketing methodology that is 100% goal-oriented and 100% quantifiable. This means every single tactic has numbers associated with its performance. You always know what's working well, what's working relatively well and what's not working at all.
This also means you can roll up all of the tactics to make sure your overall marketing strategy is perfectly aligned with your business goals. For instance, if you have a $10 million business and you want to do $15 million in 2016, you need $5 million in new revenue. If each new client represents $1 million, you know you need five new clients this year. If you have a 10% close rate, you need 50 sales opportunities. If only 10% of the sales-qualified leads turn into opportunities, you need 500 sales-qualified leads over the course of the year to hit your business goals.
Once you know you need 500 leads, it becomes clear that you have to get about 42 leads a month. If your website gets 4,200 visitors a month and 1% of them convert into leads, you'll meet your mark.
Now that you know what you need, you can look at where you are today and build a plan to eliminate the delta. So, if you have 2,000 site visitors a month and you need 4,200, you know you are going to require a ton of "get found" inbound tactics to help your site drive more visitors.
Break Down All The Silos With A Revenue Team
Silos are a problem, especially today, when all the tactics need to be seamlessly connected. Search impacts content and web work. Short-form content impacts social media promotions. Content creates conversion offers all over the website. Content should also be used by sales to shorten the sales cycle. It's all very complicated.
Your best bet is to break it all down and start with a single cross-functional team called the Revenue Department. No marketing, no sales, no silos around marketing tactics. Just a team of people with one single goal: to drive the revenue numbers up month over month.
This way, everyone is working together to upgrade the website experience, to understand the personas and their buyer journey, to create content that answers their questions, to generate enough high-quality leads to support the sales goals, to revise the sales process so it's less salesy and more educational, to analyze the marketing and to objectively stop tactics that don't work and double down on tactics that do. This is the team you want in 2016.
How To Deliver Short-, Mid- And Long-Term Results
Inbound is unique in that you rarely see massive results in the short term. It's more of a build-and-grow model. Every month, you see modest improvements, and before you know it, the numbers are huge.
To give you an example, we had a client with 1,000 visitors to their website and almost no leads. The first month, they moved to 1,100, then 1,300, then 1,500. By the time the year was over, they had more than 4,000 visitors to their website, which is a 300% improvement. They also went from one or two leads a month to 45 leads a month – not enough to retire on, but a massive improvement.
The example above is about short-term and mid-term results. But, when you look at those numbers over the long term and see what they turn into in year two, that's when you start realizing some significant improvements. Going from 4,000 visitors a month to 10,000 visitors a month, and from 45 leads a month to 120 leads a month at the end of year two constitutes amazing program performance to us.
Yes, it took two years, but now they have a sustainable, repeatable, predictable marketing machine that produces over 100 leads a month for their business – all from inbound marketing. This is what you should be expecting from your program.
Get Outside Support
If you're struggling to get your strategy and plan together, you can't seem to connect the tactics to the business results and corporate revenue goals, you still have silos within your organization or the results don't seem to be coming, you're wasting a lot of time by not bringing in an expert.
There are many types of companies, big and small, that have the expertise to help you plan, build and grow an inbound marketing program. Before you hire one, make sure they actually have the expertise in planning. While lack of proper planning is found on the company side, it's just as prevalent on the agency side. Make sure they're going to take enough time to produce a strategic marketing plan that utilizes all the inbound techniques being executed today.
Start Today Tip – This tip is all about self-assessment. Do you have the strategic marketing thinking in place to move the needle? If not, stop everything and get that in place. Next, do you have the strategic integrations or connectors between ALL the tactics to get inbound to work properly? If those are missing, consider a suspension. Once you have these critical components, move forward with execution and keep close track of the results. I'm sure you'll see a dramatic improvement when you get those important pieces added to your program.
Square 2 Marketing – Inbound Results Start With ME!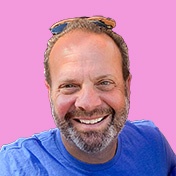 Mike Lieberman, CEO and Chief Revenue Scientist
Mike is the CEO and Chief Revenue Scientist at Square 2. He is passionate about helping people turn their ordinary businesses into businesses people talk about. For more than 25 years, Mike has been working hand-in-hand with CEOs and marketing and sales executives to help them create strategic revenue growth plans, compelling marketing strategies and remarkable sales processes that shorten the sales cycle and increase close rates.