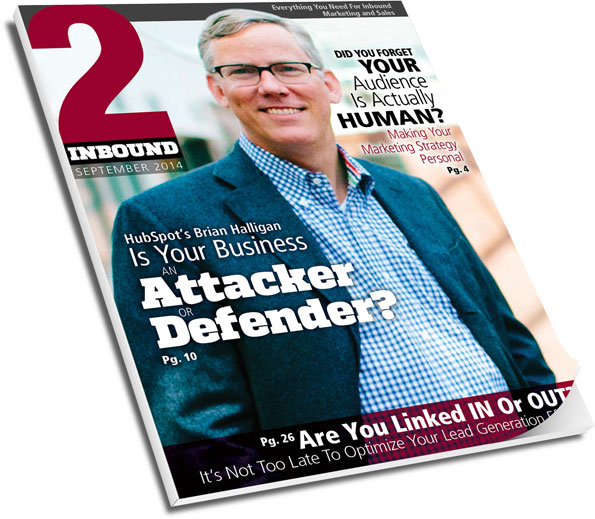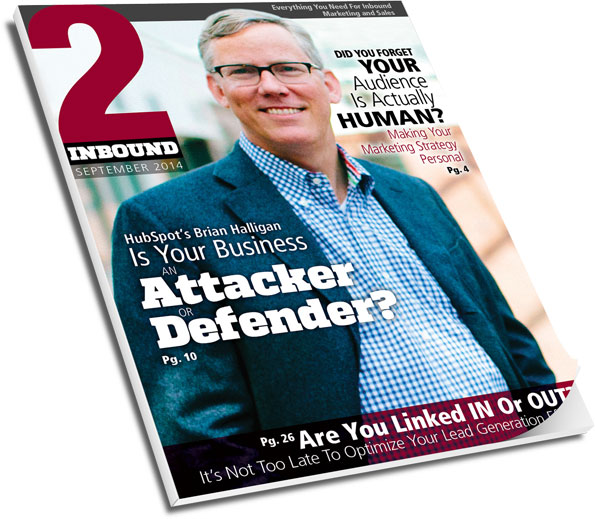 Back in August, we had the pleasure of sitting down with the inventor of inbound marketing, HubSpot Co-Founder and CEO Brian Halligan.
It was a rare opportunity to ask Brian about the future of marketing, his vision for inbound marketing and his newest passion: inbound sales.
Here are a few excerpts from the interview, originally published in 2Inbound, the only Web magazine committed to everything inbound. If you're interested in seeing the full article and video from the original interview, click here.
We took his comments one step further and gave you something to consider for your own business. Enjoy!
What Brian said: "Your success with inbound marketing is much more about the width of your brain than the width of your wallet."
What you should have heard: Today, you can compete with anyone. They might be bigger, be more established or even have more money. But if you're smart, apply inbound and take a different approach to the customer experience, you can win.
What Brian said: "Businesses today that are still marketing in the same old way, still selling in the same old way, still servicing in the same old way, I think they will really be up-ended by attackers in the economy who embrace a much more inbound experience."
What you should have heard: Most businesses are still resisting the dramatic change in buyer behavior. They are ignoring the facts sitting directly in front of them. We don't buy like we used to. Marketing and sales have to change. The companies that see this, make this change now and attack are going to be the companies that are left standing five years from now.
What Brian said: "I think CEOs need to send an inbound message. They need to be more open. They have to be available for feedback."
What you should have heard: Business today has to be more transparent. People click a few buttons, and they read reviews about your business, your products and your services. They can even read reviews of your company from your employees. Everything is transparent. You and your company have to adjust to this new way of doing business. You have to be much more authentic and transparent with your prospects, customers, suppliers and employees.
What Brian said: "Marketing as we know it is completely broken. The way people shop, the way people buy has radically changed, and marketers need to wake up and change the way they do it."
What you should have heard: Unless you're actively practicing inbound, you're wasting valuable resources (both monetary and human) on inefficient sales and marketing activities. The money you're spending on cold-calling, trade shows, direct mail, advertising and brochures could be reallocated to inbound and produce a far superior return.
What Brian said: "Madison Avenue's current business model is challenging in today's world. It's based on how many ads you buy. I just think that crashes in the next five years."
What you should have heard: This is primarily for agency owners, but what he's saying is that the traditional model, in which ad agencies buy ads for their clients and make money on those purchases, is going to be less and less feasible. As consumers spend less time with ads of all kinds, agencies must be smarter about how to attract and nurture new business for their clients. On the flip side, clients are going to be smarter about how they spend their money, and they're going to demand more than just great creative. They're going to want to hold their agencies accountable for revenue. The only way to be accountable is with inbound.
What Brian said: "The Internet has really made the rocks slippery at the top. It is a great time to be an attacker, and inbound marketing is a great way to attack."
What you should have heard: Inbound is for people who want to aggressively grow their companies. It's for people who want to challenge the status quo. And it's for those who are comfortable rethinking how they attack their target market from both a marketing and sales perspective.
The bottom line is that people who realize the buyer behavior has changed should be considering a strategic shift in both their sales and marketing approaches. Brian Halligan, who has unmatched insight into the tools and techniques that accompany this new approach, provides even more of his vision in 2Inbound.
Start Today Tip – As we get closer to the end of the year, it's time to consider your overall business strategy as well as your marketing and sales plans for 2015. Now is the perfect time to research innovative programs that better match your prospects' buying behaviors. Inbound marketing and inbound sales offer a new methodology that is both measurable and scalable. Start today!
Square 2 Marketing – Leading The Reality Marketing And Inbound Revolutions!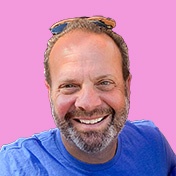 Mike Lieberman, CEO and Chief Revenue Scientist
Mike is the CEO and Chief Revenue Scientist at Square 2. He is passionate about helping people turn their ordinary businesses into businesses people talk about. For more than 25 years, Mike has been working hand-in-hand with CEOs and marketing and sales executives to help them create strategic revenue growth plans, compelling marketing strategies and remarkable sales processes that shorten the sales cycle and increase close rates.