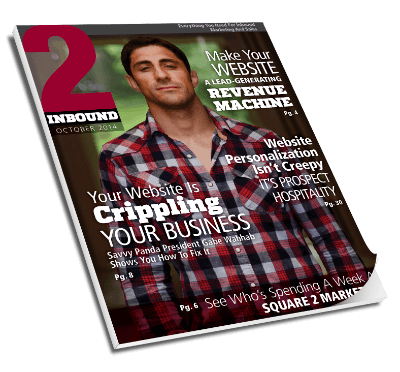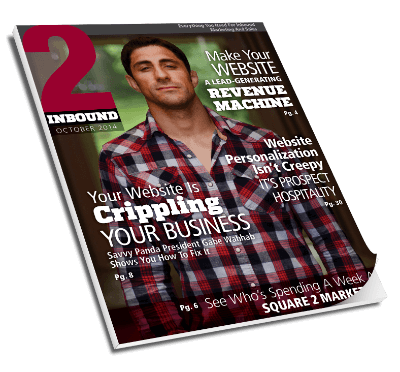 Inbound marketing requires that you deliver a remarkable experience to your prospects when they arrive at your company's website. The days of the "electronic brochure" are over, yet most businesses still roll out websites that look and work like they did three years ago.
In the October edition of 2Inbound, we delve into everything you need to turn your website from a static, boring, all-about-you site into an interactive experience that emotionally connects with your new visitors – drawing them in with compelling stories and converting them into leads for your business.
Here's a preview of what's in this issue of 2Inbound: The Website Edition.
Your Website Should Be A Revenue-Generation Machine
Why do you have a website? If your answer is, "Because we have to," you're missing the point. Gabe Wahhab, founder of Savvy Panda, talks extensively in our cover story, "Extreme Makeover Website Edition."
Your website design has only one strategic goal, and that's to generate leads. If it's not generating leads, you need to tear it down and rebuild it. To find out whether your site is generating enough leads, take a quick look at the monthly traffic numbers: You should be converting 1% to 3% of the visitors into leads. In other words, 1,000 visitors per month should equal 10 to 30 leads per month.
You Need A Marketing Strategy Before You Redesign Your Site
This is, by far, the most common mistake business people make: They start redoing their site without a plan, without a marketing strategy and without a website strategy that matches their overall business goals. "Strategy before tactics" is a mantra you should be repeating over and over. Don't even think about a website project until your business direction is clear and your overall marketing strategy is defined. Make sure you know your goals. How many leads do you need from your site in order to hit your revenue projections? If you can't answer that, get help from someone who can.
Your Sales Team Should Be Using Your Website Daily To Close New Customers
Your website isn't just for new prospects. You have to be moving toward inbound sales, and your website has to be part of that process. Your sales people should be using the site to share content with your prospects at key milestones in the sales process. Case studies, videos, blog articles and educational content help move a prospect toward a close. More important, they help people feel safe, which you know is a requirement for getting prospects to close quickly.
Your Site Has To Work WITH Social Media, Not Against It
Today, just as many people are coming to your site from social media as they are from search. This means that your social sites need to tell the same story as your website. Your social sites need to offer the same educational content, and they need to help your prospects know, like and trust you if you want to increase the number of leads flowing into the top of your funnel.
Personalize The Visitor's Experience To Drive More Leads
It's very simple. The more personal the experience is for your visitors, the more leads you're going to convert from your site. Today, website tools have evolved to the point at which personalization is a "must have," not a "nice to have." Personalizing the educational content, the messaging, the site copy and even the pictures is all possible if you use the correct tools. Rachel Sprung, Inbound Marketing Specialist at HubSpot, talks extensively about how to do this in an article titled, "How To Use Anonymous Personalization To Improve Conversion Rates."
Your Website Has To Tell A Story
People love stories. Your website has to show and tell a compelling emotional story about people who have worked with you and achieved their goals. It has to be a multimedia, personal and emotional experience. Many of us don't like to read. So, we're not reading all of your product pages or your long About Us page. You have 10 seconds to grab people's attention before they hit the back button. Tell a story and get a lead.
Your website has to be the cornerstone of your inbound marketing and inbound sales efforts. With a website that doesn't turn visitors into leads or support moving prospects through their buyer journey, you're limiting the amount of revenue your company generates from new business.
Start Today Tip – Take a look at the magazine and then your website. It's likely that your site requires a few improvements. Collect the list of items that are missing or that could be upgraded, and start working on them one at a time. You don't always need a complete relaunch, although it's often easier than putting lipstick on a pig. Regardless, each improvement you make should get you closer to having a website that brings you the leads you need to grow your business.
Square 2 Marketing – Leading The Reality Marketing And Inbound Revolutions!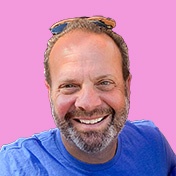 Mike Lieberman, CEO and Chief Revenue Scientist
Mike is the CEO and Chief Revenue Scientist at Square 2. He is passionate about helping people turn their ordinary businesses into businesses people talk about. For more than 25 years, Mike has been working hand-in-hand with CEOs and marketing and sales executives to help them create strategic revenue growth plans, compelling marketing strategies and remarkable sales processes that shorten the sales cycle and increase close rates.