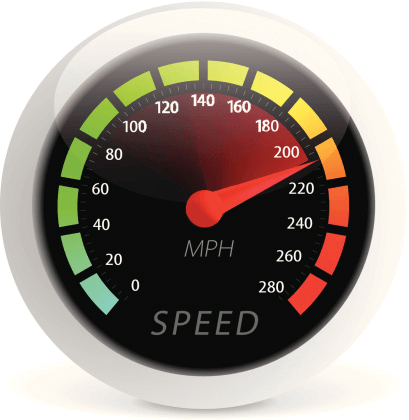 Over the past few days, our blog has provided insight into a number of critical components that are "must haves" if you're considering adding an inbound marketing program to your current set of traditional marketing tactics.
But, there is one key element of an inbound marketing program that can't be ignored. If you want to be successful generating leads for your business, then you must become a guru at measuring data daily, weekly and monthly, allowing you to make effective real-time adjustments that contribute to increased lead generation.
Measuring Every Element Of Your Campaign
Over the past few years, marketing has transformed from an art into a science. Tracking, testing and metrics are key data points to help you make decisions that drive your business.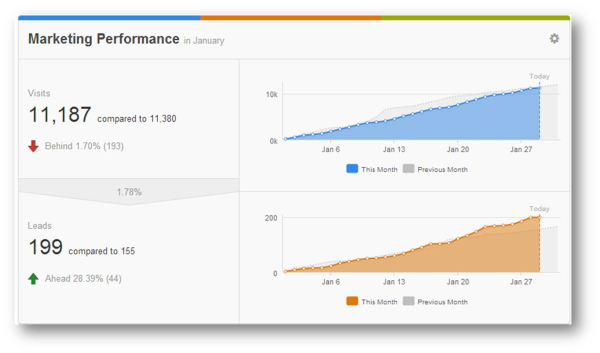 There are many metrics you need to consider in order to evaluate the success of your inbound marketing channel. If you just want a quick look at your overall performance, you should start with the basics like website visitors, conversion rate and leads generated.
While there are additional key metrics to consider, starting with these gives you an insightful, high-level view into how your program is performing. The dashboard above is an example.
I have also found that using this view as a starting point typically drives views into other metrics like blog performance, landing page performance, sources for traffic and sources for leads. For specific examples, keep reading.
Poor Performance? Find Out Why.
Different metrics tell different stories. So, if your marketing performance is down or below expectations, you need to spend time finding out exactly why performance is down and what you need to do to improve it.
For instance:
If the number of page views on the landing page is low, you need to promote the offer more aggressively to attract more visitors to the landing page. Are you taking full advantage of your social presence? Are your sales people promoting the offers during sales calls?
If the conversion rate of the landing page is low, you need to focus on creating a more compelling experience when visitors land on your page. What's holding a person back from taking you up on your offer? Does your offer have an image? Is the form too long? Did you give the visitor a reason to complete the form?
If the number of new leads this offer brought you is low, it could mean that your content isn't engaging or perhaps you're not marketing it properly. Check the title, is it creative? Does the CTA button look appealing? Does the content answer one of your prospect's burning question? If the answer is no to any of these questions, make an adjustment and track the results.
If your leads are not turning into customers, this could mean your lead nurturing efforts aren't successfully moving them through your funnel. Make sure you have general email marketing campaigns going out at least twice a month and make sure each offer has a personal lead-nurturing campaign that delivers even more educational content.
The metrics behind lead nurturing and email marketing are similar. They typically indicate if the content you are promoting is moving your prospects to action.
If your open rate is low, it might mean your subject line wasn't creative enough or the topic you chose to write about isn't a major pain for your audience. Consider A/B testing your subject lines the next time. Be bold, take a chance. The more you step out of your comfort zone, the higher your open rate is in your email marketing campaign.
If the click-through rate of your emails is low, it might mean what you wrote about in the email wasn't interesting enough to move people from the email back to your website. It might also mean that your other offers included in the email, such as whitepapers, webinars or videos, didn't appeal to your email recipients.
Don't get discouraged. Failure is the best way to find out how to make improvements. These small adjustments make a big impact over time. Tweak your content the next time and test different, more compelling offers until you find the one that works.
For blogging, the best metrics are views and social shares. Comments used to be how we measured the success of a blog, but research and data show that most people just want to read and will never comment, but they will share. Keep an eye on the blog posts that are shared more often. Focus your content creation efforts on the content titles that get shared.
Start Today Tip – The most important takeaway around metrics and analytics is rhythm. Make sure you look at performance daily, weekly and monthly. Then, make sure that after you do your review, you come up with one or two adjustments to make as a result of the review. Implement these changes and keep track of the metrics. If you see improvement, double down. If you don't, move to Plan B. This continual improvement will result in month-over-month growth in both visitors and leads.
To get more insight and advice on how to add an inbound marketing program to your current marketing mix, click on the image below to download our latest and greatest e-book.
Square 2 Marketing- Leading The Reality Marketing And Inbound Marketing Revolution!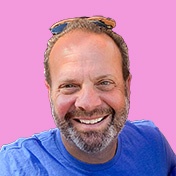 Mike Lieberman, CEO and Chief Revenue Scientist
Mike is the CEO and Chief Revenue Scientist at Square 2. He is passionate about helping people turn their ordinary businesses into businesses people talk about. For more than 25 years, Mike has been working hand-in-hand with CEOs and marketing and sales executives to help them create strategic revenue growth plans, compelling marketing strategies and remarkable sales processes that shorten the sales cycle and increase close rates.