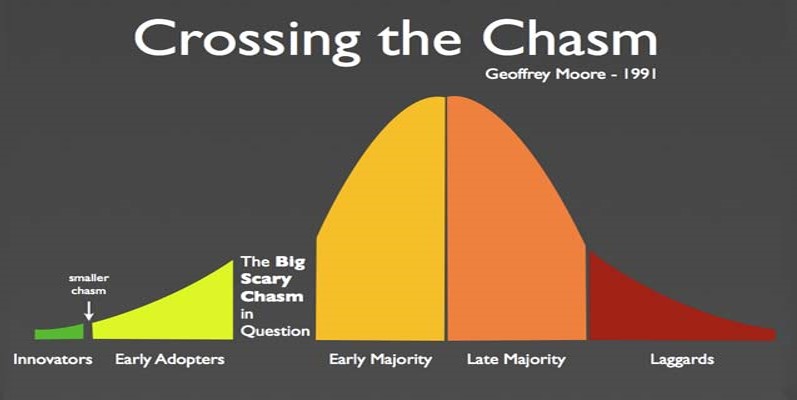 It's Just A Matter Of Time Before Inbound Marketing Becomes The De Facto Method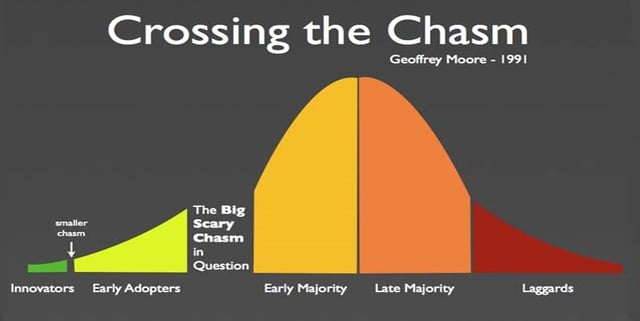 Change isn't easy, and it takes time for people to feel enough pain to make a major change.
Geoffrey Moore, who wrote Crossing the Chasm, clearly articulated the current situation across the field of marketing. Today, there are some Early Adopters who have started to get good at inbound marketing, but the majority of businesses – big and not so big – still use the old-school tactics.
If you look at the visual representation of the Adoption Curve, you might think we're still in the Innovators stage. But, I believe we've crossed the mini chasm shown in the picture and have started to move into the Early Adopters stage. Maybe we're even close to actually crossing the Big Scary Chasm in Question (as shown in the picture).
My prediction is that we'll start crossing that chasm in 2016. Here are some of the early warning signs that we're on our way over it.
CEOs Will Start Holding Their CMOs Accountable For Hard Business Results
Soft metrics like impressions, brand equity and even market share are already on their way out. The most progressive agencies are coaching their clients as strategic partners. They're focusing on quantifiable measures of marketing performance, including metrics like average revenue per new customer, monthly revenue, number of new customers month over month, percentage of products or services purchased and other such numbers.
The realization of the Revenue Team we originally wrote about three years ago in Fire Your Sales Team Today is becoming a reality. Marketing and Sales departments are being broken down, and new Revenue departments are springing up. Sales and Marketing are accountable for revenue numbers, and Marketing is desperately trying to adjust its tactics to produce more leads, better leads and a predictable method for delivering those leads. This is where inbound marketing shines so brightly. It's the only way to produce a steady stream of inbound leads.
Ad Agencies Will Be Asked To Provide Inbound Marketing Services
Most bigger brands have their ad agencies lined up. Even if they change every couple of years, they're comfortable working with bigger, established ad agencies. So, when the move to inbound starts, most CMOs will reach out to their ad agencies and request inbound services. We believe that, initially, these agencies will attempt to provide inbound services. After all, the tactics are very similar to some of the digital services they may already be providing.
However, moving from creative deliverables to results as a deliverable requires a major shift in the way agencies are organized, how they price their services, how they bill clients and how they staff their teams. At first, delivering inbound services may prove challenging.
To deal with those challenges, big ad agencies may look to partner with inbound agencies, try to hire inbound expertise within their agency or acquire an inbound marketing agency to add to their portfolio of services. All of these options would be an indicator that we're crossing the chasm or, perhaps, that we've actually crossed it.
Companies Will Stop Asking For "Stuff" And Start Asking For Help With Results
Finally, the last signal would be when businesses stop asking for "stuff." Build me a website. Write me a whitepaper. Handle our blog. Do social media for us. These requests are core ones that we get asked for every day. People are still comfortable with a set of deliverables. But, we think they should be less worried about the deliverables and more worried about the results. So, when we talk to clients, our first question is: "What results are you looking for?"
Does it really matter how many blog articles we write, how many hours we spend optimizing your website, how many pages the e-book includes or whether we do two webinars or three? What really matters are the results we generate. How many leads? How many customers? How much revenue? What increase in sales of a specific product or service? That's what really matters to us.
If we start crossing the chasm in 2016, how long will it take to actually get across and have inbound become the ONLY way you market your company? That is likely to take much longer, but there may be situations in which businesses never move completely away from outbound tactics. Remember, there are perfectly viable reasons to spend money on and execute outbound marketing tactics.
If you're a big brand and the key objectives in your marketing strategy are mind share, brand equity and visibility in the marketplace, advertising is still an excellent tactic. But, if you're working to move off of those soft metrics and toward harder ones, like revenue, new customers or even more specific business metrics, such as a percentage of beds sold for a hotel chain, inbound is going to be your methodology of choice going forward.
Start Today Tip – If you're a CEO or business owner, you have to decide how accountable you want your marketing team to be. If you're a VP of Marketing, you have to decide whether you want to be part of the change that's coming or hold out as long as possible, hoping the change doesn't come to you. Either way, you need to be in tune with inbound marketing and inbound sales so you're the one bringing these concepts into your organization. This movement is coming to your business, and it's coming soon. Start thinking about 2016 and how you'll help your business get found, get more leads and close more new customers.
Square 2 Marketing – Leading The Reality Marketing, Inbound Marketing And Inbound Sales Revolutions!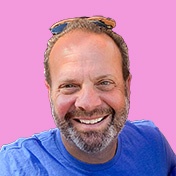 Mike Lieberman, CEO and Chief Revenue Scientist
Mike is the CEO and Chief Revenue Scientist at Square 2. He is passionate about helping people turn their ordinary businesses into businesses people talk about. For more than 25 years, Mike has been working hand-in-hand with CEOs and marketing and sales executives to help them create strategic revenue growth plans, compelling marketing strategies and remarkable sales processes that shorten the sales cycle and increase close rates.