Would You Ever Try To Win A Baseball Game With Only Six Players?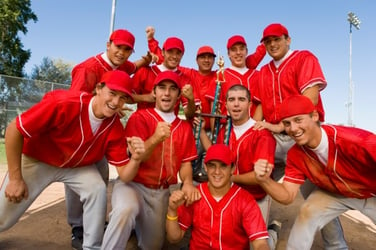 There are good reasons you need nine players on the baseball field, five players on the basketball court and 11 players on the football field. Any fewer and there's no chance you can cover the field, defend against the opposing team and execute your game plan. The same is true for inbound marketing.
Take the field with an incomplete team and you're looking at results that are less than you expected, poorly performing programs and inefficient execution. To make inbound marketing work, you need a complete team of individuals with very specific roles – and a solid game plan.
Here's the inbound marketing team you need to field if you want to score big with leads.
The Marketing Strategist
This person is like the quarterback or the point guard. You need someone who knows how to lead. They know the game plan and the game. They know the players and the competition. They have the ability to exert the leadership required to produce the desired results – either wins or leads.
In the case of inbound marketing, the strategist is able to quickly focus and prioritize the tasks at hand so the team works on the tactics that deliver the biggest impact with the least amount of effort. Getting this stuff done first allows you to execute in a very efficient manner and produce the best results.
The strategist is also able to quickly diagnose the situation, like the quarterback reading the defense before the snap. By seeing what's working, having the experience with similar programs and being able to recognize the root causes and recommend adjustments, you get a very strategic approach to marketing that produces great results.
Don't overlook this important aspect. Interns, junior marketing people, recent college graduates or even experienced team members who have limited experience with inbound marketing will not be able to provide the strategic guidance you need to produce results.
The Day-To-Day Marketing Executor
Inbound has a lot of moving parts. You need basic blocking and tackling. You need to be able to set picks and play defense. There are some fundamental aspects that need to be repeated week in and week out. You want a consultant who will look after your program and ensure that each aspect gets executed flawlessly. You want someone who can collaborate with the strategist and their team to come to the table with creative ideas, suggestions for upgrades and innovations that produce even better results.
As you see, you need to have a bigger team, a more collaborative team and a team that is perfectly orchestrated, in order to see optimal results. Your consultant makes sure that the team has everything they need and that they understand their tasks. Your consultant answers any questions, resolves any issues and keeps everyone moving forward productively, week after week. Again, a critical role on the team.
The Sales And Marketing Copy Creator
Inbound marketing is so reliant on educating your prospects that a dedicated content person is mandatory for your team, too. Since content is so connected to search these days, this person is also going to be your search expert. There's no point in writing blog articles if they don't contribute to your efforts to drive organic search traffic. The architecture of your website? The content on your website? The guest blog articles, long-form content, social media posts and email marketing? These all require copywriters who understand your business strategy, your business operation, every detail of your prospect persona and their buyer journey and your entire "get-found" inbound marketing strategy.
You can't do this easily with freelancers, outside writing sources or agencies that rely on freelancers and outside writing sources. In our opinion, this critical role on the team has to be staffed with a superstar. Just as the best quarterback will have mediocre numbers if he doesn't have solid wide receivers and a running game, you need writers who understand your business and know how to leverage content to produce results.
The Data Analyzer
Marketing is a scientific exercise today. It's emerged from an art and transformed into a 100% data-driven effort. Or at least it should be. You need people who understand the numbers, and who know where to find the numbers and how to use them to make decisions that will positively impact performance and leads generated.
This skill set helps us move from opinion-driven marketing to data-driven marketing. Everyone has an opinion, so creating direction based on four people's opinions is problematic. But, creating direction based on numbers removes the guesswork and makes marketing 100% quantitative. Now we see exactly what's working, what's working well and what's not working. More importantly, we can respond to those numbers with action – action that impacts results.
If you're not using data to make your marketing decisions, or if you're ignoring the data in favor of opinion or what someone "thinks" is correct, you're probably going to be wasting time and money on chasing tactics that won't ever pay off. Instead, put a scientist on your team and start responding to the numbers.
The Digital Developer
Everything we do today is digital. As a society, we're on our devices constantly. Fifty percent of today's searches are done on mobile. This is only going to increase. You need an interactive team member to make sure you're responding quickly to changes that need to be made to your website, to your digital assets, to your communication tools. Both sales and marketing now rely on digital assets to create an experience, second to none, for your prospects. The company that creates the best experience usually gets the deal.
Your website needs to be updated daily, your email marketing needs to be flawless, your social media accounts need constant care and feeding, your content needs to be delivered electronically and your entire prospect experience needs to be monitored and tracked to find places where quick upgrades produce dramatic results.
Just like in sports, the better your team, the better the results. Sure, you can win with a superstar at two of the five spots, but put all-stars in all five spots and you're going to win more games. History also shows us that just because you have five superstars, you're not guaranteed to win every game, nor are you guaranteed to win the championship – you still have to play the games.
You also need the game plan, the approach and the front office to put the entire puzzle together. In the world of marketing, this includes understanding the Xs and Os. Reality Marketing for strategy, inbound marketing for execution and Agile marketing for the delivery are all important parts of the success recipe. If you're missing any of them, that will impact your ability to generate leads and sustain a successful program.
Start Today Tip – Coaches constantly evaluate their teams. Take a look at yours. Do you have the right roles? Do you have the right people in the right roles? If you use an inbound marketing agency, do they apply the people and tasks described above? If you run your own team, do they execute as described above? If not and you're looking for improved results, consider making some changes. Bring in a more senior team with more experience. Consider increasing your budget so you can afford a better quality team and better results. You get what you pay for. Rarely do inexpensive teams or low-budget programs produce dramatic results. How important is the success of the program to your business? Invest accordingly.
Square 2 Marketing – Inbound Results Start With ME!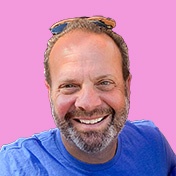 Mike Lieberman, CEO and Chief Revenue Scientist
Mike is the CEO and Chief Revenue Scientist at Square 2. He is passionate about helping people turn their ordinary businesses into businesses people talk about. For more than 25 years, Mike has been working hand-in-hand with CEOs and marketing and sales executives to help them create strategic revenue growth plans, compelling marketing strategies and remarkable sales processes that shorten the sales cycle and increase close rates.