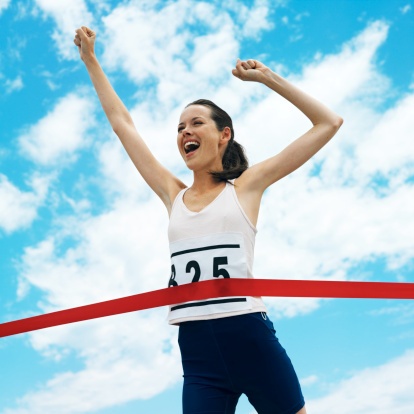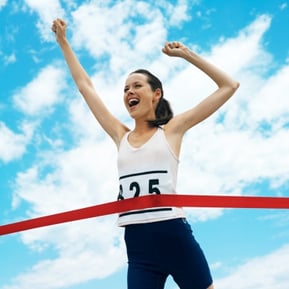 It's one thing to keep an eye on your inbound marketing metrics. It's another to proactively manage them.
The best way to get proactive about your inbound marketing is to set goals and then take action to achieve them.
There is a variety of productive options for setting marketing goals to ensure that your inbound results are moving up and to the right month over month. There is no right or wrong comparison for tracking performance versus goals. In fact, we typically use a combination of many, depending on the client and the stage of the engagement.
Here are a couple of the methodologies for your consideration.
This Month Vs. Last Month
This is the easiest way to establish goals and keep your inbound program moving forward with positive momentum. Make sure that what you did this month is better than what you did last month. We've found that this continuous-improvement perspective adds up, and before you know it, you're looking at a 5x improvement in website visitors and a 3x improvement in online leads. Since most of the dashboards show you relative performance, you know day in and day out how you're doing in relation to your goals, and you should be making mid-month course corrections to ensure that you beat last month's results.
This Month Vs. Rolling Three Months
One of the challenges with assessing month over month is that you might blow it out one month, and then repeating that month's performance becomes very challenging. A way to smooth out this performance anomaly is to look at a three-month rolling average. This balances out really good months and really bad months. It also keeps you moving onward and upward because it's taking your last three months into consideration. So, if your monthly data starts to show spikes, this might be one way to work around that scenario.
This Month Vs. The Same Month Last Year
Almost every business has some form of seasonality. For instance, if business slows down over the summer or around November and December, looking at this month versus last month, or even at a rolling three months, is tricky. Instead, compare this month to the same month last year. If your marketing is improving, you should see increases in this month over the same month last year. Often, getting the data from 12 months ago can be challenging, but once you have 12 months of data in the same system, it's easy to see, set and outperform.
13-Month Rolling
Trend data is very important with inbound marketing. You're going to want to see trends over a longer period of time. Sometimes, month-over-month data or even three months of it isn't enough to see the real trends. Looking at longer periods of time gives you a better perspective. You see how far you've come and how dramatic the improvements are. By viewing 13 months of rolling data, you know how you did in the same month last year AND the trends for the last 12 months.
This Month Vs. Goals
The last approach is more about your goals and less about previous performance. In this scenario, you're looking forward and setting goals for your program. These goals should be based on historical performance so that they're attainable, but they should also be based on your overall goals for the business.
If you have aggressive sales goals, you're going to need aggressive lead goals and even more aggressive website-visitor goals. Don't forget to track the conversion metrics, too. This number isn't as easy to track on a monthly basis, but it's critical when it comes to leads. You don't have to increase visitors dramatically if you're increasing the conversion rate, as you'll still see increases in leads even with slow growth in website visitors.
When you're using arbitrary goals as your driver, make sure you have the right set of inbound tactics. If you don't, this might be an exercise in futility. For instance, if you're expecting visitors to increase 50% this month over last month, and you've only done 10% historically, you better have an aggressive blogging schedule, daily off-site SEO tactics, solid social media plans, email campaigns, a highly responsive website and a very active content publication plan. These need to be in place for at least three or four months prior to the month you're looking for the 50% increase in visitors.
You can see that this kind of effort and this level of results takes solid planning and a well-thought-out, tightly integrated inbound marketing strategy. These types of results don't fall into your lap. While inbound is good, it's not easy, and it doesn't "just happen." Make sure that your expectations are realistic, that they're backed up with the necessary plans and preparations and that a solid foundation has been properly laid out.
Start Today Tip – Set goals for the next six months. It's easy, and this is a great place to start. If you feel like you're in novice mode, just do month over month. You'll get the hang of it quickly, and it gives you the basics you're looking for. As you get more comfortable, start weaving in the other methodologies. Most of the tools make it easy to look at performance in a variety of ways with the click of a button. You can even set goals, see how you're doing in relation to them and then adjust until you feel like they're realistic and attainable. Just tracking is a major first step.
Square 2 Marketing – Leading The Reality Marketing, Inbound Marketing And Inbound Sales Revolutions!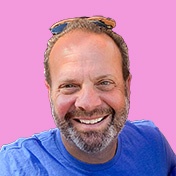 Mike Lieberman, CEO and Chief Revenue Scientist
Mike is the CEO and Chief Revenue Scientist at Square 2. He is passionate about helping people turn their ordinary businesses into businesses people talk about. For more than 25 years, Mike has been working hand-in-hand with CEOs and marketing and sales executives to help them create strategic revenue growth plans, compelling marketing strategies and remarkable sales processes that shorten the sales cycle and increase close rates.