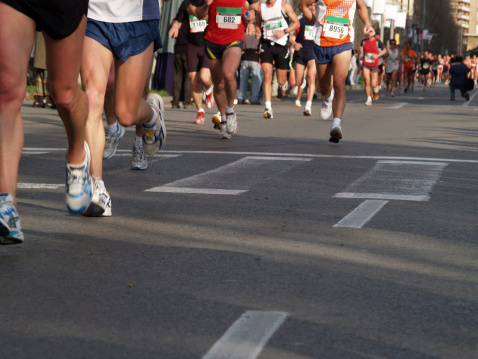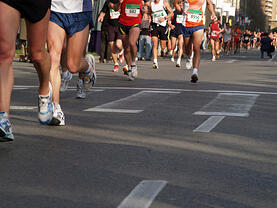 I wrote on Friday about inbound marketing requiring that you be all in. Today, I'm going to give you actual proof, from real clients, who show that you need to be all in for the long haul if you want to see results like these businesses have seen.
When you attempt to run a marathon, you have to train. You have to be prepared both mentally and physically. You have to eat right, build up your stamina and you might even consider getting help and advice from someone with experience running marathons.
There are a lot of marathon analogies when committing to inbound marketing. You have to be ready to do it for years, not weeks or month. There is a lot to it, so getting someone to help might not be a bad idea, but perhaps the most important aspect is that it takes time.
Instead of giving you all the things you need to consider, today I'm going to share actual data from three businesses who have been practicing inbound and seeing results.
Professional Services Firm In A Highly Competitive Market – Back in June of 2011, this company was averaging around 400 visitors a month and only one or two leads per month. They went all in on inbound shortly after.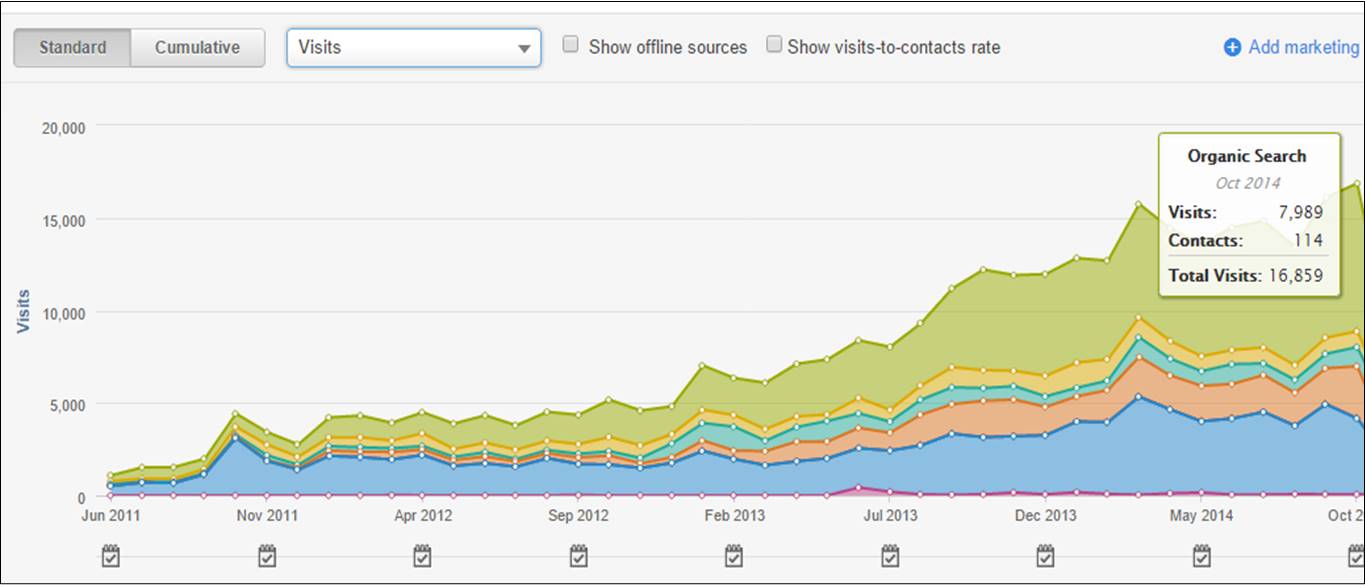 They committed to blogging, regular content creation and an active social media effort. As you can see in the graph, last month they just missed hitting 17,000 visitors a month. This is a 45x improvement. The image to the right illustrates the growth.
Company In The Manufacturing And Distribution Space – This firm started their inbound effort in May of 2012. At the time, they were seeing only a handful of leads every month from their website.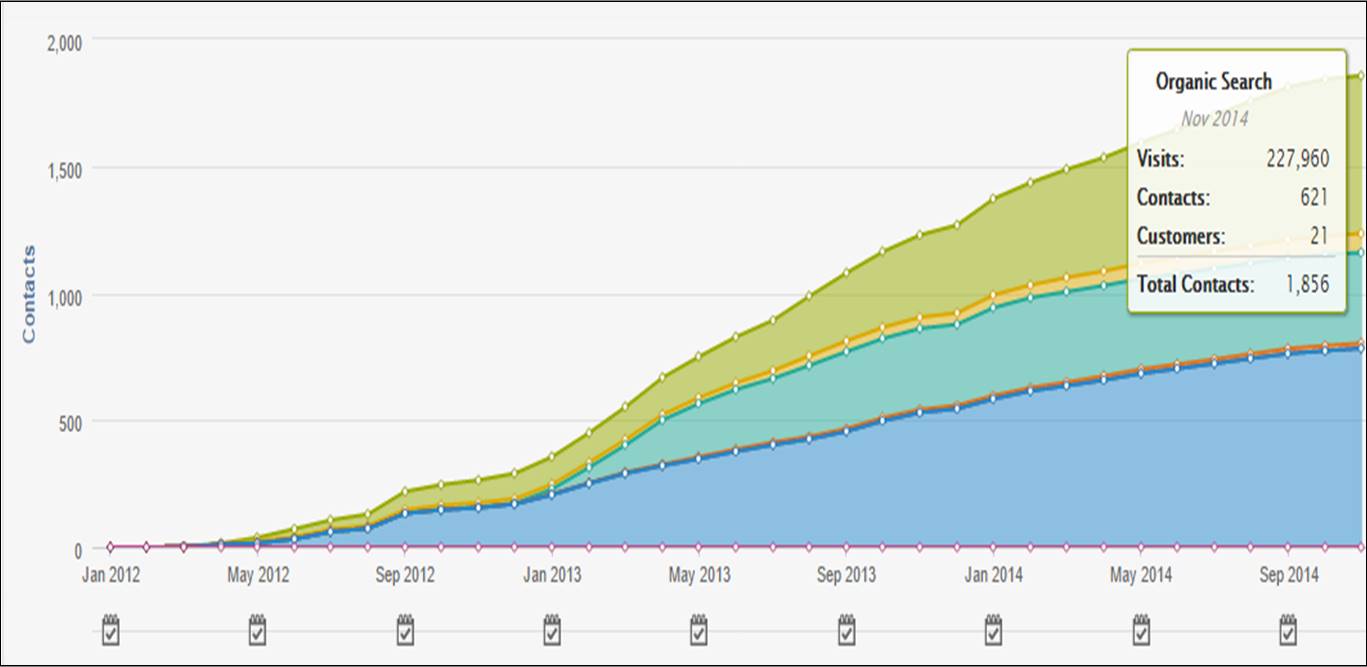 Since then, they've totaled almost 2,000 leads from their inbound program. If you look at the graph to the left, you'll see an increase in leads generated month over month. Last month alone kicked in over 50 qualified leads for this company.
Software Company – These guys are a prototypical software firm. They provide solutions built on the Microsoft platform of products. Prior to embracing inbound, they made cold-calls and relied on demo requests for all of their leads. They started their program in May of 2014, so while they are the youngest of the client examples illustrated here, they've seen good results in a relatively short time period.

If you look at their inbound marketing results illustrated to the right, you'll see a dramatic improvement in lead generation. Since May of this year, they've collected over 100 leads.
You clearly see that these three companies in three dramatically different businesses all committed to the marathon and have seen dramatic improvements in their results. Marketing, which had been a frustrating, non-performing aspect of their business, is now a predictable and scalable contributor to their overall business growth.
What you should also see is that the first company, the one that's been doing it the longest, has realized the most dramatic impact to their business. We've seen this in almost every single client situation. Inbound accelerates over time. The assets created, including social networks, content inventory, blog articles, landing pages and video, all work together to drive new website visitors and leads into the sales funnel. The more you do of each, the faster the program grows. There is an exponential increase that impacts every inbound program sustained by our clients.
Yes, it's hard to be patient enough to give the program the time it needs to mature and deliver dramatic results, but when people give it the time it needs, they are rewarded with results like you've seen above.
Start Today Tip – If you know you need time and patience to train for your inbound marketing marathon and if you know it's going to take months to see results, then make sure your expectations are realistic. You need to make sure your budget is built to support your marathon run and you need to make sure that the rest of your organization is also prepared for a long-term view of your inbound efforts.
Square 2 Marketing – Leading The Reality Marketing And Inbound Marketing Revolutions!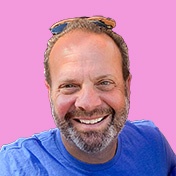 Mike Lieberman, CEO and Chief Revenue Scientist
Mike is the CEO and Chief Revenue Scientist at Square 2. He is passionate about helping people turn their ordinary businesses into businesses people talk about. For more than 25 years, Mike has been working hand-in-hand with CEOs and marketing and sales executives to help them create strategic revenue growth plans, compelling marketing strategies and remarkable sales processes that shorten the sales cycle and increase close rates.