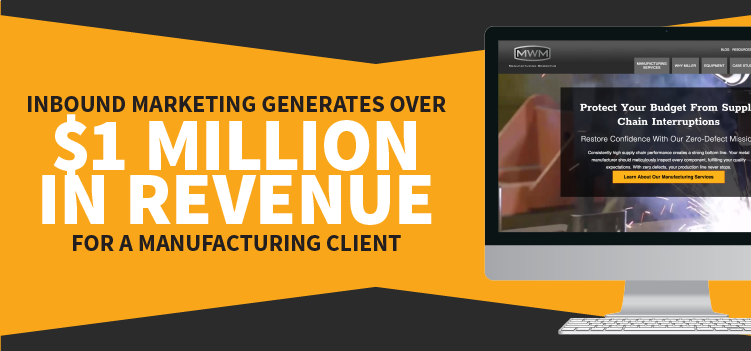 With Insightful Data And Marketing Automation Powered By HubSpot
Editor's Note: Today's blog post is written for submission to the 2017 HubSpot Impact Awards. Wish us luck!
Inbound marketing may sound like just another marketing buzzword to those who aren't familiar with its methodology. But when Miller Welding & Machine Co. embarked on an inbound marketing strategy to lower marketing costs while generating more high-quality leads, the metal manufacturer thought it might be onto something.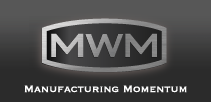 Miller Welding & Machine Co. is a leading contract metal manufacturer located in Western Pennsylvania. As a family-owned company, it offers extensive capabilities for a variety of OEMs throughout North America with a focus on delivering high-quality products and services on time to keep customer production lines running.
Miller Welding & Machine Co. signed on as our client because it was in search of a new marketing approach to help grow and diversify sales.
Challenges
As with most companies, Miller Welding & Machine Co. started to realize that its old marketing and sales tactics were becoming less and less effective. As buyer behavior began to shift online, customers were researching well in advance of engaging with a sales representative. The Miller Welding & Machine Co. website was becoming a focal point for prospects to gain insights before reaching out to the sales team.
In addition, Miller Welding & Machine Co. was looking for a more scientific approach to marketing. It wanted to eliminate the traditional "get your name out there" marketing in exchange for marketing that came along with quantitative metrics, data and the ability to leverage data into insights to help make smarter marketing and sales adjustments.
Eric Miller, vice president of sales and marketing, didn't want us to simply deliver a list of inbound marketing tactics. He needed a results-focused strategy that included inbound marketing content and lead-nurturing campaigns tailored to his customers' pains, informational needs and stages of the buyer's journey.
In short, Miller Welding & Machine Co. required a more effective sales and marketing path to sustained growth. Trusting the inbound marketing process, the company grew its website visits by 1600% over one year.
But successful marketing shouldn't stop at website visitors. Those visitors should convert into leads and sales opportunities. That's exactly what Miller Welding & Machine Co. saw when its new marketing and sales efforts produced a new customer worth over $1 million in revenue. Its marketing also produced the following measurable gains:
Increased organic search traffic to its website

Improved lead generation by improving the educational marketing content

Enhanced each prospect's experience with Miller Welding & Machine Co. by understanding their buyer's journey

Upgraded the company's ability to nurture its leads through the journey

Helped provide communication and tools to support closing the deal
Implementing The Inbound Methodology
The secret behind a successful inbound marketing program is a comprehensive strategy that guides prospects from click to close. When we first partnered with Miller Welding & Machine Co., we started by conducting persona research and laying out each customer type's top pains, solutions and questions asked throughout the buyer's journey.
We fine-tuned the company's messaging with an updated look and feel that would differentiate its brand. Plus, we developed a keyword strategy that included keyword recommendations for core website pages and content.
Only after these initial strategy steps did we move on to choosing content topics. We created an editorial calendar with a set of new inbound marketing offers for the awareness, consideration and decision stages of the buyer's journey, targeted to the personas' pains.
We also completely redesigned the company's website, moving through the following steps:
Planning

Concepting

Creating a page-by-page blueprint

Developing on-site SEO for each page

Including new messaging on each page

Designing pages with sleek graphics and video

Building the website using HubSpot
HubSpot and Square 2 Marketing's inbound marketing methodology, automation and analytics were at the center of the marketing program. Once the website was live, we tracked the growth of traffic and leads as our marketing efforts gained traction.
For the lead that would soon become a $1 million deal, we knew exactly when the prospect visited the website for the first time and exactly what time the prospect converted on the first offer.
HubSpot collected the lead's contact details for lead nurturing efforts that ultimately led to sales qualification and closing.
The Results Impacting Growth
Within just two months of the website launch, Miller Welding & Machine Co. increased visitors by 1000%.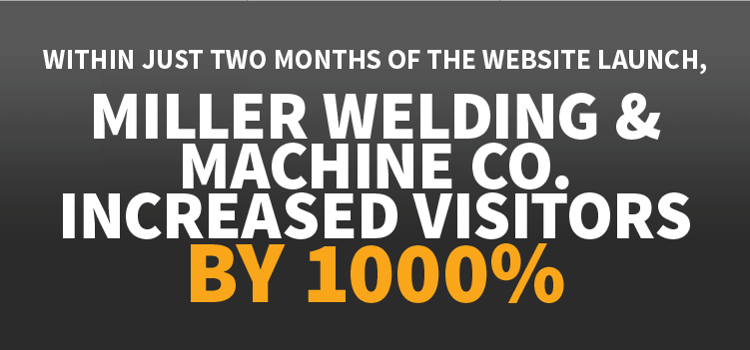 Not only has the company won a deal worth over $1 million, but the new customer brings significant growth potential.
The metal manufacturing company has multiple offers at the top, middle and bottom of the funnel targeting key personas. It also offers a wealth of blog postings for prospects seeking additional educational resources.
Just halfway through July 2017, the company had realized a 1300% increase in new customer acquisitions from July 2016.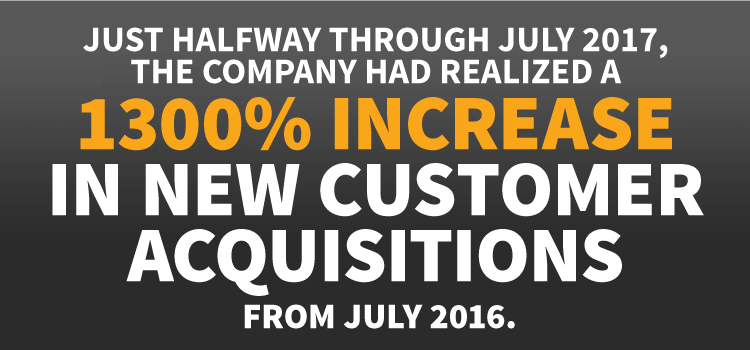 "They have generated interesting, compelling content and are extremely responsive," Eric Miller said of Square 2 Marketing. "The team at Square 2 Marketing is a reliable partner and experts in their field. We are well pleased."
With victories to celebrate and more in the pipeline, we couldn't be happier for our long-tenured client.
For more information about Miller Welding & Machine Co., please click here.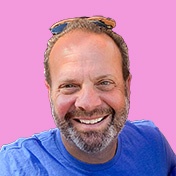 Mike Lieberman, CEO and Chief Revenue Scientist
Mike is the CEO and Chief Revenue Scientist at Square 2. He is passionate about helping people turn their ordinary businesses into businesses people talk about. For more than 25 years, Mike has been working hand-in-hand with CEOs and marketing and sales executives to help them create strategic revenue growth plans, compelling marketing strategies and remarkable sales processes that shorten the sales cycle and increase close rates.