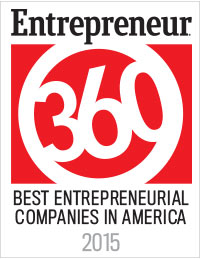 Entrepreneur Magazine's Inaugural E360 Performance Index Finds Inbound Marketing Firm Square 2 Marketing To Be Tops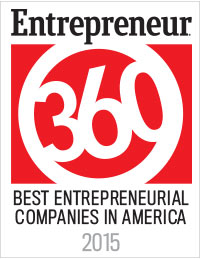 PRESS RELEASE – Philadelphia, PA, October 28, 2015 – Square 2 Marketing was recently recognized as one of the "Best Entrepreneurial Companies in America" by Entrepreneur magazine's Entrepreneur360™ Performance Index, a premier study delivering the most comprehensive analysis of private companies in America. Based on this study forged by Entrepreneur, Square 2 Marketing is recognized as a company that exemplifies growth, not just in top and bottom line, but in sustainability and ability to achieve lasting success.
"We have a lot of respect for the entrepreneurial community, and our business is built to serve entrepreneurs and entrepreneurial-minded companies," says Mike Lieberman, President and Chief Inbound Scientist at Square 2 Marketing. "Inbound marketing and inbound sales provide people who think entrepreneurially with an innovative way to take prospects from click to close and build a Marketing Machine for their businesses."
"Those honored have identified a problem, come up with a unique solution and bravely built their enterprises around it," says Ryan Shea, President of Entrepreneur Media. "They've accomplished new ways of producing sustainable growth and are an inspiration to others who want to fulfill their own entrepreneurial goals."
The stated mission at Square 2 Marketing is to help people think differently about how they market their companies and how they engage with prospects during the sales process. Today, buyer behavior has changed dramatically, and businesses are still engaged in old-school, interruptive sales and marketing tactics that are pushing their potential customers away instead of pulling them in. Square 2 Marketing's aim is to help them correct that misalignment.
Through in-depth surveys, the team of editors and researchers behind the E360 Performance Index collected more than 250 pieces of data from hundreds of participating U.S.-based companies, focusing on growth drivers and challenges, goal setting, resource allocations and reward systems. The analysis uncovered a subset of companies, including Square 2 Marketing, whose continued success is largely based on superior value creation for their customers, the development of an adaptive learning culture and aggressive geographic expansion, making them the most dynamic firms in America today.
According to research conducted by the Business Dynamics Research Consortium (BDRC), less than 1% of U.S. businesses expanded capacity three or more years out of the past five. On average, they grew by 41% over the period, whereas all other surviving companies lost an average of 4%. Based on their analysis of 19.1 million for-profit U.S. businesses, sustained growers are statistically more likely to survive and continue to grow over the next five years than any other group of businesses in the economy.
"The companies identified in the E360 Index are sustained growers, and based on our research, have proven adept at navigating the changing challenges of their marketplace to win new business and grow their output capacity year after year," says Gary Kunkle, senior research fellow at the Business Dynamics Research Consortium and research partner of the E360 Performance Index.
For additional details on the E360 Performance Index and the companies recognized, visit http://entm.ag/E360Index.
About Square 2 Marketing
Square 2 Marketing is a full-service inbound sales and inbound marketing agency designed to do one thing: help clients plan, build, implement and optimize a "click to close" revenue-generating machine. Our Reality Marketing methodology, paired with expertise in implementing inbound marketing and inbound sales tactics, means clients get results. For more information on the inbound marketing firm Square 2 Marketing, visit www.square2marketing.com.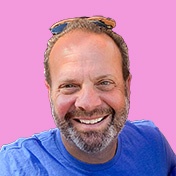 Mike Lieberman, CEO and Chief Revenue Scientist
Mike is the CEO and Chief Revenue Scientist at Square 2. He is passionate about helping people turn their ordinary businesses into businesses people talk about. For more than 25 years, Mike has been working hand-in-hand with CEOs and marketing and sales executives to help them create strategic revenue growth plans, compelling marketing strategies and remarkable sales processes that shorten the sales cycle and increase close rates.