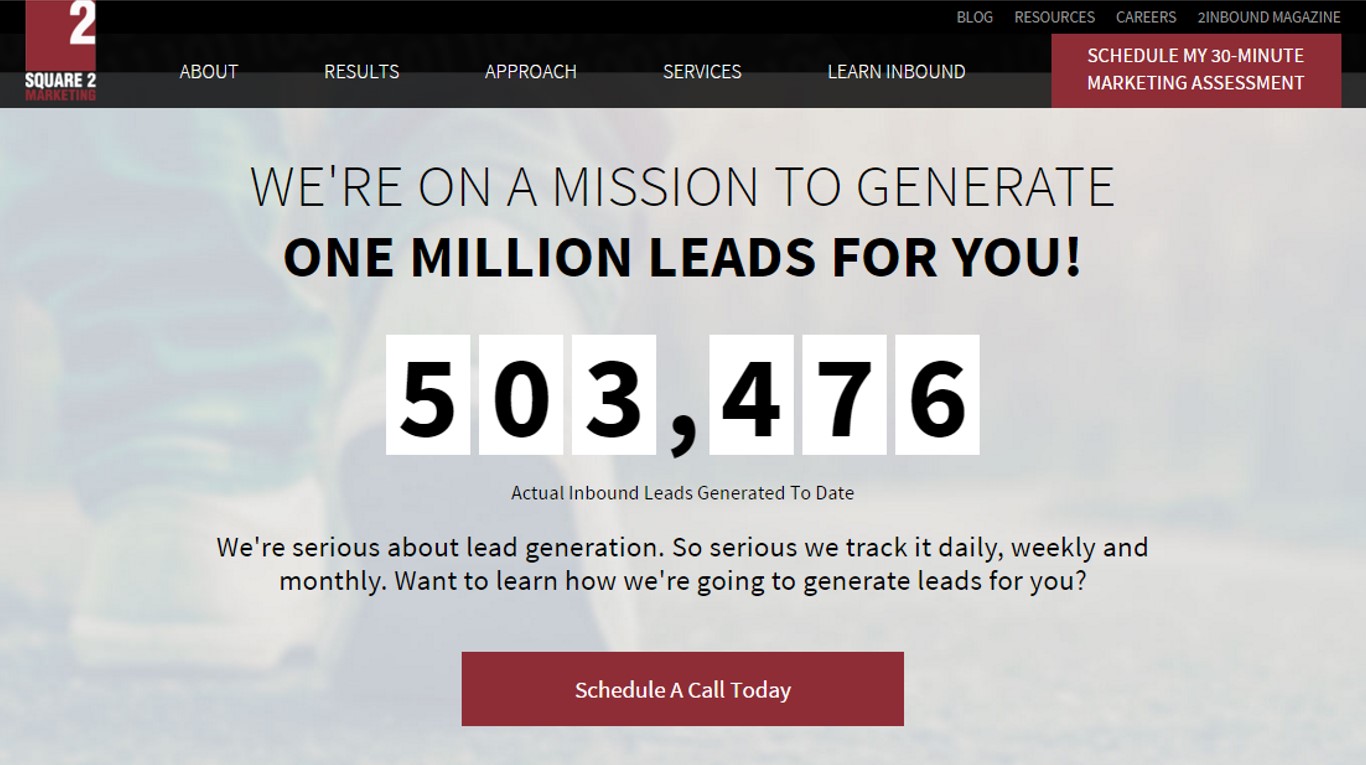 Inbound Marketing Works, And This Agency Has The Numbers To Prove It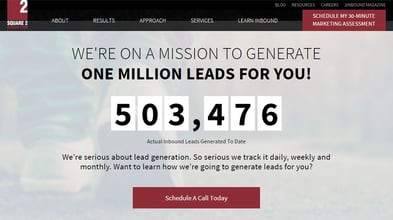 Press Release, Warrington, PA, March 10, 2016 – Square 2 Marketing, the world's leading inbound marketing agency, generated over 500,000 leads for its clients. Every month, the team at Square 2 Marketing pulls the lead numbers from every single client (engaged or not engaged) and tabulates the total leads generated. That number is then added to the previous month to come up with the total leads generated number. As of yesterday morning, that number stood at 503,463 and counting.
Mike Lieberman, President and Chief Inbound Scientist, was excited by the major milestone and had this to say: "We are on a mission to generate 1,000,000 leads for all of our clients, and this means we're halfway there. Our mantra is 'inbound results start with me,' and everyone on our team is personally accountable for helping our clients get the leads they need to grow their businesses."
Square 2 Marketing has always been passionate about educating clients on inbound marketing and how to use the methodology to generate leads for their businesses. Whether the Square 2 team generates the leads, or the clients generate them on their own with the agency's proprietary approach to marketing, both represent major wins.
The agency is also pioneering the application of Agile and Scrum in the world of marketing. In January, the firm moved its entire operation to Agile, and today, the team practices Scrum for every single client engagement. Every team member is assigned to a client team. Each team does daily stand-ups and weekly retrospectives, measures velocity and team member happiness and works closely with their clients to prioritize inbound marketing tactics. Tactics that generate big results and take less time move to the top of the list, and tactics of lower value go the bottom of the list, resulting in a dramatic improvement in client results.
About Square 2 Marketing
Square 2 Marketing is the largest purely inbound agency on the planet, offering full click-to-close inbound services that include strategic inbound planning, inbound marketing and inbound sales services. The team applies Agile methods to collaborate with clients and deliver work in a value-oriented way so that tactics get implemented quickly. Data is used to adjust tactics, and the team optimizes program performance weekly during the engagements. Website design, development, social media, email marketing, lead nurturing, on-site search, off-site search, pay per click and content creation are just a few of the inbound tactics being executed by the team at Square 2 Marketing. For more information on how they help companies like yours, click here or use the link below.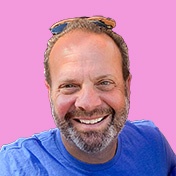 Mike Lieberman, CEO and Chief Revenue Scientist
Mike is the CEO and Chief Revenue Scientist at Square 2. He is passionate about helping people turn their ordinary businesses into businesses people talk about. For more than 25 years, Mike has been working hand-in-hand with CEOs and marketing and sales executives to help them create strategic revenue growth plans, compelling marketing strategies and remarkable sales processes that shorten the sales cycle and increase close rates.