So Many Sessions, Such Little Time; Here Are Some INBOUND 2017 Tips For Sessions You Must Attend

In six weeks, the annual pilgrimage to Boston will begin for what has become a religious gathering for everything inbound. INBOUND 2017 kicks off on Monday, September 25, and the conference is full of amazing speakers, killer content and almost everything an inbound pro could want from an event.
The event is filled with sessions that will inspire you, educate you and help you get better results. The key is to select the speakers and the sessions that bring the most value. When I started attending INBOUND as a HubSpot partner, there were 300 attendees. This year, they're expecting more than 20,000 attendees. I've seen a lot of wonderful speakers and attended a ton of amazing sessions, but I've also spent my share of time in bad sessions, too.
Here are five sessions I wouldn't dream of missing along with two bonus sessions you're going to want to register for right now. INBOUND lets you preregister so you don't get left standing in line. Make sure you register for these must-see sessions.
Session 1: Sell Smarter, Faster And More With A Sales Playbook And These 5 Sales Plays (Dani Buckley, General Manager, LeadsG2)
I love this agency, and I love their ability to provide both marketing and sales services to clients. This is one of the few agencies that knows how to help their clients close leads.

Session Overview:

Just like the best athletes, every salesperson should know the appropriate play to run in any given sales situation they encounter. We

'

ll cover the key chapters to include in your own sales playbook and dive specifically into five foundational sales plays you can begin coaching them on. You

'

ll leave knowing how to get started building a sales playbook, armed with examples and tactical steps so you can begin shortening and strengthening your organization

'

s sales process immediately. Click here to sign up.
Session 2: Kill The PDF (Jeff White, Principal, Kula Partners)
You don't have to be a Diamond-level partner to be an amazing inbound agency. Kula Partners has one of the best run, most client-centric operations on the planet. Jeff and his partner, Carman Pirie, have been innovating inbound for years. I'm definitely down to hear what they have to say.
Session Overview: Is it time to kill the PDF? The PDF was created for another time, a file format whose primary intent was to mimic printed output. But in 2017, 50% of landing page views will occur on a mobile device, and that alone makes the PDF a relic of the past. This session explores purpose-built web pages as the modern alternative to PDF-based content offers. Learn how to use them to create a better, more conversion-focused experience for your prospects while enhancing the efficiency of your inbound team. Click here to sign up.
Session 3: How To Close More Leads Using Science-Based Emails And Sales Pages (

Jeff Coon, Partner, Stream Creative)
As a scientist, I love this session and the idea that you can use science to get prospects to hire you. Marketers are going to have to understand psychology, sociology and human behavior to continue to be better at driving results for their companies. Stream Creative is sharing their innovation with attendees.
Session Overview: Combine research from neuroscience with best practices in visual communication to help a prospect make a favorable buying decision. Create custom emails and sales pages to personalize your message, more clearly communicate your unique selling proposition, establish trust with a prospect and create efficiencies in your sales process. Jeff will walk through a sales page template and email templates that you can implement at your company to shorten the sales cycle and improve your closing rate. Click here to sign up.
Session 4: Making It Rain With Facebook Video (

Phil Nottingham, Video Strategist, Wistia)
This session has two very important topic components, Facebook and video. Video is a critical component of every inbound marketing program and using Facebook to deliver that video content is mandatory, depending on your target persona. Wistia sets the bar for video tools and is a key technology for inbound campaigns.
Session Overview: With more active users than YouTube, Facebook is now arguably the biggest video platform on the planet. Phil will give the latest technical tips and psychological hacks around using Facebook as a native video platform, explaining how you can use viral sharing habits to dramatically increase your reach and get the most bang for your buck with targeted spend. Click here to sign up.
Session 5: How To Drive Growth With A Proven Personalization Strategy (

Chris Goward, Founder & CEO, WiderFunnel)
One of the differences between good marketing and great marketing is your ability to personalize the message, story, content and offers. This isn't just best practice; this is the difference between good results and amazing results. This session is going to help you improve results, so it's a top priority for us.
Session Overview: The rise of personalization tools has meant the rise of marketers doing personalization the wrong way. So how can you ensure your personalization strategy will be a success? By optimizing personalized content and design through testing. Chris will explain the two-phase process to continuously optimize a viewer's experience for conversions, and how to create the most effective personalization strategy to capture viewer attention, increase engagement and drive revenue. Click here to sign up.
OK, I promised bonus session coverage too, and here you go. Yes, these two are extra special to me, but I know they'll be big hits, wildly attended, tough to get into and talked about during the conference.
Bonus Session 1: Google Analytics Mastery: Turn Data Into Powerful Insights In 15 Minutes Or Less (

Gabe Wahhab, Director Of Interactive Services, Square 2 Marketing)
Gabe is the director of interactive services, leads the innovation effort at Square 2 Marketing and is considered by many to be a top conversion rate optimization expert. Gabe's session focuses on data, how to find it, how to interpret it and how to turn it into action to drive up results. If results are what you're looking for, this is the session for you.
Session Overview: Google Analytics can be a marketer's best friend, but with so much data it's easy to feel overwhelmed. The good news is you don't need a Ph.D. to turn all that data into powerful and actionable insights. In this session, I'll show you 10 key reports in Google Analytics and explain how to turn them into immediate marketing optimization actions. Even better, I'll show how you can set it all up in 15 minutes or less. Click here to sign up.
Bonus Session 2: How To Predict Inbound Marketing And Inbound Sales Results: The Numbers Hold The Key To Improved Performance (

Mike Lieberman, CEO And Chief Revenue Scientist, Square 2 Marketing)
This is my session and it's going to be killer. It all comes down to results, and not just leads but new customers and revenue. There is good news. The numbers hold a lot of information. How do you configure your marketing and sales upgrades? How do you match investment with expected revenue results? What levers do you move during the optimization phase to deliver lift to your results? Don't get locked out of this session; it almost always fills up fast.
Session Overview: If you're taking a wild-ass guess at your inbound numbers, you're doing it all wrong! There's a direct correlation between tactics and results when it comes to inbound. In this session, we'll look at all key metrics across sales and marketing, dissect what goes into calculating KPIs, highlight how to apply tactics to increase numbers and show how to predict actual results from actual client engagements. For agency owners or inbound practitioners, this session will help improve ROI on inbound marketing and sales. Click here to sign up. (Agencies might not be able to sign up yet.)
Square 2 Marketing – Innovating Marketing And Sales To Match Today's Buyer Behavior!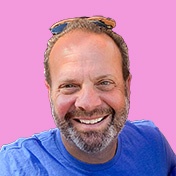 Mike Lieberman, CEO and Chief Revenue Scientist
Mike is the CEO and Chief Revenue Scientist at Square 2. He is passionate about helping people turn their ordinary businesses into businesses people talk about. For more than 25 years, Mike has been working hand-in-hand with CEOs and marketing and sales executives to help them create strategic revenue growth plans, compelling marketing strategies and remarkable sales processes that shorten the sales cycle and increase close rates.