The Answer Is More About You Than Either Of The Software Solutions
Last week, I had the pleasure of participating in the Marketo Summit. Three days of content, software and discussions with practitioners gave me a new perspective on the comparison between HubSpot and Marketo, as well as a newfound appreciation for "the other side" of the marketing automation question.
What I realized is that it's not about HubSpot or Marketo, but rather which one applies to an individual business's specific situation. In this article, I'll try to lay out a few of the high-level characteristics to help you make the right choice for your business.
What's Your Title?
This is an easy one. If your title is CEO, Business Owner, President, COO, VP of Marketing or even VP of Sales – AND you're the primary person responsible for marketing at your company – HubSpot is probably the product for you. But, if your title is Senior Director of Online Demand Generation, VP of Digital Marketing or Global Director of Personalization, Marketo is probably going to give you more of the tools you need to deliver on your accountabilities.
Here's a little more on this ...
HubSpot is a software platform that attempts to make inbound marketing easy out of the box, as well as simple for people who are moving away from traditional, interruptive marketing and toward inbound. It's easy to use, it provides a lot of explanation and guidance within the software and it doesn't require a great deal of customization. So, if you're a generalist responsible for marketing, or if you're a marketing pro who has to handle a lot of the execution on your own (or with a very small team), HubSpot is for you.
But, if you've been doing digital marketing for big companies for the past 10 years, if you're knowledgeable on many of the nuances of digital marketing and inbound marketing or if you have very specific tactical playbooks that you want to execute, Marketo is going to give you much more flexibility. Assuming you're able to deal with the technical aspects and configuration of a more flexible tool, Marketo is probably a better fit for you.
What Does Your Business Do?
Again, this is pretty straightforward. If your company is B2C, if you have a multinational or global business, if you have multiple divisions or operating units or if you have more than five or six target market segments, Marketo is probably going to do a better job of managing those diverse sets of prospects and customers.
If your business is local, regional or even national, if it's B2B or if you have a handful of targeted market segments, HubSpot is probably going to take very good care of your inbound marketing. I'll add that I think both software platforms could support either type of business condition. But, one is designed specifically for the more complex environment associated with big B2C business, and one is designed specifically to work more efficiently in less complicated marketing environments.
How Tech-Savvy Are You?
This is big. Most of the Marketo customers I talked to last week had Marketo Engineers or similar roles on their teams. If you are highly technical and love getting into the configuration modules of products like this, you'll love Marketo. If you're not technical and you don't have or can't budget for a technical resource, consider HubSpot as an easier application to use, support and customize.
As an example, we use HubSpot for almost all of our clients, and our team is primarily a marketing team, not a technical team. When you look at the people using Marketo, most of them have a more technical skill set. They're advanced users, they have experience with other similar products and they are comfortable using a variety of additional technologies to round out their marketing delivery.
Speaking of additional technologies, a lot of Marketo clients are very open to bundling Marketo with content publication tools, content management tools, advanced analytics, social media monitoring tools, search engine optimization tools and more. The result is a very aggressive technology stack that works well together to produce an advanced look at everything marketing.
In the case of most HubSpot clients, HubSpot represents their full tech stack, and they don't need to invest additional money into additional technologies (or aren't interested in doing so). In most cases, this works well, but there is a definite difference between the two profile user types.
How Complicated Is Your Marketing?
This might be a tougher question for you to answer, especially if you're new to inbound marketing. By definition, what you need to do for inbound is going to be more complicated than what you used to do, but here's how you can measure how complicated your marketing might be.
Are you marketing to ONLY new prospects? Are you marketing to existing customers, too? (By the way, you should be marketing to customers. We'll get around to that in an upcoming blog article.) Are you targeting key companies and the executives within those companies? Are you using paid media? Are you running more than 10 lead nurturing campaigns? How many emails do you send to your list per month, and how many variations of that email do you have based on segmentation of that list? Are you using any technology to help you manage your marketing?
Of these eight questions, if you answered YES to one or two of them, your marketing effort isn't very complicated right now. If you answered YES to three to five of the questions, your marketing is already complicated enough to consider a more customizable solution. If you answered YES to six to eight of the questions, your marketing is very complicated. The more complexity in your existing marketing, the better Marketo would be as an option for your business.
Keep in mind that with complexity also comes the need for expertise and investment. So, the more complicated your marketing is, the bigger your investment should be in services, technology, support and tactical execution.
How Many Prospects And Customers Are In Your Marketing Database?
There's no hard and fast rule here (like: if you have over 50,000 contacts, use Marketo), but I think that the bigger your database, the more complex your marketing is going to be by nature. When you have 1,000 email addresses in your CRM system, you're early on in your journey with inbound. When you have 1,000,000 email addresses, the likelihood that you're doing some advanced marketing is high.
In addition, the bigger your database is, and the more segmentation and personalization you do, the more diverse your campaigns are going to be, which also adds a level of complexity. There are pricing challenges associated with both solutions as you get up in size of database, and perhaps slightly more challenges with HubSpot's pricing model. However, the Marketo customers I spoke with at the conference yesterday were investing at the upper end of the scale when they had large databases, too.
Start Today Tip – Congratulations on understanding that you need inbound marketing software to deliver results from inbound. You do. But, now you need to pick the right software solution for your business. The best way is NOT to review spec sheets, watch demos or read analyst reports. The way to make the best choice for you is to identify the key areas in which you need help and ask both companies to show you how their product delivers. If you do a lot of email, check out the email module. If personalizing your visitors' website experience with smart content is important, ask to see that specific feature. Create a list of important upgrades you're looking for and evaluate both products based on their ability to support your team in its quest to improve results.
Square 2 Marketing – Inbound Results Start With ME!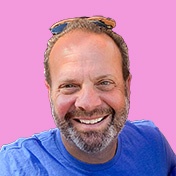 Mike Lieberman, CEO and Chief Revenue Scientist
Mike is the CEO and Chief Revenue Scientist at Square 2. He is passionate about helping people turn their ordinary businesses into businesses people talk about. For more than 25 years, Mike has been working hand-in-hand with CEOs and marketing and sales executives to help them create strategic revenue growth plans, compelling marketing strategies and remarkable sales processes that shorten the sales cycle and increase close rates.