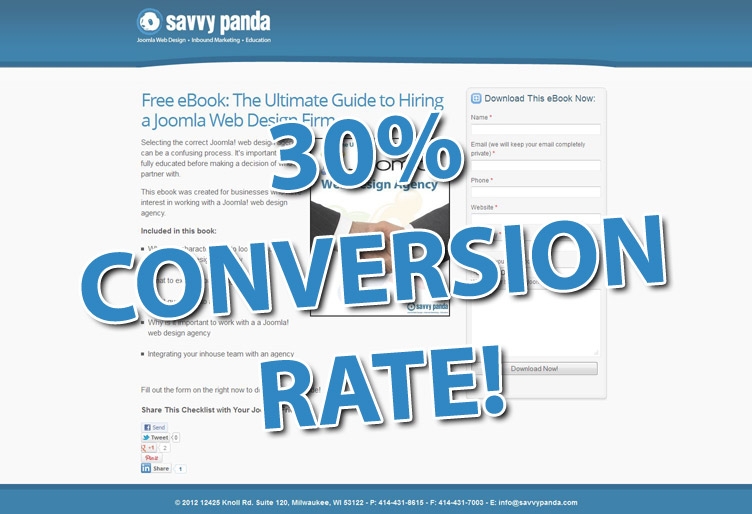 Many beginner and intermediate marketers are very top funnel focused, obsessing on getting traffic to your website. This is an important piece of the puzzle, however, just as important is converting those visitors into leads by having them complete some sort of action such as form submission or registration. According to Hubspot, the average landing page conversion is between 5 and 15%, however, in this blog we will overview how Savvy Panda was able to get a jaw dropping 30% conversion rate.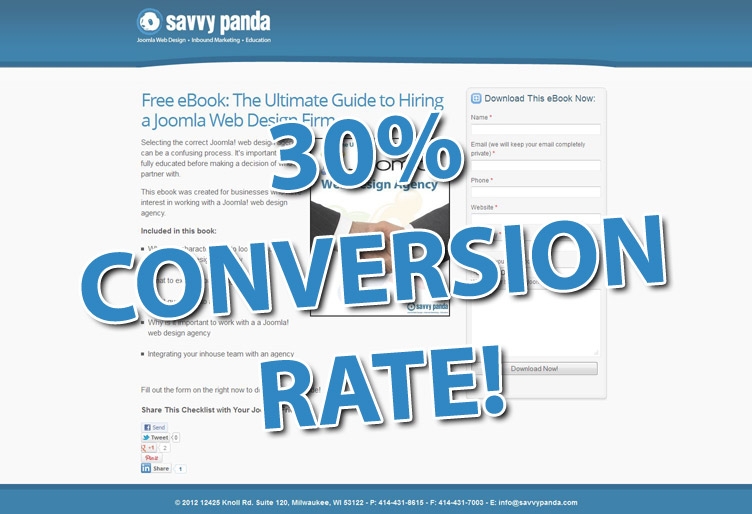 We've recently created a premium piece of content to help educate Joomla users on the key things to look for when they are looking to hiring a great quality Joomla web design agency; "The Ultimate Guide to Hiring a Joomla Web Design Agency". This will be the offer and landing page used as an example in this case study.
Step 1: Planning & Pre-Qualifying
The first step of any marketing activity big or small is planning. Take some time to research and form a solid strategy around your target audience. Here are some things to consider and research while planning out your landing page:
Who are the visitors to my landing page
How will the visitors use my content offer
What problems are these visitors currently having
How can my offer help solve these problems
What hesitation could a visitor have in converting
Your next task will be finding targeted places to market your offer. In my opinion, you are much better off finding smaller, more targeted places to market than the "shotgun" approach of blasting out to as many people as possible. You will find the most success and save time, energy and money marketing to 100 qualified and targeted people vs. 1,000 general people.
Step 2: Create & Design an Optimized Landing Page
Once you have everything planned out in advance, now it is time to start designing the landing page. Your landing page should be clean, clear and have a great flow for visitors that take them directly to converting. Here are some key things we did on our landing page to help optimize it for conversions:
Consistent Call to Actions: Visitors came to your landing page for a reason and you need to continue to give them that extra "push" to flow through the landing page and convert. Take some time to create well thought out headers, text and buttons all with the same message and assist in the flow of the landing page. You can see in our case study example, the places that we have this consistent call to action for visitors to download our free ebook.
Additionally, make sure all call to actions (and copy) match the referring source's description of the landing page. For example, if you're using Google Adwords to market the offer, make sure your add copy is consistent with the landing page copy.
Short and Sweet Form: Building a successful form is a science in itself, however, there are some general rules of thumb to keep in mind when designing a success full form.
Keep your forms short: There have been studies that the longer the form is, the lower the conversion rate is. Only capture the information absolutely necessary to get them to the next step in the sales process. Remember, you can always collect additional data later on once they are in the funnel.
Keep questions specific: Instead of simply putting text areas labeled as "Questions or Comments", think of a creative question you can ask your visitors that will give you some insight into their business.
Explain that their emails will be kept private: This is very important because many people are hesitant on sharing that information and studies have shown a higher conversion rate once a small disclaimer has been added.
Clear All Distractions: People in general are very easily distracted which is the last thing we want to do when they come to a landing page. Clear the page from all possible distractions that may deter visitors from converting. This could include links, menu, footer menu, lots of text or distracting pictures. Your goal is to keep the "flow" of the landing page directing visitors right to the conversion form and things like a menu or links can easily destroy that flow and lower conversion rates.
Copy and Visuals: The copy and visuals of a landing page play a huge role in both qualifying and converting the visitor. Both your copy and visuals should stem off the planning done in step one. Focus on the problems the visitors are having and how your offer will either solve or help solve those problems.
Additionally, I would suggest including a paragraph explaining who the offer is best suited for in order to try and qualify the leads coming in. Another good paragraph or visual is something that will build your credibility. This could be as simple as saying "Over XXXXX Downloads" showing that others have found value in your offer.
The visual should either be a complement to the copy or give them a visual of what they will receive once they convert on the form.
Social Sharing: Do not forget to give visitors an opportunity to share this amazing offer you are giving them. There is a marketing principle that states people who have similar interests and fit in similar profiles typically hang out together. There's a good chance that the visitors friends, family or coworkers could also be great targeted prospects for your offer.
Thank You Page: Once converted, the call to actions and flow should not stop there. The thank you page gives you another opportunity to connect with this lead and continue to engage them. This is a perfect place for you to request them to add you on social networks or to convert on an additional offer.
Step 3: Test, Measure and Improve Your Landing Page
As any savvy marketer knows, it is absolutely critical to test, measure and make improvements on everything you do and landing pages are no acceptation. Once some statistics have started coming it, take time each week to analyze the information and make revisions to help improve conversion rates.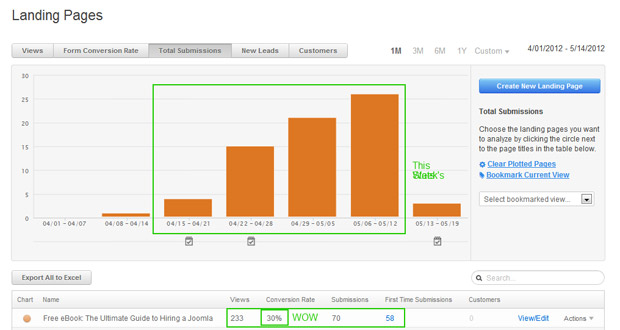 Some things to take a look at:
Time on Page
Conversion Rate
First Time Submissions
New vs Returning Visitors
Use the data to make improvements to your landing page and then see how the changes affected the conversion rates. Some tools also allow you to perform A/B testing on landing pages which can be very helpful when working towards the perfect landing page.
This is just one example of how we were able to create a successful landing page with a high conversion rate. Each offer and landing page is uniquely different and the things we did for this page may not work well in other instances. Creating a successful landing page is like a science and requires much more thought than simply popping an offer up on a page on your website.
You can learn more about creating landing pages in our free ebook, "The Essential Guide to Inbound Marketing & SEO". Please post comments/questions below.