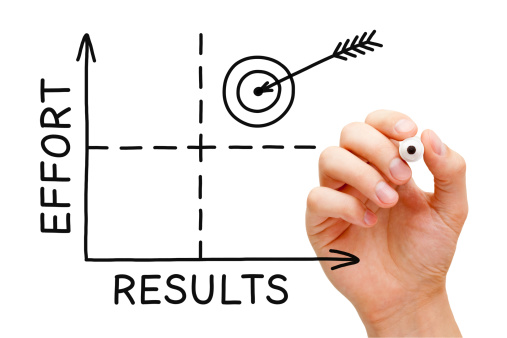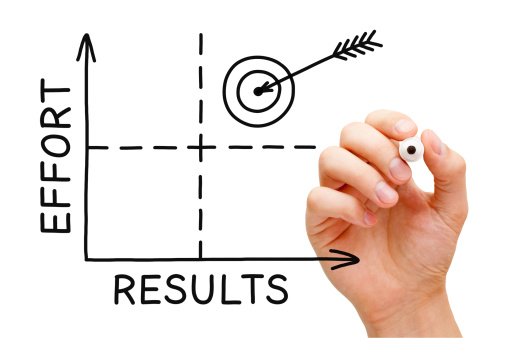 Last week, we spent the entire week talking about marketing strategy.
This week, we are going to spend the entire week talking about inbound marketing blogging and how it contributes to hitting your revenue goals.
First, let's assume you're creating blog articles correctly. This means that you're using keywords in the title, copy, meta tags and meta descriptions. This also means you've selected the right keywords. For instance, if you start to blog and use the keyword "insurance," expecting to see results quickly, think again. The more popular the keyword, the longer it's going to take for you to see real results.
That brings us to results. What should you be using to measure the effectiveness of your blog? Here we go.
Organic Search Visitors
Our research and actual client results have shown that the more you blog, the more visitors you're going to send to your site. If you want to know how this works, check out this article on how to blog from earlier this month. Tracking the number of visitors to your website from organic search results is an excellent way to see if your efforts are delivering positive results.
Organic Search Results
Different from the visitor numbers we discussed above, organic search results indicate how well you rank for certain keywords, keyword phrases or longtail search phrases. We included this topic in this article because it's a measure that we like to counsel clients NOT to worry about. Why? First, search engines are preventing us from seeing the results of specific keywords because they want us to create more content with contextual search phrases. We expect this to continue.
Next, it's very difficult to actually see individual keyword performance by doing your own search. Location, search history and what Google knows about you all contribute to the results presented to you. What you see might not be what your prospects see. So don't spend too much time worrying about this measure of success. If the total number of organic visitors is rising month over month, good work!
Social Shares
Perhaps one of the best measures of success is the amount of people sharing your blog article. If your readers like your commentary and thought leadership, they are going to share it with their networks. This means more new visitors, more blog subscribers, more people hearing your thoughts and perspectives. To take advantage, make sure your blog has social-sharing buttons for Twitter, Google+, Facebook, LinkedIn and StumbleUpon right on your article.
Comments
Some argue that comments are the best measure of results. They certainly are a measure of engagement with your readers. The more comments you get, the more engaged and involved your readers are with your content. However, comments aren't what they used to be. With the amount of content available today, people are reading more and commenting less.
But just because someone doesn't publically say something about your blog doesn't mean they don't like it. One tip to consider is that when people do comment, make sure you comment back. Use their first name and encourage others to join in the conversation. If you ignore the comments, you're telling everyone that the conversation is just one-sided, and that's not what you want.
Views
In our opinion, this is the best measure for your blog. If people are reading your article, they liked the title and the content. This is also a great indicator for future articles. Blogs with low views mean those topics weren't as interesting as the ones with high view numbers. Adjust your content marketing strategy according to the views, creating more content based on the more highly viewed posts and less content based on the less highly viewed ones.
Check your view data weekly, and apply the same month-over-month improvement perspective that you apply to your entire inbound marketing effort. For example, our blog was viewed 7,500 times in June versus 5,917 times in May. This is the kind of month-over-month improvement that you want in your program.
Inbound Links
Another measure is the number of times people include a link to your article in something they write. This is also a very positive measure of success for your blog and each individual blog article. You should be able to track the number of inbound links for each article. The more links you get, the more new visitors will be checking out your article and your website, two very positive inbound marketing activities.
Leads
Last, but not least, are leads or conversions. Yes, your blog articles should be generating leads. Yet, we see blog after blog that doesn't include this important element. At the end of every blog article, include a CTA (call to action) that allows readers to get more information by clicking on it, filling out a form and receiving what they want.
This new lead means you have a prospect that is likely moving through the sales funnel, providing an opportunity for your sales team to reach out and connect. Don't forget this important (yet often unused) tactic in your blogging efforts.
Blogging adds so many positive elements to your inbound marketing program that it's hard to believe there are still companies that don't blog – and more that are evaluating their blog and considering ending it. Use these metrics to see how your blog is doing, and consider working it until you see positive traction in at least a few of these categories.
Start Today Tip – The best advice we could give you today is to start tracking your blog metrics. Take a look at these numbers monthly, but if you're blogging more frequently (say three or four times a week), you could be looking at these numbers weekly. Initially, don't worry about the actual numbers. Instead, work to improve those numbers week over week. Before you know it, you're going to be very proud of how you're doing. Finally, don't be discouraged. Blogging takes time to gain traction, and the worst direction you could take is to quit before you even have a chance to get going.
Square 2 Marketing – Leading The Reality Marketing And Inbound Marketing Revolution!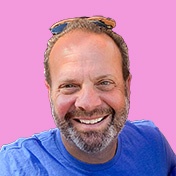 Mike Lieberman, CEO and Chief Revenue Scientist
Mike is the CEO and Chief Revenue Scientist at Square 2. He is passionate about helping people turn their ordinary businesses into businesses people talk about. For more than 25 years, Mike has been working hand-in-hand with CEOs and marketing and sales executives to help them create strategic revenue growth plans, compelling marketing strategies and remarkable sales processes that shorten the sales cycle and increase close rates.