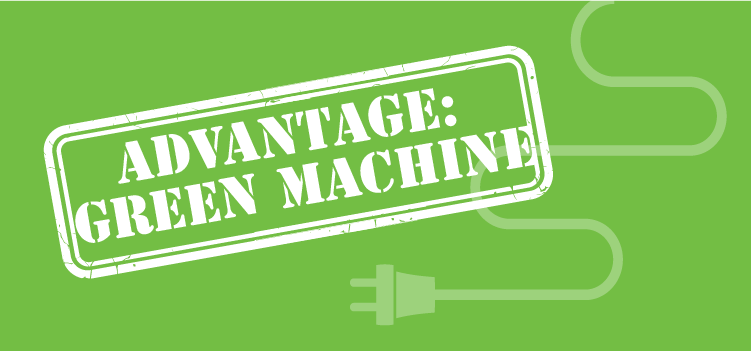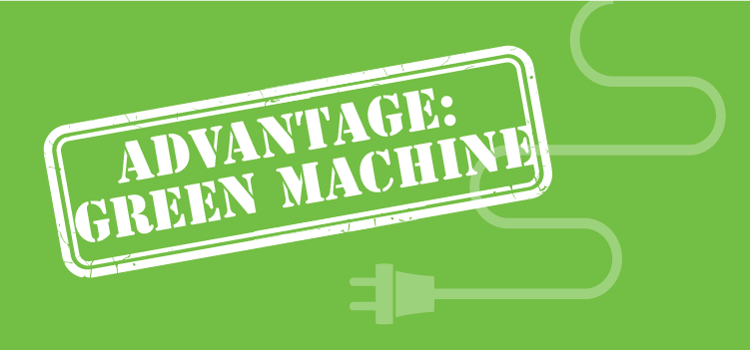 Editor's Note: This blog post is written for submission to the 2017 HubSpot Impact Awards. Wish us luck!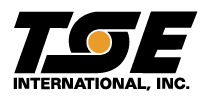 TSE International is a leading manufacturer of puller/tensioner equipment, and the first and only manufacturer in its industry to offer electric-powered machines, called Green Machines.
Utility companies are increasingly experiencing mandates to purchase a certain percentage of environmentally friendly equipment. Enter the Green Machine, an electric puller/tensioner that provides an environmental edge and blows away typical diesel-fueled engines in terms of benefits for the planet and people, and cost.
The Challenge
Purchasing an electric battery-powered puller/tensioner requires a fairly big mindset change for TSE prospects, typically fleet managers, fleet engineers, electrical distributors and directors at municipal power companies, and linemen. These prospects are used to working with powerful diesel engines, and their primary worry (aside from safety issues) is that "going green" will result in an inferior piece of equipment. All of the green stuff is great, of course, but how's the Green Machine going to perform day after day?
TSE wanted more than a technical whitepaper on the features and benefits of the Green Machine. The client wanted to connect with prospects in a new, creative way to showcase the true value of its innovative electric puller/tensioner equipment.
Strategic Data Illustration: The Green Machine Infographic
The baseline story behind the Green Machine is that it's just as powerful and long-lasting in the field as any diesel-run equipment. The bonus is that it offers numerous benefits in terms of environmental and human health, as well as cost savings and green tax credits.
To illustrate this story, we developed the infographic Add It Up And You Get The Green Machine Advantage. We mixed startling facts with short bursts of content, and combined environmental and health issues with topics of cost and durability to speak to the full picture of a purchasing decision.
At Square 2 Marketing, we're learning that the rules of infographics are made to be broken. Facts, figures and charts are good, but telling the most compelling story through inbound marketing strategy, short copy and great design is where we're finding success for our clients.
This infographic pits the two types of equipment against each other in several categories related to worker safety, with the clear winner being the Green Machine.
The infographic highlights the risks associated with issues like noise pollution, exposure to diesel fuel, harsh machine vibrations and maintenance costs in a visual and interesting way to truly connect with TSE's target audience.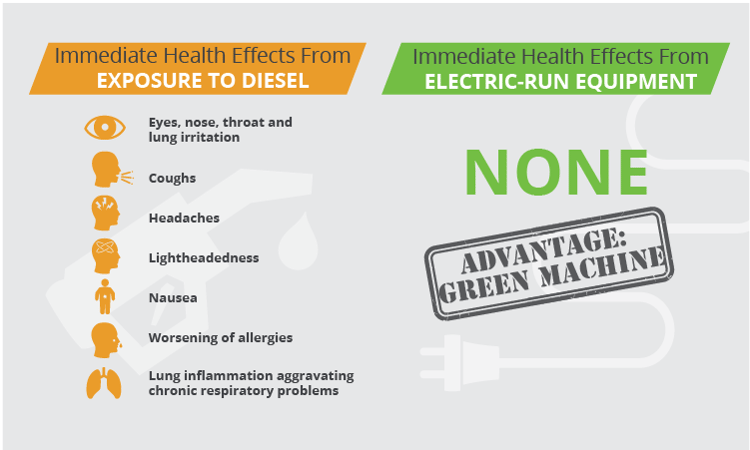 Bold graphics using iconography work to visualize the contrast and weight of pollution on both the worker and the environment versus the cleaner and healthier green choice in an easily digestible way. The remarkable facts about the Green Machine are spliced in throughout the infographic using colors and fonts that draw the reader's attention while still complementing TSE International's brand.
We concluded with a compelling call-to-action for the reader to learn more about the health, environmental and cost benefits of the Green Machine with TSE International. Thus, the infographic provides a compelling argument toward using Green Machines and is a proven gateway into deeper funnel conversation with the experts at TSE.

The infographic lives behind a form on a HubSpot landing page and is promoted throughout TSE International's website by strategically placed designed CTAs that contrast the rest of the page, guiding users toward conversion.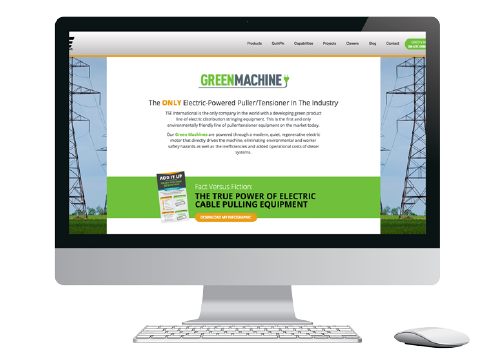 The landing page follows inbound marketing best practices, including having removed the website navigation, using streamlined form fields and using bulleted lists to describe the value the visitor will receive from the infographic. Once the visitor has converted to a lead, their request for the infographic is confirmed on a HubSpot thank you/confirmation page, and the full infographic is delivered by email.
HubSpot Landing Page And Form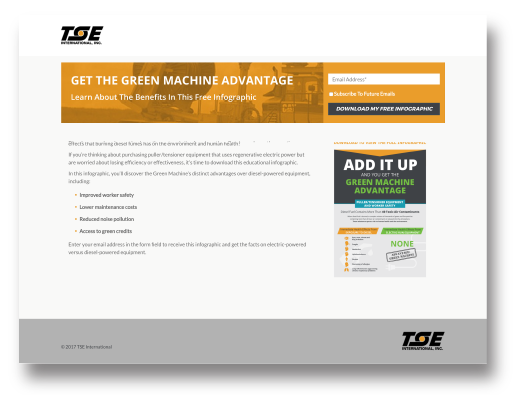 The Results
"We loved collaborating with the team at Square 2 Marketing on this exciting inbound campaign for our infographic. The infographic visualizes powerful and compelling concepts in an interesting and bold way for our industry. The infographic perfectly combines inbound strategy, great content, beautiful design and inbound marketing best practices to drive results for TSE." — Shawn Britt, VP of Sales and Marketing, TSE International
Through the client's HubSpot marketing portal, we see that when visitors engage with TSE International through this infographic, they go on to explore the site, learn more about the products and click on CTAs.
The infographic is working to effectively drive consideration-stage leads and even nurture them further along in their buyer's journey. In fact, 25% of the contacts that downloaded the infographic moved into the decision phase of their buyer's journey by requesting a two-week demo of the Green Machine.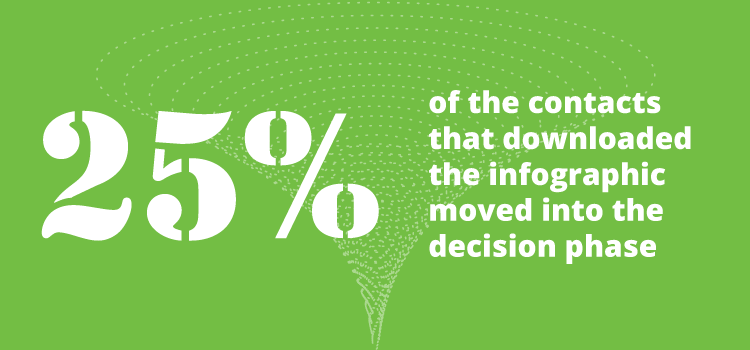 "This year, we are releasing several iterations of the Green Machine, so our push to market this innovative, environmentally sustainable equipment is critical. The infographic Square 2 Marketing provided showcases the clear winner — it's creative, concise and persuasive. This infographic is a great tool for prospects looking to purchase a new fleet of puller/tensioner equipment. Looking at it from this angle, the purchasing decision is a no-brainer." — Shawn Britt, VP of Sales and Marketing, TSE International
Conclusion
This compelling infographic delivers value in the form of new website visitors, leads and the acceleration of these leads from awareness to consideration and even to the decision stage of the buyer's journey. Add It Up is a great example of using an infographic to attract leads with inbound marketing that's bold, creative and fun.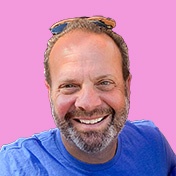 Mike Lieberman, CEO and Chief Revenue Scientist
Mike is the CEO and Chief Revenue Scientist at Square 2. He is passionate about helping people turn their ordinary businesses into businesses people talk about. For more than 25 years, Mike has been working hand-in-hand with CEOs and marketing and sales executives to help them create strategic revenue growth plans, compelling marketing strategies and remarkable sales processes that shorten the sales cycle and increase close rates.