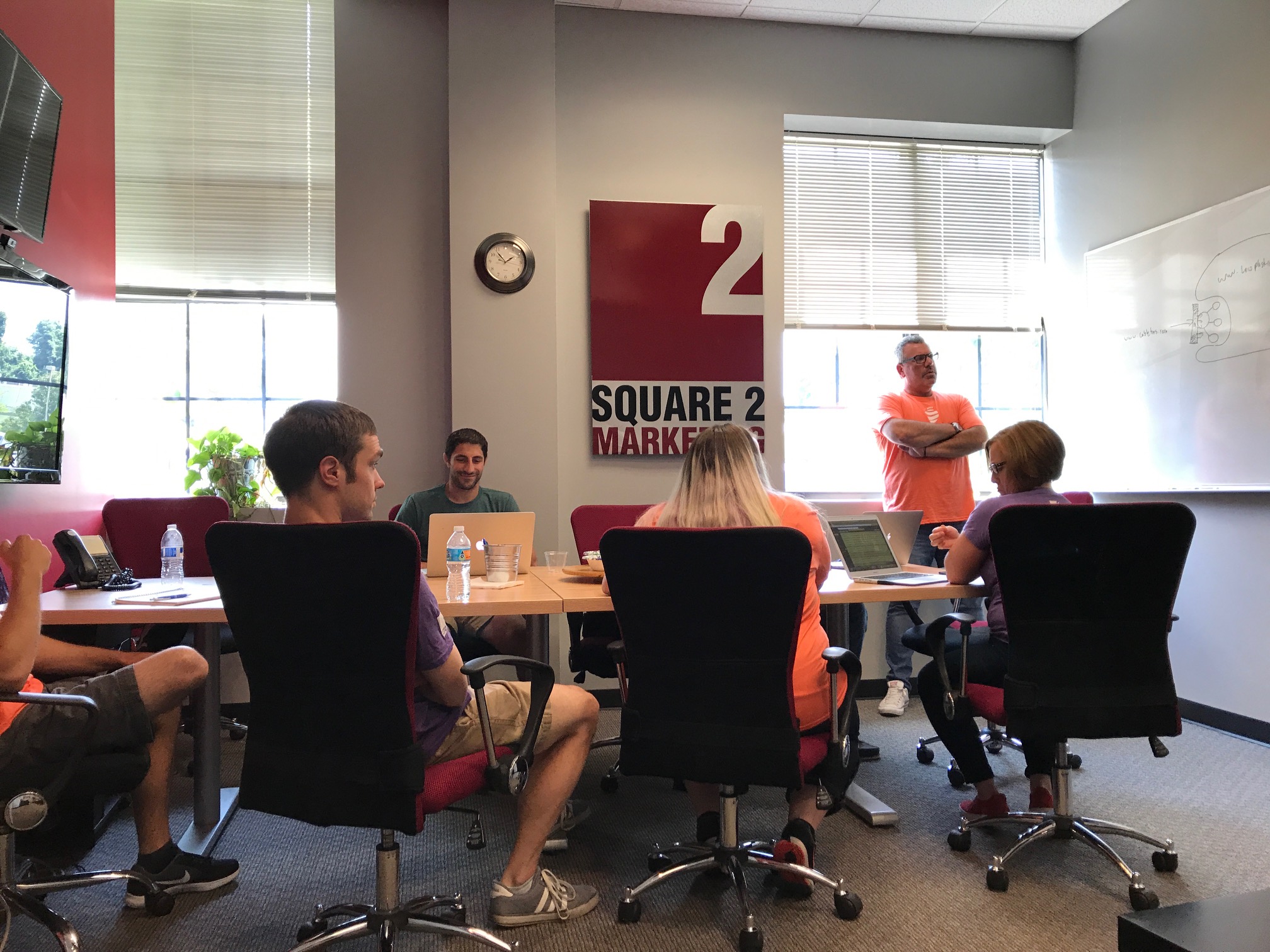 50 Of The Smartest Marketing And Sales Innovation Experts Work On Revenue Generation For Our Clients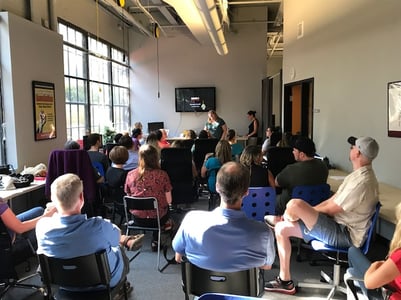 When Square 2 Marketing expanded to have 50% local team members and 50% remote team members, we needed to find a way to keep our culture thriving, facilitate regular training, drive innovation and build team bonding.
The result was a twice a year, all-hands get-together at our corporate headquarters located just outside of Philadelphia.
On Monday, we kicked off the summer edition of this company tradition, Square 2 Extravaganza. As a digital marketing agency that specializes in revenue generation for our clients, this event is packed with learning, innovation labs, team collaboration, client success story sharing and the appropriate amount of celebration.
"The team loves coming to Philly and loves getting together with their teammates to build strong relationships, work together on client programs and continue learning about innovative new marketing tactics the company is rolling out for clients," said Jessica Lipson, director of people and culture.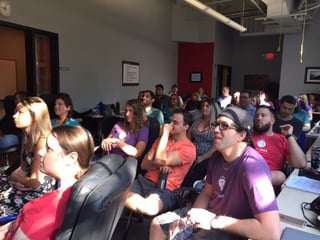 A big portion of the event is centered on continuing to optimize and innovate what we do and how we do it. We want to make sure that everything we do is designed to increase our clients' ability to generate leads, turn those leads into sales opportunities and then close those opportunities, generating revenue and helping clients exceed their revenue goals.
Specifically, this week we're rolling out an enhanced and upgraded hive structure that more dynamically deploys our in-house specialists like designers, copy architects, editors, UI/UX experts, and search and paid media pros to drive results for clients in an expedited manner.
With an emphasis on demand generation and inbound marketing, we're also investing heavily in team training. This time, our partners at HubSpot, SEMrush and Wright Impact Group are all providing training and support to the Square 2 Marketing team. This training and focus on staying updated on the latest technology and lead generation practices ensures that our clients are always getting the latest and greatest thinking from our team.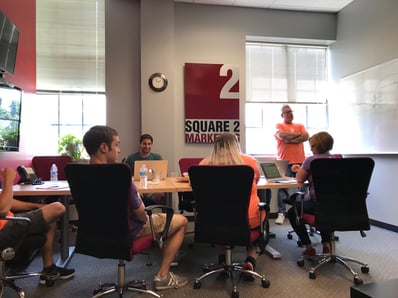 In addition to training, Square 2 Marketing's vision is to innovate sales and marketing to match today's buyer behavior. Innovation demands experiments and testing. Part of the week's festivities includes an innovation workshop to move successful ideas and experiments out to help clients drive their results.
"We typically run a number of active experiments and tests on our own agency that usually turn into operational programs for clients," said Mike Lieberman, CEO and chief revenue scientist. "This event gives us the chance to talk about those programs and make sure the team is all operating from the same playbook — so clients see results."
But it's not just about our clients and us. This event also includes Square 2 Gives Back, a program that regularly matches local charities like the Philabundance, the Food Bank of South Jersey and the local Boys & Girls Club with our digital agency's desire to volunteer and support local charities.
During a previous Square 2 Extravaganza, our team built and delivered 15 new bikes to the kids affiliated with the Boys & Girls Club. This week, our team is working with Cradles to Crayons, spending time with the organization to pack up bundles to deliver to needy families and collecting more than $5,000 in donations for the organization.
"It's great bringing everyone in and getting to spend time together," said Julie Golden, president. "The brainstorming and team building go far in helping us work together to drive revenue for our clients. It's wonderful that we have the resources and commitment to invest in our team and nurture our culture and core values."
The key takeaway for clients and prospects should be that the world of marketing and sales is changing quickly and dynamically. Whether you manage an internal team or work with an agency partner, you're going to want to make sure that they're constantly learning, constantly testing new ideas and constantly practicing those techniques that are proven to drive results for your business.
Square 2 Marketing – Innovating Marketing And Sales To Match Today's Buyer Behavior!