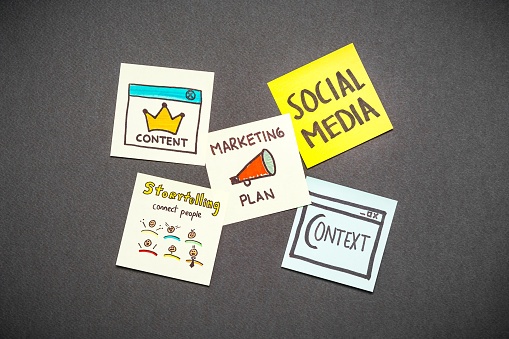 Is content marketing dead? Is it failing to produce results for companies hoping to fill their sales funnel with qualified leads? How can you ensure your content-driven lead generation efforts produce revenue and results?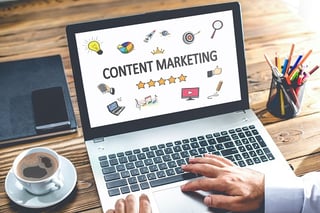 A few years ago, content was all the rage. Companies in nearly every industry rushed to publish anything and everything they thought would help them gain customers. "Content" was the shiny new magic bullet that would help companies attract qualified leads at a lower cost than advertising.
Now, content marketing is slipping onto the wrong side of Gartner's hype cycle, into the "trough of disillusionment," and some are rushing to dismiss it as a dead tactic.
Content marketing is not dead. With the right approach and the right strategies, it's a powerful way to attract and engage with inbound leads. But to get the results you're looking for, you have to get the fundamentals right. Here's how to do that.
#1. You Need A Documented Content Strategy
Haphazard content publishing isn't going to get you anywhere close to the revenue results you're looking for. You can craft the greatest infographic in the world, but if there's no strategy behind it, it's not going to help you attract leads.
You need a content plan and a content calendar. You need to publish your content on a regular rhythm. You need links and calls-to-action that move prospects from one piece of content to the next. You need content for each of your personas and for every stage of the buyer journey.
Putting this all together is complicated. It's never going to work if you're trying to do it all in your head. You need a document that outlines your entire strategy. Yet most companies fail to do that.
According to the Content Marketing Institute's B2B Content Marketing 2016 Benchmarks, Budgets and Trends – North America report, only 32% of B2B companies have a documented content strategy. That means over two-thirds of B2B companies are publishing content based on nothing more than their latest ideas and inspirations.
Only 32% of B2B companies have a documented content strategy.
If you're going to drive revenue with content, you need a documented content strategy. This should describe, in detail, the content you plan to produce, the ideal ways prospects will consume and move through your content and the ultimate goal of your content. Without this documented strategy, you're not going to achieve your goals.
#2. Your Content Needs To Have A Purpose
The purpose of your content goes hand in hand with the strategy. With each piece of content you create, you need to think about why you're planning to publish it.
Are you trying to attract organic traffic to your site through Google search results? Are you trying to engage visitors already on your site? Are you trying to establish your company as a thought leader? Are you trying to boost your brand's image? Are you trying to capture your prospects' contact information?
Your purpose could be some combination of these, but you have to consider these goals as you plan, produce and publish your content.
You also need to consider which of your personas you're targeting with your content and how that content fits in with their buyer journeys. A piece aimed at prospects at the top of your funnel should look and sound different than something created for prospects actively considering a purchase.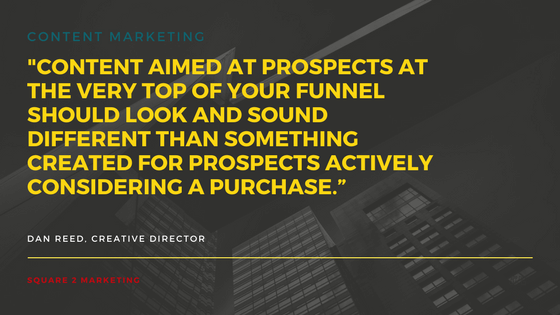 Always be aware of what you want the prospect's next step to be. This could mean reading another content piece, visiting a product or services page on your website or requesting a free trial or consultation. Whatever that next step is, your piece should be crafted to subtly guide your prospects in that direction.
#3. You Need To Think About How People Are Going To Discover Your Content
In the early days of inbound marketing, the strategy for driving traffic to your content was always the same:
You created your content around a long tail keyword with high monthly search volume and a low difficulty rating.

Your prospects found your content in organic search results.

Your prospects shared your content with all of their contacts via social media and email.
Simple, right? Unfortunately, with Google's ranking algorithm changing frequently and content production reaching astronomical levels across almost every industry, that is no longer a viable strategy.
Don't get me wrong; organic traffic and social shares are still important, and may still play an important role in driving traffic to your content. But content discovery is something you need to think about.
How Will Prospects Find Your Content?
How are your prospects going to find your content? Organic search results? Social media? Pay-per-click (PPC) advertising? An email campaign? Through your website?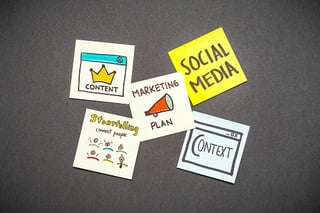 Ideally, you should have more than one traffic source in mind when planning how prospects will discover your content. But certain types of content work better for certain channels.
For instance, if you plan for prospects to discover your content through organic search, the content should be crafted to rank in search results. Educational content tends to rank better when it provides a rich, comprehensive experience for the prospect. This could include longer word counts and multimedia elements to keep your prospects on the page longer.
On the other hand, gated content (content that sits behind a contact form where prospects enter some personal information, such as an email address, in exchange for a download) may be more suited for prospects already exploring your website. Ideally, you've built up trust with them through their time on your website, so they may be more likely to be willing to share information with you.
If you're hoping for prospects to share your content on social media, you're best served by opting for eye-popping graphics and/or video content. This holds true even for the most "boring" B2B companies.
One Of The Worst Content Marketing Mistakes You Can Make
One of the worst things you can do is to spend energy producing content, then devote no strategy or energy to ensuring that it is discovered by prospects.
I recently encountered a technology company that published multiple pieces per day. However, they were burying their most useful information in PDF form, without asking for contact info to download it. The only way prospects could find the content at all was through very short (and unlikely to rank) blog posts.
Essentially, this company is investing enormous effort into content creation, but not reaping any of the rewards. You can avoid this fate with careful planning around content discovery.
#4. You Need A Mix Of Gated And Ungated Content
You're producing content to generate leads, which might make you more inclined to gate all of your content. Gating everything is a surefire way to ensure a high visitor-to-lead rate for prospects who stumble across your content. Unfortunately, it's also a good way to make sure few prospects find it in the first place.
Gating all your content is a great way to ensure no one finds it.
Landing pages with contact forms rarely rank in organic search results. One reason is that conversion-oriented landing pages typically don't have long enough word counts for Google and other search engines to deem them worthy of appearing in the first few pages of search results.
If you want to attract new prospects to your content, you have two options:
Give away your rich, built-to-rank content for no cost at all (not even contact info) to organic visitors

Advertise the landing pages promoting your gated content through Google AdWords, Facebook ads and LinkedIn ads
With the organic approach, you have to be patient. You'll have to wait for search engines to detect just how great your content is and rank it on page one of search results. You'll also have to wait for the prospects who discover you this way to move further into your funnel before they give you their contact info.
With the paid approach, you'll need to be able to live with a higher cost per lead and dedicate resources to hyper-vigilantly monitoring your campaigns to ensure you're not being outbid, or that your ads and landing pages are not yielding low click-through or conversion rates.
Which approach you choose depends on your short- and long-goals. If you need to show results right away, invest in PPC. If you're more interested in the long haul, devote your budget and energy to creating content that ranks organically. Most companies we work with choose some mix of both
#5. Your Content Has To Be Engaging
Creating outstanding content is the hardest part of content marketing. But all the strategy in the world won't save you if your content doesn't offer your prospects new information, help them solve a problem, and engage them emotionally.
So what should you create content about, and how do you make it great?
Start by identifying the challenges your prospects face and the questions that will come up along their buyer journeys. Plan different pieces of content that tackle these questions and problems one at a time. While the problems you address in your content should be ones your business can help solve, resist the urge to explicitly promote your products or services.
Find a subject matter expert to provide insights to include in the content. This ensures that your deliverables offer genuinely helpful information from a unique perspective.
Finally, hire skilled professionals to actually put the work together. Professional writers, editors, designers and video producers will ensure your content is polished, error-free and emotionally engaging. In an age of endless digital distractions, this quality of work is necessary to guide prospects all the way through your content and onto the next step.
Driving Leads With Content Marketing
Content isn't dead, it's just being poorly executed and taken for granted. If you pay attention to strategic fundamentals and ensure outstanding quality, your content efforts will pay off in the form of new leads and new customers.