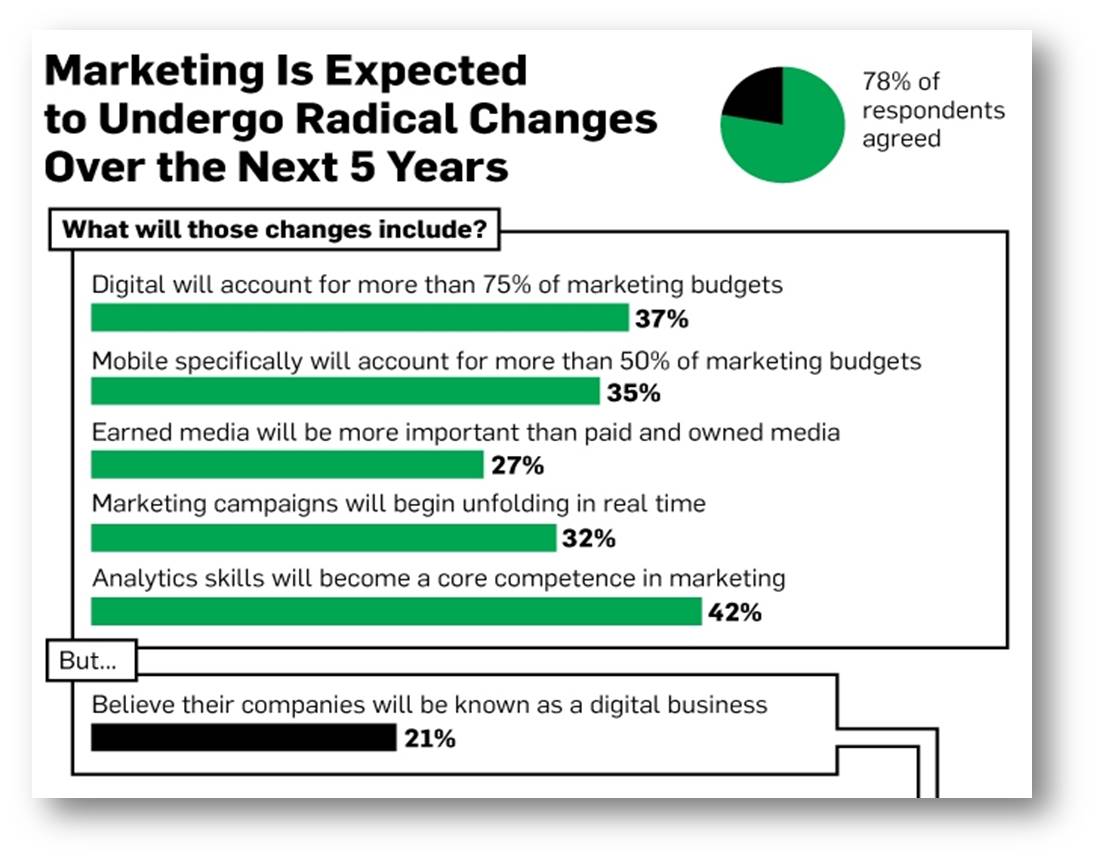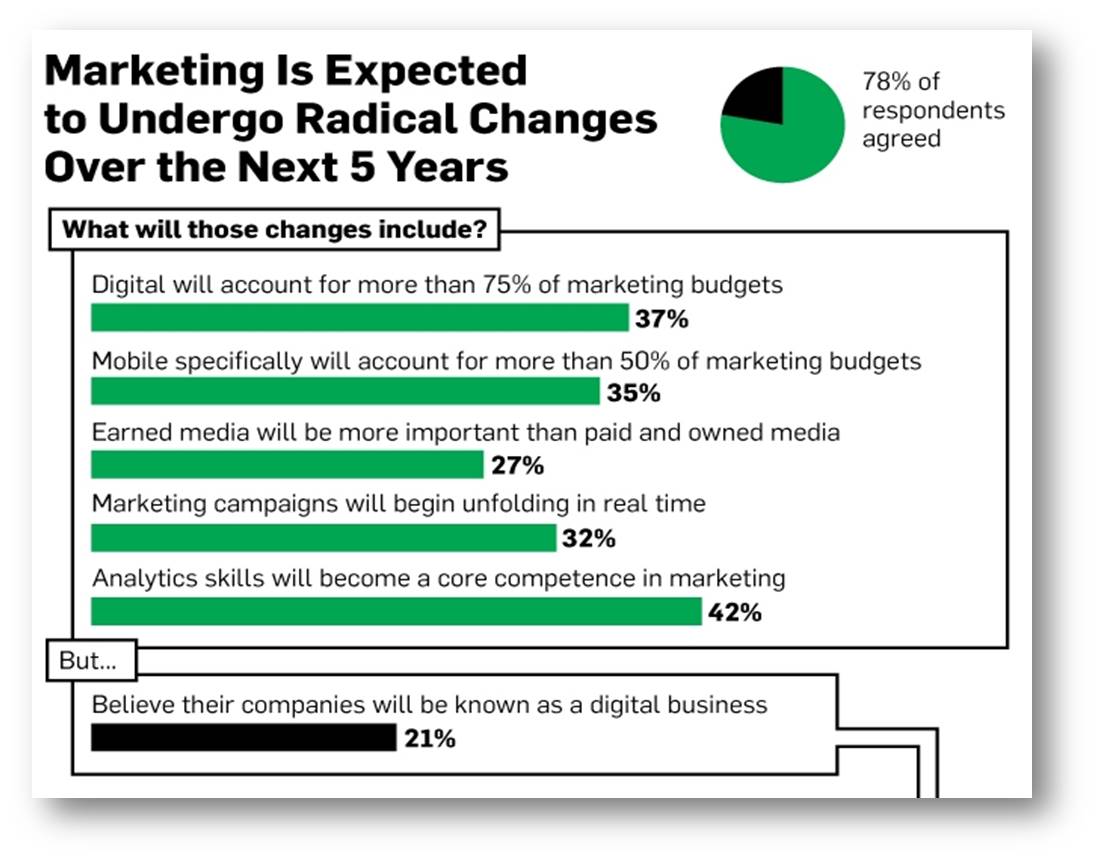 Every now and then, I like to get connected to the more traditional world of advertising, mostly to see what those people are thinking, writing about and concerned with.

I'm constantly looking for early indicators that they recognize the challenges associated with their business model and what they can do to adjust to the changing world around them.

In Adweek last week, I found the following interesting data points from an Accenture Interactive CMO Study done in 2014. Click here to see the data.

The subhead: CMOs believe online media will account for three-quarters of marketing budgets within five years, and analytics skills will become a core competency. This certainly points to two of the major value propositions associated with inbound marketing: 1) everything is digital, and 2) analytics are a major element of optimizing an inbound marketing program over time. If you can't measure it, you can't improve it.

Here are some other key takeaways:

78% of respondents agreed that marketing is expected to undergo radical changes over the next five years. Those of us practicing new marketing techniques are at the cutting edge of those changes, and they're going to continue to accelerate. Changes in the way you pay for advertising, changes in the types of content available and changes in how you distribute content are going to continue to be opportunities for innovative marketers.

In 2012 (the last time Accenture did the survey), 58% of respondents thought telemarketing was an effective channel. Today, only 48% think so. I'm surprised that this isn't lower. But when I see the decline in the number of businesses still using cold calling to generate leads, I am encouraged that people are starting to realize this tactic just doesn't work.

61% of respondents said that search engines are an effective channel, up from 52% in 2012. And 58% said that email has grown more effective, up from 44% in 2012. The search effectiveness probably has to do with our collective ability to actually make progress ranking our businesses. While Google and the other search engines still keep their actual algorithms secret, we see that the more we produce blog articles and content, the higher our businesses rank.

As for email marketing, I'm not sure this channel has actually become more effective. But I believe the data is telling us that we've learned how to use email more effectively to nurture our leads as opposed to generate new ones. So, in essence, our expectations have changed, and email marketing has found a home in our marketing strategy, making it appear more effective.

Perhaps one of the most interesting data points is the 42% of executives who expect managing change to be the biggest barrier to implementing digital business initiatives. This actually isn't startling – simply because change remains the biggest obstacle to most major business shifts. Our job as inbound marketing evangelists is to make change easy to understand, easy to communicate and easy to implement.

Finally – and perhaps most disappointing – there is the answer to the question, "Who in the C-suite is responsible for digital innovation?" 35% of the respondents said it was the CEO, 23% said it was the CTO, 22% said the CIO and 19% said other. Notice anyone missing from this list? What about the CMO? Only 1% of CMO respondents said it was actually their own responsibility for digital innovation.

It doesn't have to be this way. Marketing should be aspirational from a delivery and experience perspective. We constantly challenge our clients with one simple question: "What do people hate about doing business with you that we can use digital means to fix?" If your prospects are looking for a remarkable experience with your company (and they are), it's marketing's responsibility to create that experience – and digital tools are a big part of how it's delivered.

There is a shift taking place in marketing. While it's moving more slowly than I would have hoped, it's taking place nonetheless. You have to get your company in a position to take advantage of these changes so you're able to drive enough leads for your business to hit your company's revenue goals.

Start Today Tip – "The secret of change is to focus all of your energy, not on fighting the old, but on building the new." We've been talking for years about the changes in buyer behavior, the changes in marketing tools and the changes that need to be made in the way you market and sell your products and services. Start your journey to change today, and embrace the new inbound marketing techniques that are driving real results for real companies.
Square 2 Marketing – Leading The Reality Marketing And Inbound Marketing Revolution!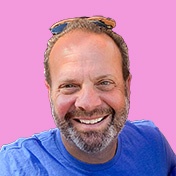 Mike Lieberman, CEO and Chief Revenue Scientist
Mike is the CEO and Chief Revenue Scientist at Square 2. He is passionate about helping people turn their ordinary businesses into businesses people talk about. For more than 25 years, Mike has been working hand-in-hand with CEOs and marketing and sales executives to help them create strategic revenue growth plans, compelling marketing strategies and remarkable sales processes that shorten the sales cycle and increase close rates.