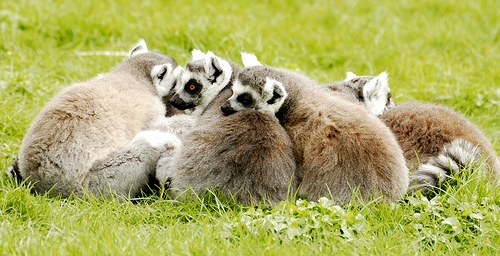 What are the top three benefits that come to mind when you think of building a digital presence through Inbound Marketing? Likely, your list includes things like gathering valuable lead information, simplifying communication through workflows, and effectively converting through optimized content. These aspects are inarguably valuable, but one is missing which has been instrumental in the success of many of the most-loved brands. Building a community around your business requires effort on your behalf, but pays off in the form of brand advocates who skyrocket your reach and positive perception among potential customers.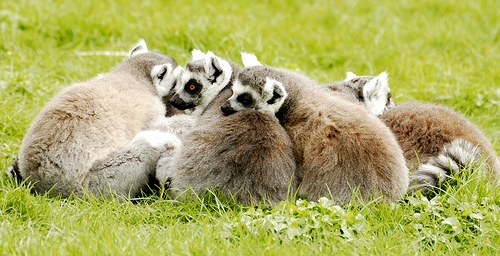 I recently joined the rest of the Savvy Panda team in attending Milwaukee's HubSpot user group meeting, where Jennifer Sable Lopez of SEOmoz shared an engaging presentation on the value of building an online community. Among her reasons to start engaging and delighting customers to build a community, the one that stood out most prominently to me was the potential for no-cost, high-value promotion. Humorously, Jennifer mentioned that even while she's sleeping there is a global community of SEOmoz enthusiasts out there promoting and recommending the product through digital channels.

That kind of following is enviable, but it doesn't build itself.

It's no secret that word of mouth always has and always will trump all other forms of marketing, but the ability to encourage customers to spread the good word of our offerings is definitely easier said than done. Before reviewing a few tips to help you build a community of your own, I'd like to share an example of a company doing this right.

Just yesterday, I was reading through emails and came across the message below from HubSpot, in reference to a Twitter conversation I had last week regarding their educational resources: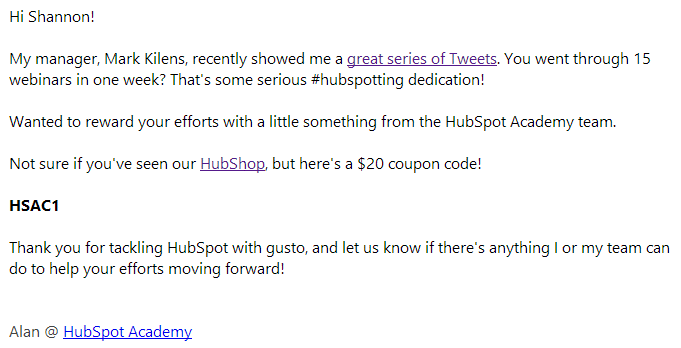 Imagine that! In exchange for Tweeting out my love of HubSpot's webinars, I was rewarded in a tangible and personal way. In terms of humanizing a brand and fostering the development of a community of enthusiastic brand advocates, HubSpot got this one about as right as anyone ever has. I was already a happy customer, but now I will be even more prone to share their offering with peers while personally recommending them.
If you're interested in my five minutes of fame, you can see the conversation he's referencing here. And yes, I did really watch that many webinars.


So, how can you implement this type of community building within your business, and how can you convert customers into evangelists? Here are a few tips I've seen lead to success:
Be accessible

Naturally, excellent customer service is the backbone of a succesful community building strategy. Whether it's to give thanks for a job well done or complain about an atrocity, people prefer to interact with companies in time-efficient online environments. Paying attention to your social mentions is incredibly important for catching and responding to feedback, and providing a well thought out response is the only way you ensure those individuals believe that your business cares.

The Inbound methodology as a whole is all about being effective at communicating through multiple touch points, and building community is no exception to that rule. Listen for mentions of your brand, and respond whenever possible. Very few people will be enthusiastic about, and much less willing to promote or advocate for, a company they feel ignored by.



Make personality a priority



Automated communication technology has been a Godsend for modern day marketers, but it simply cannot replace the type of relationship built through legitimate conversations. I love HootSuite as much as your next marketer, but I'm also passionate about social media being a two-sided conversation.

As such, I encourage brands to be agile in their communication.

Taking the time to communicate in a personalized format gives customers the opportunity to think of your brand as a friend or peer, rather than a product. And that kind of brand is the one that gets mentions, recommendations, and positive reviews in public places.



Don't just acknowledge, engage



Although Retweeting, liking, and sharing user generated content are great ways to express appreciation for your existing community, these actions don't give those people much of a reason to go any further in the conversation.

After I Tweeted my praise for HubSpot (and specifically Mark Kilens), I was Retweeted and/or Favorited by several employees, and the company itself. You could say I was pretty thrilled by the interaction (and the bump on my Klout score), but that was nothing compared to the excitement I felt when personally contacted and rewarded via email.

Acknowledging a customer's positive feedback through social validation is great, but using it as a starting place to build an even deeper conversation and relationship is phenomenal. This can be in public, via social media, or in private, via phone call or email.



Be generous, but not too generous



Whoever said "A little bit goes a long way" nailed it in terms of both sunscreen application and customer appreciation. As customers increasingly demand more of every company they patronize, some businesses are making the mistake of giving too much away for free in an attempt to buy loyalty. This strategy is not sustainable, and it's also not necessary.

Let's be honest: HubSpot gave me a $20 voucher to their online store, not a $500 Visa card. In doing so, they effectively rewarded me in a relevant way without majorly eroding their bottom line. And trust me, that gesture meant the world.

When rewarding those who have promoted your brand in an exceptional way, be careful you're not going overboard, and that the form of acknowledgement or thanks is pertinent to the situation.



Master the element of surprise

Jennifer shared a great story in her presentation on Community which I think does a great job illustrating how the smartest companies are focusing on delighting their customers in unexpected ways.

According to legend, SEOmoz representatives were once on a conference call with a customer, and casually brought up the cookies they were enjoying. The customer company expressed jealousy, everyone laughed, and the conversation moved on. It wasn't until a short while later, when cookies were delivered to the customer's office, that they realized the SEOmoz team had made a secret order to have a treat sent over.



Why? To bring them unexpected happiness, that's why. This manner of going the extra mile surely not only solidified SEOmoz in the customer's memory, but positioned the brand as being a caring peer.

People like to be surprised almost as much as they like cookies, so consider giving this kind of "customer delighting" a shot from time to time if you're likely to acquire an enthusiast who is happy to share their experience with others. Sometimes, taking the experience offline is a great way to earn later mentions online.


These five points truly only scratch the surface of all the ways you can, and should, build and foster a community of brand enthusiasts and advocates. One of the things that makes community building so fun is that it's all about being unexpected and treating people as appreciated individuals, which both lend themselves well to open innovation.
Have you invested resources into building an enthusiastic community? How has it paid off? I'd love to hear your feedback below, and look forward to watching your community grow!





Image credit: http://www.flickr.com/photos/andrewpescod/5661399837/sizes/m/