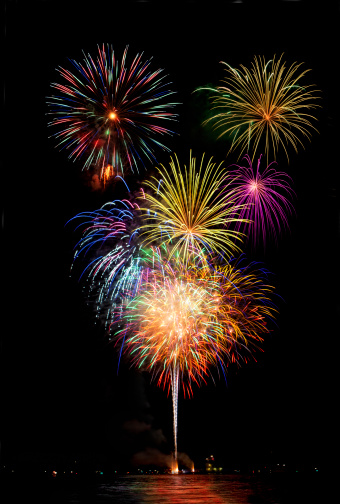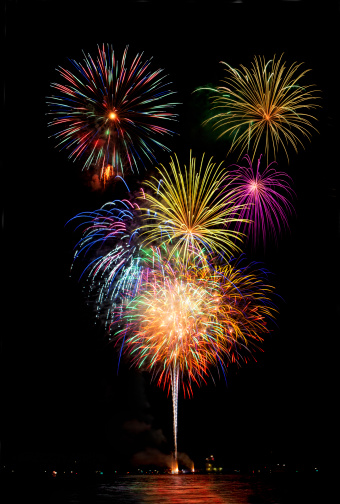 If you want to light up your inbound marketing results, consider upgrading your blogging effort.
Not completely sold on blogging? I've found some cold, hard facts from a survey done earlier in the year. Of the 3,339 participants, 62% of them reported that their company has a blog.
The most startling part of this data is that 38% of the companies still don't blog. If you're one of the 38%, perhaps this article will change your mind for good.
The facts speak for themselves. Companies that blog generate 126% more leads than those that don't.
The average company that blogs generates:
55% more website traffic.
97% more inbound links – and inbound links mean more website traffic and higher rankings on search engines.
434% more indexed pages.
If you believe the data, you should be feeling one of two things right now: good that you have a company blog and have been blogging for the past couple of months OR bad that you don't have a blog and wish you did. Either way, you might be asking yourself, "How often do we need to blog to get optimal results?"
Again, let's use the data to help us know how much blogging is the right amount.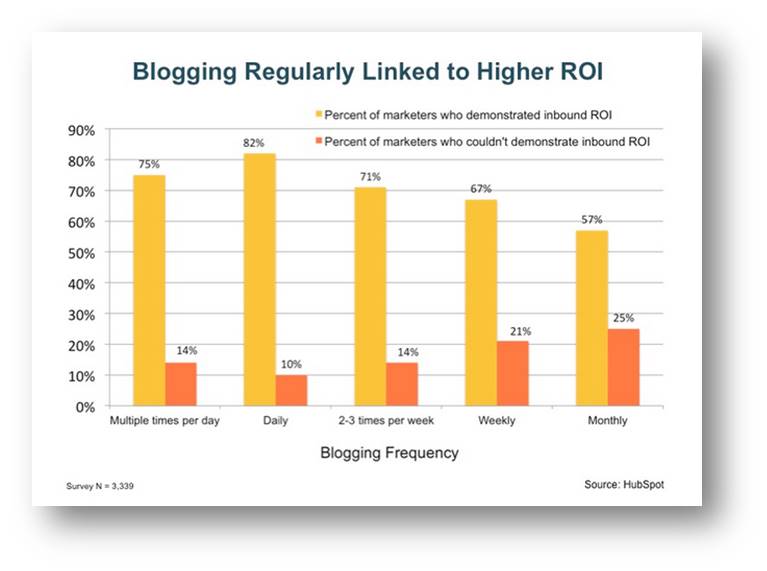 Looking at the chart, you see that 75% of the businesses who blog multiple times per day are able to demonstrate ROI from their efforts, as compared to 57% who only blog monthly. Both are strong ROI results, but there is a clear, major advantage to blogging more.
If you're a "glass half empty" kind of person, then you see that 25% of the people who blogged monthly had trouble demonstrating ROI, and only 14% of the people who blog multiple times a day had that problem. Again, the more you blog, the better your results.
If you are a fan of Inbound Unwound, you know that we like to provide as much actual client information as possible. So we took the generic survey data and applied it to our own clients. This way, you're able to see the facts applied in the real world.
Clients who have blogging programs that deliver blog posts multiple times per week get 84% more website traffic and 37% more leads than those who only blog once a week.
Perhaps more significant is the time it takes to ramp up an inbound marketing program so it's delivering significant results. Clients for whom we're blogging multiple times per week typically ramp up two and a half months faster than those that have us doing their blog once a week or less.
The "why" behind all of these numbers is very straightforward ...
The more you blog, the better you're going to do in search results. Blog content is highly optimizable and highly social, two factors that help you rank quickly and highly. The more you blog, the more indexed pages you have on your site. The more indexed pages, the better you're going to rank on search engines. Blog posts are usually highly shared content on a website.
The more your content gets shared, the more people are going to see your website and the higher you're going to rank on search engines. Your blog, if done properly, provides interesting, educational and thought-leadership content for your site. People are drawn to this type of content. And again, if your blog is done properly, each of these blog posts comes with a CTA (call-to-action) button that draws your readers a little closer to your company, turning them into leads.
It's not magic, but it works a little like that. The more you blog, the more people you bring to your site. The more people you bring to your site, the more leads you get for your business. It's really that simple. Now, don't let me over-simplify it: There are a number of other inbound marketing tactics that need to be part of this process. But this type of marketing is perfectly aligned with how today's buyers want to learn about your company. Deliver what they want, and you're in business.
Unfortunately, almost 4 out of 10 marketers/CEOs/business owners still think blogging is for the birds. The challenge with that thinking is that your competitors have already decided to start blogging, so now it's going to be much harder to catch up. If you're not blogging at least once a week, you have to start immediately.
Start Today Tip – Make sure you're able to add a blog to your website. Most website tools allow you to add a blog easily, but if you can't, you might have to change your CMS platform to one that has on-site blogging capabilities. That's the extent of the technical work. The rest comes down to you.
First, create a list of keywords. You need this to blog effectively. Make sure these keywords are in your title, paragraphs and footers. Create an editorial calendar, including a list of 20 potential blog topics. This helps you create your blogs and gives you the direction you need to maintain the weekly, daily or even more regular pace required to generate results. Finally, check the stats. See what people read, share and link to. Then, do more of these over time. You'll see the results quickly.
Square 2 Marketing – Leading The Reality Marketing And Inbound Marketing Revolution!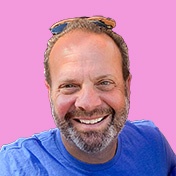 Mike Lieberman, CEO and Chief Revenue Scientist
Mike is the CEO and Chief Revenue Scientist at Square 2. He is passionate about helping people turn their ordinary businesses into businesses people talk about. For more than 25 years, Mike has been working hand-in-hand with CEOs and marketing and sales executives to help them create strategic revenue growth plans, compelling marketing strategies and remarkable sales processes that shorten the sales cycle and increase close rates.