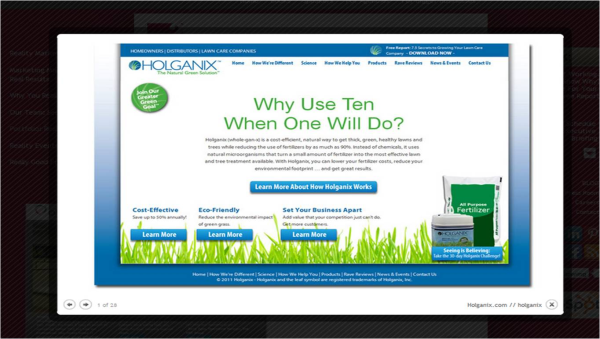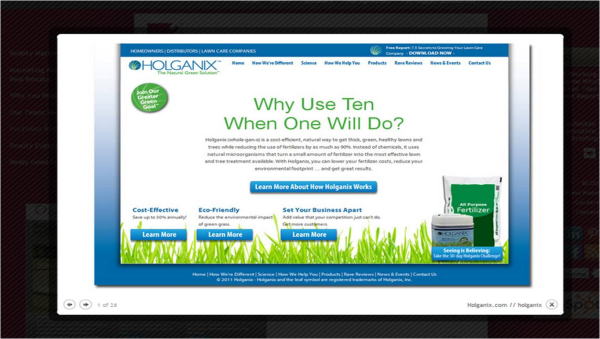 The most frequent marketing strategy improvements we recommend center around making your website more conducive to generating leads. Website design typically ignores lead generation in favor of aesthetics like color, photography and graphic elements. This is usually because the people you hire to do your website are designers, not marketers.
When you have marketers working on redesigning your website, you get a much more results-oriented approach. Here are the seven most important lead generating website design secrets we share with our clients.
Messaging Matters – What you say on your website is just as important as what your site looks like. Unless your message holds their attention, your visitors will only spend 10 seconds on your site before they hit the back button. You need to quickly and emotionally connect with each and every visitor.
Start by showing them you understand their pain, you have a remarkable solution and that other people just like them have successfully worked with your company. Here is an example of strong emotionally messaging.
Know What You Want Your Visitors to Do and See – You need a plan when visitors come to your site. Where do you want them to look first, second, third and what do you want them to do on the site. When someone comes to your website, you should have one goal: to continue the conversation by gathering visitor contact information.
Most people view your website from the top left to the bottom right. If you have strong messaging, it should start at the left and work down and to the right. Very successful sites like Amazon.com, Netflix, and Zappos use the area on the top right to provide educational information, sign ups, login, or promotional information. Click here to see a sight that actively manages the visitor's experience.
Give Them Something to Take Home – Not everyone visiting your site is ready to be a customer or a client today. Some are just starting their research and still getting to know your company. If you give your visitors educational information and content they can take home, you get their contact information and now you can market to them more directly. This one-to-one approach is highly effective and highly efficient. Here is an example of how we give people educational information.
Keep It Simple – Resist the urge to put 10 pounds of shells in a five pound bag. If your site has too many words, too many sections, too many links to consider, people will feel anxious, confused and uncertain. Keep the site simple: one picture, one main message, one testimonial, one video, one No Risk Offer for new people, and one Contact Us page for people who want to hire you immediately.
Don't Worry About the Fold, Just the Flow – It's an ongoing discussion; should a website run much below the fold (the area that requires a scroll for the visitor to see)? The answer is: it depends. Here is a great article that illustrates the debate. If you are going to go below the fold, make sure it's part of your plan before you start your website design. Those sites that do go below the fold are designed specifically to deliver a flow oriented user experience. Either way, pick a website design strategy and stick with it.
Help Them Trust You – When you meet someone for the first time, you don't trust them yet. It takes getting to know them before you even consider trusting them. The same feelings are in play when it comes to your customers and how they feel visiting your website for the first time. Your website design must make an effort to help your visitors trust you.
A great way to help build trust is a blog. A blog usually shows the personal side of your business, your thought leadership, perspectives on industry issues, and it gives insight to people looking for advice.See how one of our clients uses their blog.
Make it About Them, Not About You – This might be one of the hardest changes to make. Look at most of the sites around today: you see a picture of the owner, you see their trucks, their building, their employees. The text on the site talks about how long they have been in business, how many people they employ, etc. It's easy to talk about you. It's harder to talk about your prospects.
But as most of us know, we (as buyers) couldn't care less how many trucks you have. We expect you to have trucks if you have a business that needs trucks. What we want to know is how, exactly, you are going to help us and how you are going to do it differently than your competitors. Deliver that quickly and in a memorable way and you will have a new customer. Here is an example.
Start Today Tip – Look at your current website. How does it stack up against the tips above? If it needs help, consider changing it. If it's been a few years since you redid your website, it's probably time to consider a new one anyway. The changes to search, social media and marketing in general usually dictate redoing your website every three years or so.
Square 2 Marketing - Leading the Reality Marketing Revolution!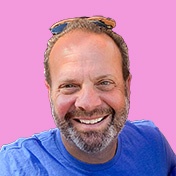 Mike Lieberman, CEO and Chief Revenue Scientist
Mike is the CEO and Chief Revenue Scientist at Square 2. He is passionate about helping people turn their ordinary businesses into businesses people talk about. For more than 25 years, Mike has been working hand-in-hand with CEOs and marketing and sales executives to help them create strategic revenue growth plans, compelling marketing strategies and remarkable sales processes that shorten the sales cycle and increase close rates.