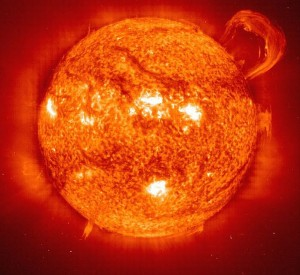 Sorry, I couldn't resist borrowing an international news story to help get the blog noticed. But all kidding aside, while the Earth is bombarded with solar radiation from the sun I couldn't help but apply the same thinking to website design.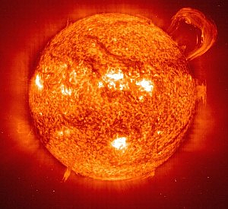 Solar radiation impacts the performance of GPS systems, power grids and other scientific gadgets but has little impact on the people who live on our plant. Weak website design is similar: business owners hardly ever know if their site isn't working right, but if they looked at the right gadgets, they would notice the negative impact on their site's performance. In other words, on the surface, most professionally created websites look good. But dig a little deeper and you start to notice the flaws.
Here are a couple of examples. If you want more detailed insight into great website design, click here.
One of the first areas that usually needs attention is navigation. Keep the structure of your primary navigation simple and near the top of the page. Include navigation in the footer of the site and try not to offer too many navigation options on a page. Make sure you include links within your page copy and make it clear where those links go. This is especially important if you want your site highly ranked by search engines.
Messaging is almost always overlooked or minimized in favor of fancy design despite the fact that, in most cases, it is the most important element. Great messaging drives conversions more than great creative, so don't skip this important step. Ask yourself the following questions. Will people know what I do in seconds? Will they know how I help them? Will they know how I do it in a unique way? Will they know what to do next? Will they be able to get information, regardless of whether they are ready to buy today or not?
Content is king, yes? We have all heard this. If you don't have the right kind of content on your website, you might come across as the court jester. Content has to be delivered in a variety of formats to appeal to a variety of people. Consider adding strong informative imagery. Infographics do an amazing job of telling a story with a single picture. Video is the hottest media on the web right now; your site MUST have a video or three on the home page. Audio, tools like graders and assessments make the site interactive and educational all at once.
There are a whole host of other website design considerations when creating a website strategy for your company including calls to action, landing pages, adding offers, blogging, customer validation, accessibility and more. If you are building a website for your company, hiring an outside website design company or if you are bringing in a marketing firm to work with your internal IT team, you need to consider including all of these "must haves" as part of your project.
Start Today – Take an inventory of your current site. What is it missing and what does it have? Ask your technical development team how they are planning to address some of the areas above. Reach out to an expert to get their perspective on your site and see what they suggest in these areas. Ask the hard questions, if they don't have an answer consider some other options.
Square 2 Marketing - Leading the Reality Marketing Revolution!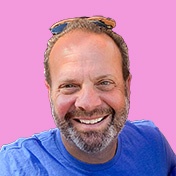 Mike Lieberman, CEO and Chief Revenue Scientist
Mike is the CEO and Chief Revenue Scientist at Square 2. He is passionate about helping people turn their ordinary businesses into businesses people talk about. For more than 25 years, Mike has been working hand-in-hand with CEOs and marketing and sales executives to help them create strategic revenue growth plans, compelling marketing strategies and remarkable sales processes that shorten the sales cycle and increase close rates.