It's Halloween, we all have to be careful to find the treats and avoid the tricks. Marketing isn't that much different. Here are a couple of yummy treats. Work on these and stay away from some of the stale tactics and your marketing will be scrumptious not scary.
Treat 1 – Video
Video has so many applications today that no marketing program would be complete without it. Here are a couple of suggestions. Get a flip cam and shoot some clients talking about how happy they are with your company. Edit them together and use this "reference real" instead of giving out references. Take a few videos and post them to YouTube, tag them with the right keywords, add a call to action, and if the search volume is under 1 million, you might just get on the first page of Google in less than 48 hours. Click here to learn more about video.
Treat 2 – Content
Today's marketing programs need content and lots of it like blog posts, eBooks, videos (see above), white papers, podcasts, webinars and more. The more content you have the easier it is going to be to get your prospects to feel safe hiring you. The more you help them do their jobs and the more you talk with them regularly without trying to put the hard sell on the faster they will know, like and trust you. The hard part is knowing what to write about. That's where a good content plan helps. Think this out in advance, do it for the next six months and stick with it. Click here for more on creating great content.
Treat 3 – Offers
If your website gets one million visitors each month but no one converts (identifies themselves) then your million visitors are worthless. Offers get people to convert. Conversions are potential sales opportunities and if you treat (ha!) them right (nurture not sell), they will become your customers. Create offers regularly, track and test them, ride the ones that work and retire the ones that don't. Use your content as your offers. When you see what people are interested in adjust your content plan to create more of what is working. Click here to learn more about the Trio of Offers.
Doing marketing the Reality Marketing™ way doesn't have to be scary or tricky. If you want to talk about getting any of these special treats for your company, just let us know. We are here to help.
Square 2 Marketing – Leading the Reality Marketing Revolution!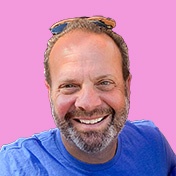 Mike Lieberman, CEO and Chief Revenue Scientist
Mike is the CEO and Chief Revenue Scientist at Square 2. He is passionate about helping people turn their ordinary businesses into businesses people talk about. For more than 25 years, Mike has been working hand-in-hand with CEOs and marketing and sales executives to help them create strategic revenue growth plans, compelling marketing strategies and remarkable sales processes that shorten the sales cycle and increase close rates.