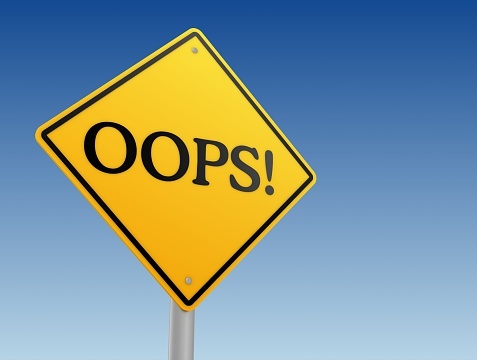 Don't Underestimate The Significance Of Your Headline
It's easy to minimize the importance of your headline. For whatever reason, even the savvy content marketer sometimes fails to grasp its complete significance.

It's not simply a title – it's a critical conversion point. In fact, it's your most critical conversion point. The headline converts email recipients when used as a subject line, and most important to us inbound marketers, it represents your post or website as a meta title on a search engine results page (SERP).

Our industry talks a great deal about getting on the first page of Google. But what happens when you're fighting the other results on that page for a user's attention?

While it's significant to be one of the first results listed for your keyword, it's more important to get a prospect to click on your link and visit your site.

The meta title and description are your opportunities to compel a searcher to choose your web page out of the plethora of other options. There's no question that your headline is essential to conversions and effective content marketing.
Where Do Keywords Come Into Play?
You can't talk about "the first page of Google" without also mentioning keywords, so it's important to understand the role of the keyword in a meta title and description.
The meta title and description must be optimized to maximize your click-through rate (CTR). While the title should contain a keyword, keywords have no SEO significance in a meta description – you don't have to force one in. When it comes to these two search components, you must think about them as opportunities to convert a reader above anything else. Your primary goal is to get the prospect to click on your result. And, when you get a user to click on your page, your on-site SEO improves.
It's All About The Reader
Understanding what makes people click is the crux of writing effective headlines. While it might be tempting to use clever titles, if they don't appeal to a user, they're essentially irrelevant. But what does appeal to prospects?
An analysis and thorough comprehension of user intent and user behavior signals [link to: http://www.square2marketing.com/blog/user-behavior-optimization-the-key-to-future-proof-your-seo-strategy] is a great start for any modern SEO project.
Additionally, a Conductor study showed that 36% of readers prefer headlines with numbers. It's by far the most appealing type of title. The second-most preferred title is one that addresses the reader (Your Biggest Fear. Your Time Is Now), with 21% of readers preferring this kind of headline.
Every headline you write should either address the reader or contain a number, or both.
How Many Words?
The character length of your headline should fit within SEO standards (maximum of 60 characters, including spaces), but what about best practices for word count? It should come as no surprise that word count is all about the reader, too. It's always about the reader first.
Five to nine words is the sweet spot, but it's not a hard-and-fast rule. Far more important are the first two words in your headline.
A usability study conducted by the Nielsen Norman Group found that, "Users typically see about two words for most list items; they'll see a little more if the lead words are short, and only the first word if they're long." More specifically, users tend to grasp the first 11 characters of a headline.
Why?
It's a product of how humans read web pages: the F-pattern. As the Nielsen Norman Group notes, "People read the first few listed items somewhat thoroughly — thus the cross-bars of the 'F' — but read less and less as they continue down the list, eventually passing their eyes down the text's left side in a fairly straight line. At this point, users see only the very beginning of the items in a list."
Because we scan pages as such, you must structure your headlines in a way that grabs attention with the first two words and compels prospects to read further. If the rest of the headline is engaging, along with the meta description, chances are you've got a new visitor
Stop Being So Positive!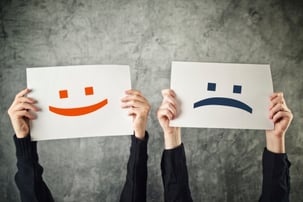 Positivity is great for life, but not necessarily for your headlines. Clients often push a positive tone because they want their brands to have a positive association. But when it comes to writing effective content, you must speak to the pains of the reader.
Pains are not positive, so speaking to pains shouldn't be positive, either. An Outbrain study confirms this.
As the Outbrain research notes, "The average click-through rate on headlines with negative superlatives was a staggering 63% higher than that of their positive counterparts."
Research conducted by the Oribi blog revealed similar results. Ranking 100 tech-related blogs by shares on Twitter, Facebook, LinkedIn and Google+, the Oribi blog found that posts with the words lose, kill, fear, dark, bleeding and war outperformed those with positive tones. In fact, "A significant number of posts which were ranked as most shared had these elements and I could hardly find any posts which used these expressions at the bottom of the list."
The words no, without and stop also led to significantly more shares. And the most viral posts had titles that included words such as smart, surprising, science, hacking or other variations, as well as history, huge, big and critical.
Here are some examples:
Oracle Makes More Moves To Kill Open Source MySQL (#1 shared enterprise post on TechCrunch for 2012)
Big Data Is Dead. What's Next? (#1 shared post of data/cloud section on VentureBeat)
Oracle Is Bleeding At The Hands Of Database Rivals (One of the most shared enterprise articles on TechCrunch)
Putting It All Into Practice
Although this information is incredibly telling, you must know how to use it to your benefit. Especially in marketing, with inbound and content worlds dominated by SEO, people are far too quick to make immediate changes without truly understanding their impact on the reader.
Remember, the headline is all about reader engagement. You want to grab the reader's attention, but you also must compel them to click through to your site, and that requires a holistic approach to writing headlines.
However, a remarkable title isn't the product of forcing in a number or a gruesome word. It's important to understand that we're more attracted to those characteristics, but crafting an effective headline is much more about reaching a reader through his or her pains.
So, when you sit down to write your next headline, remember that you must first grab the reader's attention and then incite action with engaging, relevant copy.
Ready to start optimizing your website for higher click-through and conversion rates? Download Writing Action-Inspiring Meta Titles (And Descriptions) That Actually Get Clicked for step-by-step optimization tips.