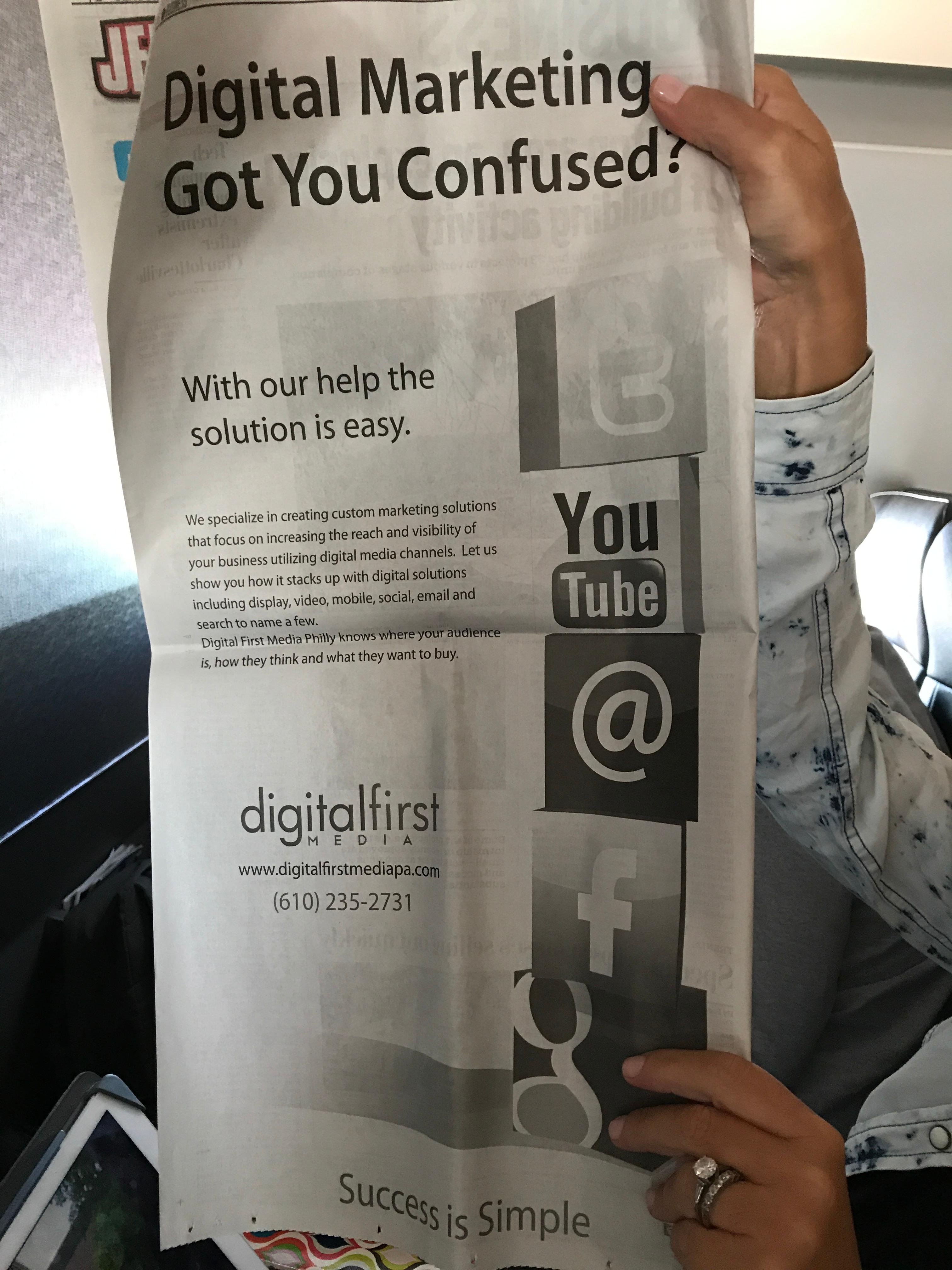 How To Cut Through All Of The Confusion And Produce Results With A Blend Of Inbound Marketing And Demand Generation Tactics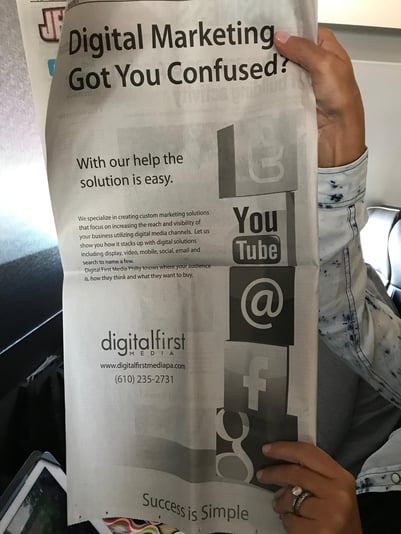 Just to illustrate how confusing the world of digital marketing is right now, on my way home last week, I heard an ad on the radio for an internet marketing agency that was going to help companies get leads by using new internet marketing tactics to drive business results. Funny how they promote their ability to use the internet to drive leads for you, but they need the radio to drive leads for themselves.
In a similar story, the picture here is of a newspaper ad from another digital marketing firm identifying how confused everyone is and how they're also here to help, but they need old-school print-based newspaper ads to get their own story out. It's not surprising CEOs are confused when you see conflicting messages like this on a daily basis.
Who wouldn't be confused by the mixed messages? Add in the social changes to the way prospects buy, the sheer amount of content they digest before making a purchase and the marketing- or sales-related technology required to manage today's marketing, and you're going to end up with a lot of confused people.
Typically, confusion leads to inactivity. Human beings are masters at keeping the status quo until we've resolved all of the issues internally and are ready to move forward, but maintaining the status quo means falling behind the competition.
Here's how CEOs need to think about today's marketing and sales execution with one goal in mind — drive increases in company revenue.
A CEO's Perspective On Strategy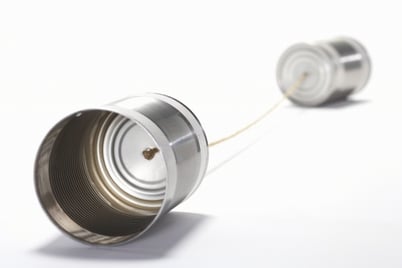 You can't disconnect marketing and sales execution from overall company strategy. They are forever intertwined. When we hear from prospects that the CEO doesn't have time to talk to us about helping them, it's a red flag.
When we evaluate companies with marketing and sales problems, we almost always find flawed business strategy at the core. Marketing and sales strategy should be at the top of the CEO's list of areas to focus on.
The CEO's vision for the company must come out in the marketing and in the sales process. The stories that support the CEO's vision should be operationalized for delivery during every marketing interaction with prospects and then operationalized for sales to deliver to every person identified as a sales opportunity. The better your company is at doing this, the more leads, the more sales opportunities and the more new customers you'll bring on.
Company messaging, stories, differentiation and value proposition flow down from the top, and they have to be woven into the fabric of the company. Do this well and prospects get a remarkable experience from the first time they visit your website to the time they sign your paperwork and become new customers. Do this well and you'll see a shortened sales cycle, an increase in close rates and a steadier flow of new customers coming into the company. Strategy is key, so don't skip it or think you have it when you don't.
The CEO's Role In Sales And Marketing
For a long time, marketing and sales have not been on friendly terms. Sales doesn't like the leads marketing generates and marketing thinks sales doesn't follow up on their leads. Most of that is true, on both parts. As the CEO, your role is to bring these two teams together with one goal in mind— drive revenue for the company.
This is an opportunity to remove the barriers and create a single revenue team with a single revenue leader under your guidance. Instead of two teams, you have one team working to improve the quality of the leads, to better arm your salespeople with the tools and information they need to close more quickly, to create content that converts visitors into leads filling up the top of the funnel and then to design effective lead nurture campaigns that push middle- and bottom-of-the-funnel opportunities.
Do this effectively and you'll see a more efficient approach to marketing and sales, but more importantly, you'll see an increase in leads, sales opportunities, new revenue and new customers coming on board.
What Should A CEO Expect From The Investment In Marketing And Sales?
CEOs love to ask, "what am I going to get if we spend this money on marketing or sales?" It's the right question and the best question to ask. Today, marketing and sales teams are better equipped than ever before to answer that question.
Marketing and sales are now 100% quantitative. If the answer is "we'll get our name out there," that's not good enough. If the answer is "we'll drive 1,000 people to our website and get 10 leads and three sales opportunities, and we expect the sales team to be able to sign one of those three for $100,000 in annual revenue," now the $10,000 investment to get $100,000 in first-year revenue alone might start to look reasonable to any CEO.
CEOs should start asking hard questions with an expectation to receive quantitative answers. Marketing tactics have to be individually accountable for producing measurable results, and individual salespeople need to be accountable for quantitatively moving prospects through the sales process. I can show you by sales rep who's the best at converting leads to sales opportunities, who's the best at converting sales opportunities to proposals and then who's the best at closing. It's a brave new world.
Sales tools can be individually accountable, too. Emails should produce conversions, sales tools have to produce higher connection and engagement rates and, if we're using advocacy in your sales process, reference videos need to close more new customers. Everything is scientific. One of the secrets is being able to optimize these metrics and create the perfect configuration.
Insights Into The Performance Of That Investment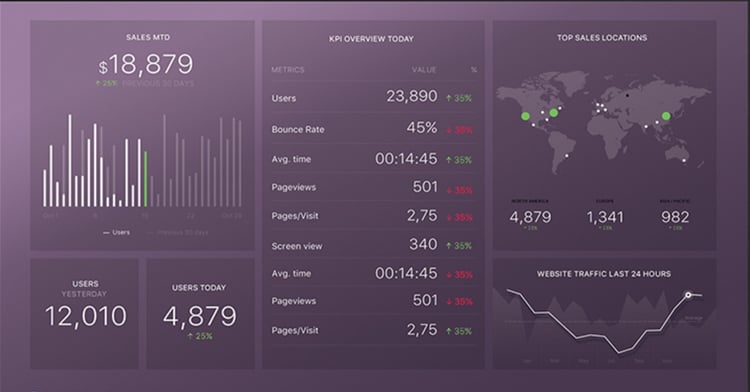 CEOs shouldn't have to worry about the details, but they should have insight into performance, especially when it comes to ROI and the money that's being spent on sales and marketing. Today's marketing and sales are 100% data-driven, as we talked about above. That means using high-level dashboards, KPIs and performance-related insights to give the CEO the visibility needed for them to feel comfortable with the execution without having to be part of the execution.
For example, shortening the sales cycle for most companies could mean massive increases in revenue. You'd get 120 new customers instead of 100 simply because you were closing them and onboarding them faster. You'd also realize more revenue sooner. Let's say you can see on a dashboard that your current sales cycle is 55 days, 12 hours and 5 minutes (55 days for short). When you see that number going down to 50 days, then 48 days, then 44 days and finally a sustained 39 days, that is a major strategic improvement that will drive top-line revenue growth for your company.
CEOs with access to information and insights like this have a dramatic impact on their businesses because they see what's gaining traction and what might need additional support within the organization.
The CEO And The Digital Agency
In the old days, the CEO barely knew their agency. Marketing handled agency relations and it was highly transactional. Design us this, create us that, give us this and we'll tell you exactly what we want, when we want it and how to do it. It was a vendor-based relationship as opposed to a strategic partnership.
Today, we look for companies with CEOs who want to be involved in the marketing and sales strategy work. We're encouraging CEOs to help us show them how important the click-to-close experience is to the creation of their revenue generation machine. We want CEOs who bring us in to transform their old-school marketing and sales into new-school revenue generation and optimization programs, working closely with us on the initial strategy and design. We then create the dashboards, reports and tools they need to get insight into what's producing results and what we're working on to provide an even better return on their investment.
Together we have highly strategic conversations about their stories, what makes them remarkable, how they sustain their competitive advantage and how their sales process helps them push out competitors early in the process as opposed to late in the game. We work with them strategically on a 90-day schedule and execute tactically with their teams on a 30-day schedule. This delivers the perfect blend of strategy, tactics and results that allow the CEO to stay involved without taking them away from other more pressing areas of the business.
Regardless of your background, CEOs today need to be much more involved and more intimate with the marketing and sales execution at their companies. That involvement can't be abdicated to the VP or director level. As the leader who is ultimately responsible for the success of the company, today's marketing and sales requires CEO-level involvement.
But you can't be immersed in the details, either. You need to strike a balance that allows you to provide high-level strategic direction, review the results and help your marketing and sales teams adjust on the fly as necessary.
Configuring the right team under you provides you the ability to gain access to insightful data that highlights where your strategy is working and where it might not be working as well. Having the right digital revenue experts on your team means you're able to give them the high-level strategy and they're able to translate that into execution and then produce results.
As the role of the CEO evolves, the team may evolve, too. Having an internal team might have worked in the past. Today, with so many tools, technologies, systems, processes and methodologies available, using an agency team might give you more access to cutting-edge techniques and experiences that are difficult to hire. As you move forward, make sure you consider all of your options, even those that you've never considered before.
Square 2 Marketing – Innovating Marketing And Sales To Match Today's Buyer Behavior!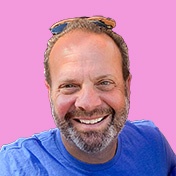 Mike Lieberman, CEO and Chief Revenue Scientist
Mike is the CEO and Chief Revenue Scientist at Square 2. He is passionate about helping people turn their ordinary businesses into businesses people talk about. For more than 25 years, Mike has been working hand-in-hand with CEOs and marketing and sales executives to help them create strategic revenue growth plans, compelling marketing strategies and remarkable sales processes that shorten the sales cycle and increase close rates.