Marketing your B2B company has shifted dramatically in the past decade. Not only does B2B marketing require that you create a social media strategy, but it also requires a hefty amount of content marketing.
When it comes to social media, some platforms aren't as compatible with B2B business models. For example, Pinterest and Instagram usually work better for the B2C market, leaving the typical B2B company with LinkedIn and Twitter as the two main performers – and those platforms are already crowded with competitors in the B2B market.
What about your content marketing strategy? Already, more and more companies are recognizing the power of inbound marketing with content, and the B2B marketing space is growing cluttered with run-of-the-mill, fluff-filled whitepapers, e-books and tip sheets. If the only things you're publishing are these standard content marketing pieces, your business is invisible.
So, what's one new tactic you should add to your B2B marketing strategy mix that differentiates you in both social media and content marketing? It's SlideShare.
SlideShare is an online social network for businesses and individuals to share presentations, infographics and other pieces of visual content. Just like YouTube does for videos, all SlideShare content is easily shared and embedded on any website.
Why should your B2B company start using SlideShare as part of its content marketing and social media strategy? We'll let the SlideShare deck below do the talking.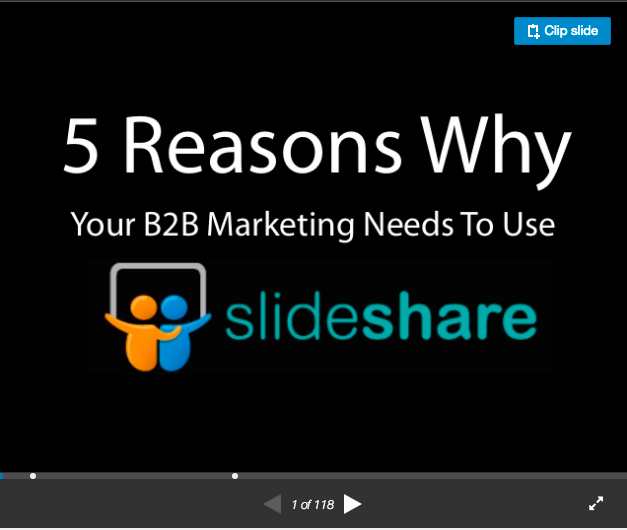 Just press the arrow buttons left or right to progress or review the presentation slides.
SlideShare Deck Recap:



So, what are the five reasons why your B2B marketing needs to use SlideShare? We'll review the presentation points below.
1. Search Engine Optimization
Like other social media platforms, SlideShare is excellent for building off-page SEO. All SlideShare decks include a word-for-word transcript of your presentation – meaning the transcripts should be optimized around the keywords and prospect questions for which you're looking to drive website traffic. In addition, your SlideShare presentation and content are a great opportunity to build inbound links to your website from a domain with higher authority from search engines.
2. Multimedia Storytelling
Successful B2B inbound marketing requires multimedia storytelling, and SlideShare content is the perfect addition to your multimedia portfolio of visual, audio, video and written content. Besides its appeal to more visually minded prospects, presentation content also conveys your content message in a strict, sequential order, which allows you to better control your prospect's experience.
3. No-Risk Content
B2B marketing always requires that you have gated content pieces for the purpose of lead generation, yet not all initial site visitors are ready to convert on your site. For those not-yet-willing-to-submit-their-information visitors, use SlideShare presentations as alternative, no-risk pieces of content that still demonstrate your thought leadership and subject authority.
4. Easy To Share
For non-gated pieces, you need to utilize a platform that easily spreads to all of the potential prospects in your industry. Because SlideShare decks are easy to share via social media and are simple to embed on a website, they're the perfect platform for delivering your visual content to visitors and prospects. Who knows, maybe your pain-solving presentation might get featured on the front page of SlideShare or be embedded on an industry-leading blog!
5. Lead Generation
Wait, if SlideShare decks are non-gated content, do they really contribute to lead generation? The answer is yes. While the presentation might be viewed without requiring a form submission, you should still include plenty of links to landing pages throughout your slide deck in case prospects want or need more information.
What sort of content landing pages should you link to? Consider the SlideShare buyer persona (which should be part of your overall H2H marketing strategy). He or she is:
Looking for easily digestible content
Social media savvy in the B2B realm
Wanting primarily visual content
Searching for quick solutions and guidance (not in-depth reading)
These five reasons alone are more than enough to consider using SlideShare as part of your B2B marketing. When you take advantage of all five, both your social media and your content marketing are sure to take off.
Start Today Tip: Open a SlideShare account today and make it an integral part of your B2B marketing strategy. Not only should you optimize it for off-page SEO and social media sharing, but you should also include direct calls to action that generate new leads. Experiment with different lead generation tactics according to your ideal buyer persona, and then capitalize on those tactics that work best to drive new revenue to your company's door.
Square 2 Marketing – Leading The Reality Marketing And Inbound Marketing Revolution!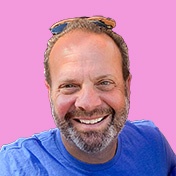 Mike Lieberman, CEO and Chief Revenue Scientist
Mike is the CEO and Chief Revenue Scientist at Square 2. He is passionate about helping people turn their ordinary businesses into businesses people talk about. For more than 25 years, Mike has been working hand-in-hand with CEOs and marketing and sales executives to help them create strategic revenue growth plans, compelling marketing strategies and remarkable sales processes that shorten the sales cycle and increase close rates.