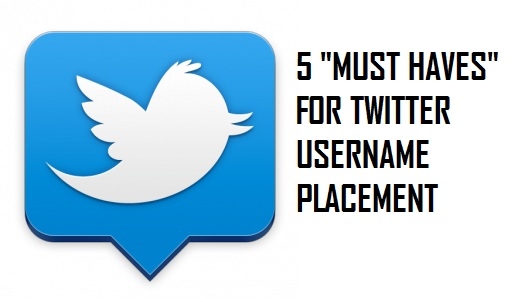 Marketing and building your twitter social media following shouldn't be limited to simply online, after all, we are living in the real world. There are hundreds of opportunities to get the word out about your twitter page and start collecting new followers, however there are 5 critical places to start using @twitter name.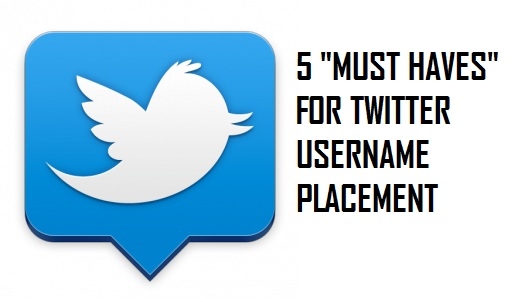 Must Have Spot #1 – Your Business Card
Business cards are probably the most obvious "must have" areas for your @twitter name. Both your company's information and your personal business information are listed on your business card so why not your twitter account?
I know I've attended conferences where I'm not able to talk to someone for a great deal of time (if at all), and one of the first places I look to learn more about them and their business is their website and social networks listed on their business card I grabbed. Having your @twitter account listed on the business card not only show's your company is socially active, but also could gain new followers of potential clients looking for more information before making a purchase.
Must Have Spot #2 – Email Signature
If you are like me, each and every day you send out hundreds of emails. These are hundreds of opportunities to market your social networks. Your signature is a great place to encourage people to follow your twitter feed. You would be surprised how many people will start following you after taking notice of a socially mindful signature.
Looking for a boost of twitter follower? I would even suggest adding a "P.S." under your email but above your signature with a small, personal message inviting that person to join your twitter. Make sure to explain the types of content you will be posting. The likelihood is this information will be relevant to this person and will push them to start following.
Must Have Spot #3 – Event Name Tag
Many business professionals attend events throughout the year that give you the opportunity to wear a name tag. As a savvy internet marketer, you will see this as a prime opportunity to pick-up new twitter followers. On your nametag for the event, write your @twitter name above your real name. Then during the event, encourage everyone you meet to start following you to learn additional tips, tricks or information about that event's topic you are attending. You would be surprised how many people will pull out their smart phones and start following you right then and there.
Must Have Spot #4 – Answer Questions with Twitter
Twitter is the new email when it comes to answering questions. 10 years ago, if someone asked a question in a group and the speaker didn't know the answer, the most common response was "I'll check on that and send out an email".
Now in 2012, when you are speaking to a group and someone asks a question, a savvy marketer's response should be, "I'll look into that and tweet the answer later today". This will give the people in the group a great incentive to visit your twitter page and there's a high likely hood that it will also start following you. Remember, someone can still go to your twitter page even if they don't have an account.
Must Have Spot #5 – Voicemail
Typically your voicemail is a great spot to offer additional tips regarding how to email you or text you, but now you can leverage your voicemail to gain new twitter followers. At the end of your message, simply include a 5 second line to the effect of, "and after you leave a message, follow me on twitter at @SavvyPanda for the latest business updates". This small, yet effective call to action can give people the necessary "kick-in-the-butt" to get on twitter and start following you or your company's blog.
These are just a few of the places that I would highly recommend placing your @Twitter username. Many of our clients have found great success in growing their twitter followers when using these placements. I plan on tweeting new and more creative places to post your Twitter Username on our twitter page (so make sure to follow @SavvyPanda … hehe).