Over the last 100 days, we've been counting down our favorite 100 inbound marketing and inbound sales tips leading up to HubSpot's INBOUND 2016 conference. Whether implemented together or individually, these 100 tips are sure to improve the success of your program.
If you've missed any of the tips over the past few months, check out the complete list below. Also, be sure to follow us @square2 for the latest inbound marketing news and tips.
100) This blog kicked off our #Countdown2Inbound. Get 100 inbound marketing tips in 100 days by following us on Twitter @square2!
99) Infographics work best to illustrate data-heavy stories and simplify complex processes through visualization.
98) Conclude blogs with a graphic call-to-action banner; banners perform better than buttons.
97) Use subheads and bulleted lists for people who prefer to skim before reading carefully.
96) Compile top-performing blog posts into a best-of-the-blog email.
95) Create at least one offer for each stage of your personas' buying journeys.
94) Include different types of media based on your personas' learning styles.
93) Include at least two images in every blog post to make your posts more shareable on social media.
92) Use types of user intent (informational, commercial, transactional, navigational, local) to inform keyword research.
91) Increase landing page conversion rates by using exit-intent pop-ups.
90) Make sure your audience understands how your products or services benefit their lives, lifestyles and values.
89) Split keywords into successes (rank 1-10), improvements (11+) and new opps to drive content optimization/creation.
88) Progressively prompt users for more contact information as they move through their buyer journey.
87) Use the hub-and-spoke marketing model to inform your content strategy.
86) Combine inbound marketing and Agile marketing to empower your marketing team to cycle faster.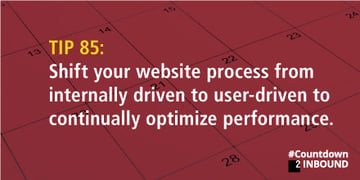 84) Create a content strategy centered around your prospects' most acute pain points.
83) Leverage a strategic PPC program to jump-start inbound marketing results.
82) Use heat-mapping analytics to help prioritize website improvements.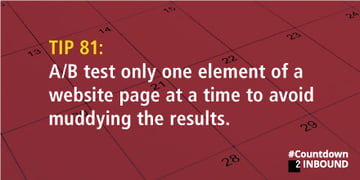 80) Include video content on your website pages to increase your users' time on page and time on site.
79) Include social sharing icons on your blogs and other inbound marketing content.
78) Explore collaboration and credible guest publication opportunities to drive up referral visits.
77) Use a PIE analysis to prioritize conversion rate optimization (CRO) projects.
76) Attach a SMART goal to every inbound marketing initiative.
75) Create automated lead-nurturing workflows to move prospects through your sales funnel.
74) Apply an inbound sales methodology to nurture and convert inbound marketing leads.
73) Require a business, not personal, email address to improve the quality of your leads.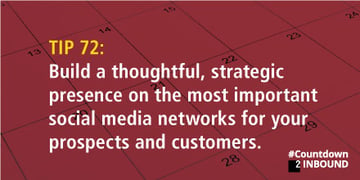 71) Organic traffic growth = user intent marketing (click-through-rate optimization + task completion).
70) Publish your inbound marketing content in the places where your prospects consume content.
69) Install call-tracking analytics for better closed-loop reporting on the success of your inbound marketing program.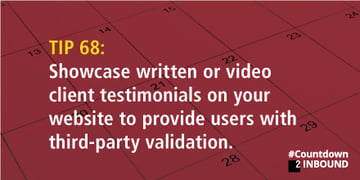 67) Create premium content offers out of your most widely consumed and highest-converting blogs.
66) Test plain-text vs. HTML emails to gauge what your readers respond to best.
65) Use lead scoring to more accurately qualify leads for your sales team.
64) Select the best marketing automation software for your business and marketing goals.
63) Include both informational pages and landing pages on your inbound marketing website.
62) Don't forget about off-site SEO!
60) Don't start inbound marketing tactics without a strategy; that's like baking a cake without a recipe.
59) Use experience mapping on your website to provide an optimal user experience for your prospects.
58) Audit and map your existing marketing content to figure out where gaps and opportunities exist.
57) Test text-based CTAs against image-based CTAs to determine which is the winner among your blog readers.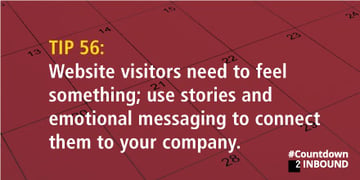 55) A confusing website will suffocate site-wide conversion rate.
54) New content is not final once it's live. Experiment often.
53) Incorporate snippets of social proof on transactional web pages to increase conversion.
52) Create and apply unique tracking URLs to measure the performance of your inbound marketing campaigns.
51) Connect with influencers in your area of expertise and invite them to collaborate with you.
50) What gets measured gets done. Review inbound marketing KPIs daily, weekly and monthly to optimize performance.
49) Set up Google alerts and social streams to stay up-to-date with the latest in your industry.
48) Compile related blog posts into a downloadable, segment-specific offer for your website visitors.
47) Foster a productive conversation on your blog by allowing and moderating comments from readers.
46) Encourage blog readers to subscribe so they don't miss out on any great content.
45) Perform offer-mapping analyses on your top-trafficked pages to ensure you're serving up the most relevant content.
44) Personalize elements of your website and email marketing to increase user engagement with your brand.
43) Include social media icons and a link to your blog in your email signature to broaden your reach.
42) Thoughtfully comment on popular blogs in your industry to establish thought leadership within your online community.
41) Include subscription options with your emails so that readers can select the frequency that is best for them.
40) For the biggest CRO impact, prioritize top-viewed pages first.
39) Compare and contrast the CTR of your CTA buttons. Experiment with different styles to optimize click-throughs.
38) Email subject lines are a great starting point for split testing.
37) Consider your prospects' time zones and content consumption preferences when scheduling email blasts.
36) To more actively engage your social audience, post conversation starters related to content you just published.
35) Become a lifelong student of inbound marketing, starting with your inbound marketing certification from HubSpot.
34) Use social paid advertising as part of an integrated inbound marketing program to lift campaign results.
33) Increase and improve brand awareness and reputation with retargeting.
32) Repurpose existing marketing content to attract new website visitors.
31) Infuse your event marketing with inbound by building a trade show or conference-specific landing page.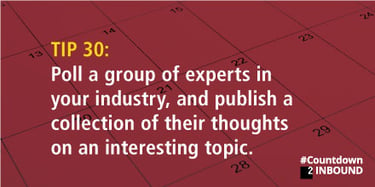 29) Reinforce your funnel with educational content offers and timely case studies to guide buying decisions.
28) The more a B2B prospect knows, likes and trusts your brand, the more likely he or she will become a customer.
27) Publish conference takeaways as a blog post or whitepaper on your website.
26) When building a social media presence for your brand, listen first to understand the nuances of each community.
25) Regularly review and optimize the on-site SEO elements of your core website pages and landing pages.
24) Create an editorial calendar and follow through on publish dates.
23) To improve conversion rates on your landing pages, try removing the navigation.
22) Install a live chat function on your website to improve user engagement and customer experience.
21) Make resolving technical SEO problems (404 errors and redirect issues) a top priority when updating your website.
20) Develop and build a custom YouTube channel to showcase your company's video content.
19) Feed your inbound marketing data directly into your company's CRM for maximum lead intelligence.
18) Treat every failed inbound marketing experiment as a wild success.
17) Interview your best customers to uncover valuable target persona behavioral insights.
16) Don't overlook the value of white space in a website design.
15) Your website's home page is usually the single most valuable piece of marketing real estate you have. Use it wisely.
14) Local SEO must be a part of your inbound marketing strategy if your business serves a specific geographic area.
13) Serve up a "recommended and related content" module on your blog and the content pages of your website.
12) Structure the navigation of your website menu based on the possible paths a visitor might take.
11) Determine friction points on your website by examining exit pages and time on site in your marketing analytics.
10) Routinely review industry and regional benchmarks when analyzing your inbound marketing results.
9) Adapt your inbound marketing strategy at least quarterly, based on real data and user behavior insights.
8) Make sure every blog has a relevant CTA button leading to similar content to help generate leads.
7) Analyze conversion rates by source type (organic, social media, etc.) to narrow your CRO focus.
6) Don't ignore negative feedback on website or social media content: Turn every instance into a positive opportunity.
5) Having your entire team share new content on their social networks will help grow your social reach.
4) Regularly review your top-viewed blog posts and optimize them for conversion.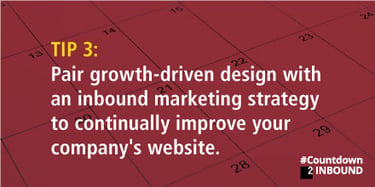 2) Map your content and sales process to each stage of the buyer's journey.
1) Never give up. When performance is down, take a step back and see where you can make improvements.
Ready to take the next step to maximize the power of inbound marketing for your organization? Schedule a free 30-minute marketing analysis with the inbound marketing experts at Square 2 Marketing, and discover even more ways to improve your inbound marketing metrics.
Square 2 Marketing - Results Start With ME!