Almost two-thirds of us admit we're visual learners, which means we'd rather watch than read.
You'll need more video content to be used in marketing, sales and customer service than ever before.
But with more people working at home, how do you create amazing video content?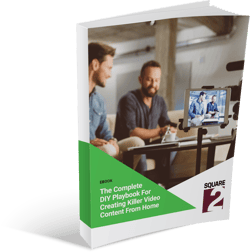 Don't worry! We've created The Complete DIY Playbook For Creating Killer Video Content From Home — and you can grab it here.
In this playbook, you'll learn how to:
Plan your videos so the shoots run smoothly and efficiently

Create a pop-up studio at home and handle lighting, sound and shot setup

Select the tools to shoot your videos, get your videos edited and publish your videos

Use your videos in marketing, sales and customer service campaigns

Track the performance of your videos to create videos that produce leads
What People Are Saying
"We were wondering how we could produce high-quality videos at home. Now we know. This is exactly what we were looking for." —Gary Pica Jr., Director of Marketing, TruMethods
"There were so many good ideas in this playbook, they easily could have charged me for it and I would have paid it. If you want to do business videos outside the office, you need this playbook." —Ed Terry, CEO, VinVu
"We knew we needed more video but didn't know it would be so easy to do it ourselves. This playbook has everything you need to do videos on your own." —Eric Elmore, Marketing Director, Drucker & Scaccetti
Take Action Today, And You'll Be Shooting Video Tomorrow
Grab your playbook today! Start shooting videos, and in no time, you'll have a video library for marketing, sales and customer service.