Thank You For Requesting Our Sales Operations And Sales Enablement Content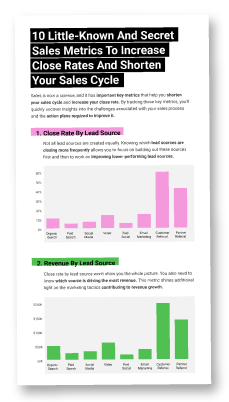 Get Your Infographic – The 10 Little-Known And Secret Sales Metrics To Help You Improve Close Rates and Shorten Your Sales Cycle
Based on your browsing habits and profile, in addition to your infographic, we're recommending other helpful sales enablement, sales execution and sales operations resources. Bookmark this page and return as many times as you need. Enjoy!
Additional Resources For People Interested In Improving Sales Execution
Selected Blog Articles For You
What Is Sales Operations? Why It's Critical And Almost Always A Missing Link In Revenue Growth
Want A Higher Close Rate? Consider A New Lead Qualification System
5 Sales Upgrades You Need To Make Right Now To Help Your Company Thrive In 2020
Your Personalized Educational Content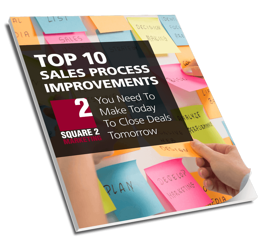 Tip Guide: 10 Sales Process Improvements To Help Hit Sales Targets
Playbook: How To Build A Highly Efficient Sales Structure
Whitepaper: Quality Over Quantity: How To Send Your Best Leads To Sales
Checklist: Taking The Lead; The Ultimate Checklist For Improving Your Close Rate With Marketing-Generated Sales Leads
Recommended Webinar
In partnership with Conversica and brought to you on demand, Bridging The Sales And Marketing Divide: How Conversational AI Is Boosting Lead Engagement. Watch the webinar on demand.
Website Page On Sales Enablement And Sales Operations
We have a page dedicated to sales operations and sales enablement services.
To schedule a review of your current sales process, sales execution or sales performance, use the blue button below to set up a call with one of the partners at Square 2 who specializes in sales improvements.