Smash The Funnel
Rethinking Sales And Marketing By Using The New Science Of Revenue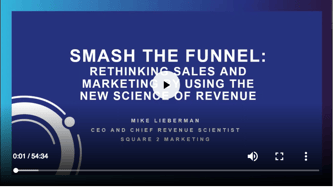 The traditional sales funnel, where contacts come into the top and new customers pop out of the bottom, is done. The web empowered buyers to avoid it, and now we're smashing it to pieces.
Today's buyer navigates a Cyclonic Buyer JourneyTM, which is confusing for prospects and marketers alike. Despite its complexity, you must deliver a seamless, highly orchestrated and remarkable experience if you want prospects to choose your products or services.
Learn about the prospect-centric nature of the new buyer journey and how to execute your marketing and sales from Mike Lieberman, Square 2 Marketing's co-founder and chief revenue scientist.
In the presentation from Smash The Funnel: Rethinking Sales And Marketing By Using The New Science Of Revenue, Mike's talk at HubSpot's INBOUND 2018 conference, you'll gain an understanding of:
The nature of the new, non-linear Cyclonic Buyer Journey
What tools and tactics you can use to strategically guide prospects through their journey
Which new metrics to track, and how to impact those metrics daily, weekly and monthly
This new model is the only way to ensure you hit your revenue numbers in 2018 and beyond.
Explore The Cyclonic Buyer JourneyTM