Ready For A Marketing Strategy That Delivers Results?
Discover How Inbound Marketing Improves Your Company's Bottom Line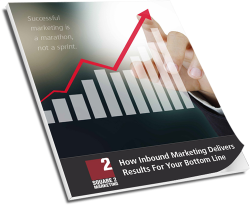 Whether you're an entrepreneur, CEO, business owner or head of marketing, you're keenly aware of the need to produce results with any marketing effort your company undertakes.
To make smart investments that grow your business, you need to understand how inbound marketing delivers results for your bottom line – and what those results look like. Our new whitepaper shows you how to achieve consistent, sustainable business growth.
Submit your email address to get How Inbound Marketing Delivers Results For Your Bottom Line, and find out how to:
Think about inbound marketing as a marathon, not a sprint
Combine effective strategies into a customized Marketing Machine
Get started today with inbound marketing and see results sooner rather than later
The sooner you start, the sooner your inbound marketing efforts are going to deliver results.