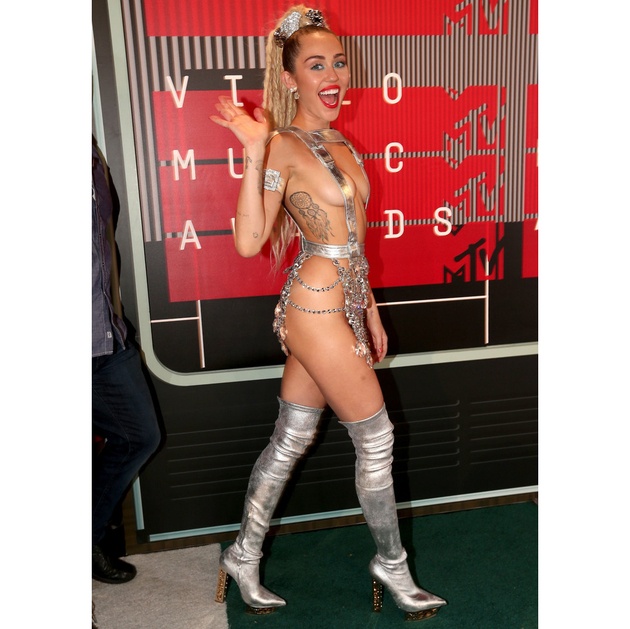 Learn The Latest Inbound Marketing Strategies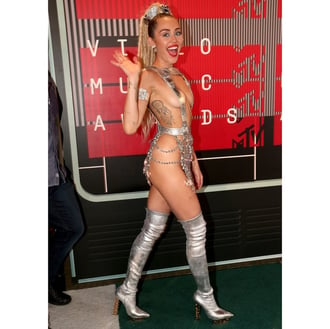 Today starts the four-day festival dedicated to everything inbound, known as INBOUND 2015.
As I dug deep into the sessions featured at the conference (to see which ones I suggest, click here), it was obvious that marketing strategy is still underrepresented.
And, as Miley Cyrus stole the show at the VMAs with her marketing strategy, I became aware that she has a lot to teach us about inbound marketing and about applying marketing strategies to inbound.
Here are the top four lessons that Miley Cyrus can teach all of us marketing professionals about how to compete in the crowded, content-heavy, socialized world of 2015 and beyond.
Be Remarkable
Check out the picture above. There is no question as to how remarkable she was at the VMAs. Images like this one appeared on every TV show and website even remotely associated with music and fashion. Whether you like the style or not, whether you think it's appropriate or not, people are talking about her. You want people talking about your business.
The only real way to get them talking about your business is to make it remarkable. Seth Godin, who coined the term years ago, was right. It's the most important part of marketing, the most overlooked aspect and the most difficult element of your marketing strategy.
When done right, though, being remarkable creates real, sustainable, competitive advantages, and we've seen it lift overall marketing results by a factor of FIVE. Yes, remarkable companies get five times the leads, five times the website traffic and five times the ROI on their investment. Clients who embrace our strategic help and build remarkable businesses get much, much, much better results. Clients who push back, fight us or ignore our recommendations around being remarkable get only modest results. I can't stress it enough. This is not a theory. It's fact, based on actual client data.
Create And Give Away Content
Maybe you missed it, but at the end of the show, Miley let everyone know that they can download her new album for free on the Web. The results were off the charts: millions of views and millions of downloads. Of course, to get the content, you have to tell her who you are, even if it's subtle, like an iTunes account or mobile device.
As a business, you have to create your own album, filled with creative, helpful content that your prospects are going to want to read, watch and share. The more you create, the more leads you get. If you're looking to simplify content marketing in today's world, this is it. More creative, helpful content equals more leads. Again, that's a fact, not fiction.
You might need help doing this. It's not just about developing any ol' content. It's about creating the right content. You have to answer your prospects' questions. You have to keep your keywords in mind. You have to write in a way that inspires and have your content professionally designed. After all, it represents your business. Most importantly (and this is where most people go wrong), it has to tell a story, be about your prospects (not about you) and make them the heroes.
Socialize Everything
The better you are at being remarkable and creating great content, the larger your social following is. You can't say, "I don't care about Twitter." You need these channels to be as deep and plentiful as possible. They become the super highway for your entire inbound effort. Miley's already realized that her fans aren't on Facebook. Instead, she focuses on Instagram. You have to find your prospects' preferred social network and make it integral to your marketing effort.
Consider this: You create new video that tells your remarkable story. You share it with your social network, which includes 200 LinkedIn connections, 400 Twitter followers and 50 Facebook friends. Don't expect much. That's the no-fluff truth.
Now, consider the same video that's shared with 2,000 LinkedIn connections, 4,000 Twitter followers and 500 Facebook friends. What do you think is going to happen? A 10 times improvement in visitors to your site and leads into your business – need we say more?
Build these social media marketing networks up strategically and aggressively. They're an asset that your business needs in order to execute your inbound effort.
Connect It All Together
I see a lot of businesses that continue to practice the old, siloed marketing model. Social media, content, Web and email are all run by different people, with different plans and different execution methodologies. Bad idea. Tying it all together is what gets you efficiencies and optimizes each of the individual tactics to deliver a multiplier effect.
Think about an orchestra: The musicians play from a single song sheet, but they have individual notes. When these notes are played together perfectly, it produces beautiful music. This is an acquired skill set when it comes to inbound. The tools are different, they're applied in a different way and they need to be cycled much faster than old-school marketing tactics were in the past.
Today's marketing performance data drives tomorrow's marketing tactics. The processes, systems and methodology required to support this are new to almost everyone.
While Miley makes it seem easy, it's obvious from the way that other celebrities execute that even major stars are still struggling to bring it all together. Inbound marketing and the requirements of today's marketing make the job more complex than ever before.
The time it takes to earn an audience, the effort required to create compelling content and the work needed to share that content with influencers isn't easy. If you've never done it before, you need to commit the time and energy to learn the new marketing. If you're not able to be patient, consider engaging an expert who has this type of marketing under their belt. The longer you wait, the longer you'll be waiting for results.
Start Today Tip – Take a page out of Miley's book. Make your business, your offering and your stories as remarkable as possible. Practice edge-crafting, the process of pushing your business to the edge without going over. Create enough content to move the needle, and make sure that content is creative enough to get shared by your prospects. Then, use social media as the highway to accelerate that sharing and build those social networks as if they were assets to your business. The result of a tightly integrated, orchestrated inbound marketing effort like this is leads. That's not a maybe; it's a definitely.
Square 2 Marketing – Leading The Reality Marketing, Inbound Marketing And Inbound Sales Revolutions!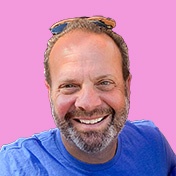 Mike Lieberman, CEO and Chief Revenue Scientist
Mike is the CEO and Chief Revenue Scientist at Square 2. He is passionate about helping people turn their ordinary businesses into businesses people talk about. For more than 25 years, Mike has been working hand-in-hand with CEOs and marketing and sales executives to help them create strategic revenue growth plans, compelling marketing strategies and remarkable sales processes that shorten the sales cycle and increase close rates.