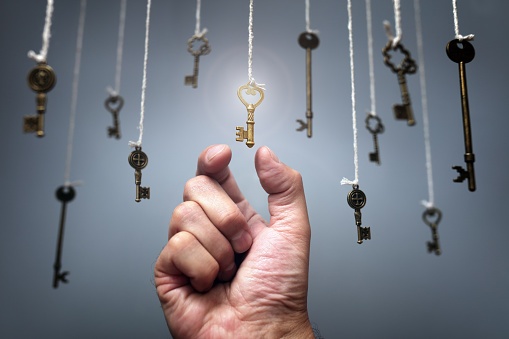 ABM Isn't Right For Everyone, But If It's Right For You, It Can Pay Off Big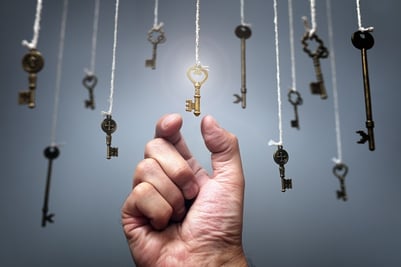 Account based-marketing (ABM) is one of the hottest buzzwords in marketing today. Agencies specialize in it, software is able to help deliver it and tools help with grabbing profiled accounts so you can use ABM.
You'll find webinars to help you understand it, conferences to help you start doing it and experts to help you talk about your plans for ABM. But there's a little-known dirty secret when it comes to account-based marketing — it's not right for everyone!
If you're thinking ABM might be right for your company, here are the questions to ask your team before you get started.
Question #1: Do our new customers contribute large revenue on average?
This type of marketing usually works best when you have clients that contribute large amounts of money to your annual targets. If you have a $10 million new business target and each new customer contributes $1 million a year, ABM is perfect for you. If you have a $10 million new business target and each new customer contributes $1,000, I would consider some other marketing tactics.
It's important that the return on investment for an account-based marketing program makes sense. You're going to be investing money in targeting, in outreach, in content creation and in the people handling the outreach. When you have success and you get a new customer, the revenue has to be worth the energy and the investment.
Question #2: Are a large percentage of our potential new customers unaware our solutions even exist?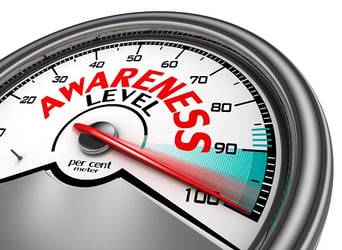 If tons of targeted prospects are searching for your company, services or products, it might make more sense to invest in being found when they're executing those searches. You could be found on social media, on search engines or even in purchasing circles like association groups. The key aspect of this buyer journey is that your prospects are actively looking for you. Why attempt to interrupt people if they're already looking for you? Simply be there when they're looking and grab their attention then.
On the other hand, if your prospective buyers aren't aware of your company and the products or services you offer, ABM might be perfect for you. After all, your prospects are not searching for you, so how would they know you exist unless you tell them?
This is where account-based marketing shines. If you can identify your targeted prospects and get them to connect with you, and if you can share a message that disrupts their status quo enough for them to engage with you and consider your solutions, now you have a viable sales opportunity for your sales reps. That's the essence of how ABM works.
Question #3: Do we know (or can we target) most of the companies that would buy what we have to offer?
Do you know who you want to be doing business with? This is one of the most common screens people use to know if account-based marketing is right for them. If you know the companies that you want to be your customers, then targeting and going after them proactively instead of waiting for them to find you makes a lot of sense.
Question #4: Do we know (or can we target) the people in those companies who would participate in the purchase decision?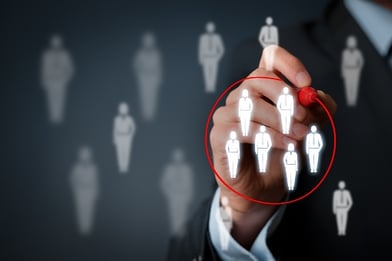 Along the same lines, you must know more than just the company name. People do business with people, and ABM is more about individual marketing than company marketing. You should identify the individuals within the targeted company who either make the purchase decision or influence the purchase decision.
Harvard Business Review research found that on average, 5.4 people now have to formally sign off on each purchase. Complicating matters, the variety of jobs, functions and geographies that these individuals represent is much wider than it used to be. ABM excels at identifying all of the people involved in the purchase decision, creating customer messages for each of them, delivering content in context to their role and situation, and getting them all to engage with your sales team. Sound complicated? It is complicated. That's why ABM does such a nice job at orchestrating this outreach, connection and engagement.
Question #5: Do we have something interesting to say to these people and do we have content to get them to engage with us?
Targeting is just one piece of the puzzle. Have you received poorly written, misaligned or just "who cares" emails from people and companies you don't know? Yes, everyone has, especially lately. You can't just send an email asking for your target to request a demo. You can't send an email asking for an appointment. These people don't know you or your company, and they don't know that they need you or your company.
Instead, you must create smart and disruptive emotional messaging that gets their attention. By disrupting their status quo, you get them to stop and consider the consequences of doing nothing. If those consequences are significant enough, they will take action and connect with you, granting you access to continue the conversation.
But this is only the first step. You should add value and insight to help them be the hero at their company. Typically, you need content to keep them engaged, and it must be content that gets delivered in context to their specific challenges, concerns or issues. If you don't have something interesting to say that grabs their attention, and you don't have the content to add value and continue the conversation toward a sales opportunity, your ABM program is going to be dead in the water. It may never produce any true sales opportunities and revenue for your company.
Question #6: Are our sales and marketing teams and efforts aligned?
Senior leadership has been trying to get marketing and sales to play nice in the sandbox for years. Now there's a reason. If you haven't noticed, ABM requires tight alignment between sales and marketing. Marketing creates the targeting, messaging and content assets, while sales handles almost all of the execution and outreach. If there is misalignment, your program dies on the vine.
Marketing and sales have to work together. Marketing needs insights from sales on the buyer journey and targeted buyer persona. Sales needs the right assets from marketing at the right time. Marketing also needs sales to provide feedback on the messaging and assets so marketing can adjust as needed. If something isn't working, tweak it, adjust it and redeploy it. Sales is going to execute the entire program. It's a non-negotiable. If your sales and marketing teams are not aligned, I would not recommend account-based marketing.
Question #7: Do we have the investment budgeted to collect the data, design the messaging, build the outreach and manage the ongoing engagement?
You should be able to tell from the other six questions that ABM is not an inexpensive collection of tactics. Yes, the targeted nature of account-based marketing might produce a better ROI, but when you start adding up the required components, the investment can click up quickly.
Almost every program starts with targeted data. You either buy it, clean it or, at the very least, confirm its accuracy within your current database. Then there's the tech stack. You don't need tech to run ABM, but if your program has multiple tiers and multiple touches (or if it serves ads to a selected profile in an automated way), it's going to be helpful to have some technology to support your efforts. If you're sending a package or direct mail, that's going to require design, copy, production, packaging and postage to get those assets out and into the hands of your targeted prospects.
You also have the sales reps' time and the costs associated with allocating either BDRs (business development reps) or more traditional assigned sales reps to handle all of the outreach, follow-up, connect and engagement plays. If you have a longer sales cycle (such as three to six months), it's likely that you'd be investing in the program for at least that long before you see any return on your investment. You'd have to be able to sustain that level of investment for that time period and be patient enough to wait that long before you have any revenue to show for your effort.
ABM isn't right for everyone. It's not the secret to your revenue generation challenges. It's not the latest magic dust that when sprinkled on your marketing means leads start flying in. But ABM is a highly effective targeted marketing and sales tactic that if planned properly, executed effectively and measured often can produce a steady flow of high-quality leads, sales opportunities and new customers.
If you're answering yes to all (or at least most) of the questions above, then ABM should be part of your overall marketing and sales effort. This is an important distinction, because even if ABM is right for you, it should not be your only approach. No matter how aligned your target market and internal operation is with the questions above, you'll likely need supporting sales and marketing tactics in addition to ABM.
In today's highly complex and slightly confusing marketing arena, going into 2018 planning knowing that you should be thinking about how to blend both proactive outreach tactics like ABM with inbound marketing tactics gives you the best chance to successfully build a scalable, predictable and repeatable revenue generation machine to not only hit but exceed (conquer) your revenue goals.
Square 2 Marketing – Innovating Marketing And Sales To Match Today's Buyer Behavior!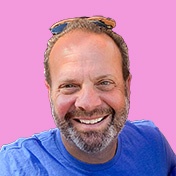 Mike Lieberman, CEO and Chief Revenue Scientist
Mike is the CEO and Chief Revenue Scientist at Square 2. He is passionate about helping people turn their ordinary businesses into businesses people talk about. For more than 25 years, Mike has been working hand-in-hand with CEOs and marketing and sales executives to help them create strategic revenue growth plans, compelling marketing strategies and remarkable sales processes that shorten the sales cycle and increase close rates.