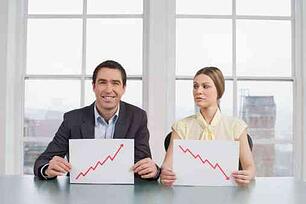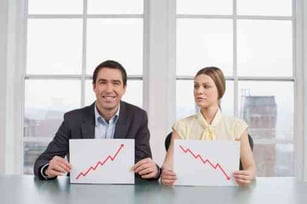 Lead nurturing is the practice of staying in close contact with people who have expressed interest in your company. However, there is more than one methodology that can be applied to your lead nurturing marketing tactics.
Inbound marketing lead nurturing involves building rapport and earning a prospect's attention. This approach prominently features a thorough understanding of all the touch points a prospect might experience while interacting with your business.

On the other hand, traditional lead nurturing is more about forcing prospects through your sales process regardless of their buyer journey.
One isn't better or worse. They're just different, and understanding those differences makes you a better marketer.
Let me illustrate an example of both inbound marketing lead nurturing and traditional lead nurturing.
Inbound Marketing Lead Nurturing
Prospect A visits your site and signs up for your monthly email newsletter. As a result of this request, Prospect A gets a personal email from you, offering them a blog subscription and allowing them to customize how often they get notified of new blog article availability (daily, weekly or monthly). In addition, this email features links to three of the most popular blog articles on the site.
Three days later, Prospect A gets another personal email from you, this time with information about an upcoming webinar on a topic that is related to the two website pages this person spent most of their time on while visiting your site. This same email offers Prospect A the ability to download an e-book that provides even more educational information on the webinar topic.
Three days after that, Prospect A gets a personal email from your VP of Operations. This email has industry-specific links to a how-to video series. In the P.S. line at the bottom of the email, there's a link to an infographic that's designed and written specifically for people in Prospect A's industry.
Finally, Prospect A gets a personal email three days later with a special offer for a 30-minute, in-person review, audit or assessment with one of your Specialists to discuss the current situation at their company. This email also lets the prospect know that unless they are interested in continuing the lead nurturing campaign, this will be the last of the series. If they want more information sent directly to their inbox, they can subscribe to the blog and get info daily, weekly or monthly – it's 100% up to them.
Key Takeaways From The Inbound Marketing Lead Nurturing Campaign
All of the emails are personal. Not personalized, but personal. They're from people at your company and written as if they came from an individual, not a company.
All of the emails are educational and helpful in nature. Not one is requesting to set up a phone call, schedule a meeting or send out pricing info.
There are no accompanying outbound phone calls to people who never asked to be called. Each of the emails offers the prospect options. The prospect is either interested or not. No other outreach is planned.
Each of the offers is based on previous behavior. People who download a specific whitepaper or e-book get a set of additional offers. People who visit specific website pages get offers related to the issues in common with users visiting those pages.
The result is a much more positive experience for the prospect, which translates to more referrals, a shorter sales cycle and a higher percentage of sales-qualified leads. We've also seen open and click-through rates almost double versus more traditional approaches to lead nurturing.
Traditional Lead Nurturing
Prospect A visits your website, and before they can do anything, a pop-up box appears to ask them if they'd like to subscribe to your email newsletter. They say "yes" and immediately receive a promotional email with details on product availability, special discount offers and a limited-time-only option for free shipping.
The next day, Prospect A gets an email from sales@yourcompany.com, asking if the person would like to schedule a call to discuss all the services your firm provides. That same day, your call center makes a call to the prospect to see if they can have a conversation with them. The call goes to voicemail, where they leave a message.
One day later, Prospect A gets another phone call from your call center, who leaves another voicemail message. That same day, Prospect A gets an email with a link to download a product catalog and a request to get custom pricing on any of the products they might need.
Three days after that, they get another email from sales@yourcompany.com, this time wanting to know if they're ready for that call to discuss products and services. They also get a final phone call just in case they didn't get the other messages you left for them on the previous two days.
Finally, Prospect A gets an email the next day, letting them know that since they haven't replied to any of your emails or phone calls, this is their last chance. All they have to do is "click here" to schedule their call. If they don't, this will be the last email you send.
Key Takeaways From The Traditional Lead Nurturing Campaign
It feels like a traditional sales process. This campaign is trying to sell the prospect, and it's obvious. The prospect's defenses go up, and they're unlikely to feel safe enough to want to request any personal contact.
There's very little educating going on. This makes the entire exercise about you and your company, not about your prospect and their issues.
How would you feel about being on the other end of this campaign? Probably not great. You'd be more likely to ignore all the emails than open or click through to anything. This makes your lead nurturing virtually worthless.
No one is going to be talking about or referring your company to anyone after this series of emails and phone calls. It's completely unremarkable, and some people might even consider it aggressive.
The result from a campaign like this is not going to be extremely positive. It's not going to result in your company standing out, and the chances of your prospects continuing to stay engaged are very low. You've all seen emails like this: "Buy now, and take 10% off. Purchase these products today." In almost every scenario, most of us don't feel good about the company or their brand, and we definitely don't respond to those sales tactics anymore.
I want everyone to know that these are extreme examples of real-life campaigns. I've exaggerated a bit to make a point and to show you the differences in thinking. I'm sure there are people who have had very good results with the traditional approach. I'm also sure that many more people have had even greater success using the inbound marketing methodology. In the end, you have to decide which way is right for you, your company and your prospects.
Start Today Tip – Make sure ALL of your ongoing communications with prospects are mapped out. You don't want to overcommunicate or not communicate enough. Use their response data to show you the way. High opt-out rates mean you're overdoing it. High open and click-through rates mean your prospects value your content and you might be able to send them more stuff more frequently. Use the data to drive your ultimate decision. Remember: The ONLY goal for your email marketing and lead nurturing is to get them back to your site and to stay front of mind with all your best prospects.
Square 2 Marketing – Leading The Reality Marketing, Inbound Marketing And Inbound Sales Revolutions!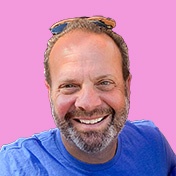 Mike Lieberman, CEO and Chief Revenue Scientist
Mike is the CEO and Chief Revenue Scientist at Square 2. He is passionate about helping people turn their ordinary businesses into businesses people talk about. For more than 25 years, Mike has been working hand-in-hand with CEOs and marketing and sales executives to help them create strategic revenue growth plans, compelling marketing strategies and remarkable sales processes that shorten the sales cycle and increase close rates.