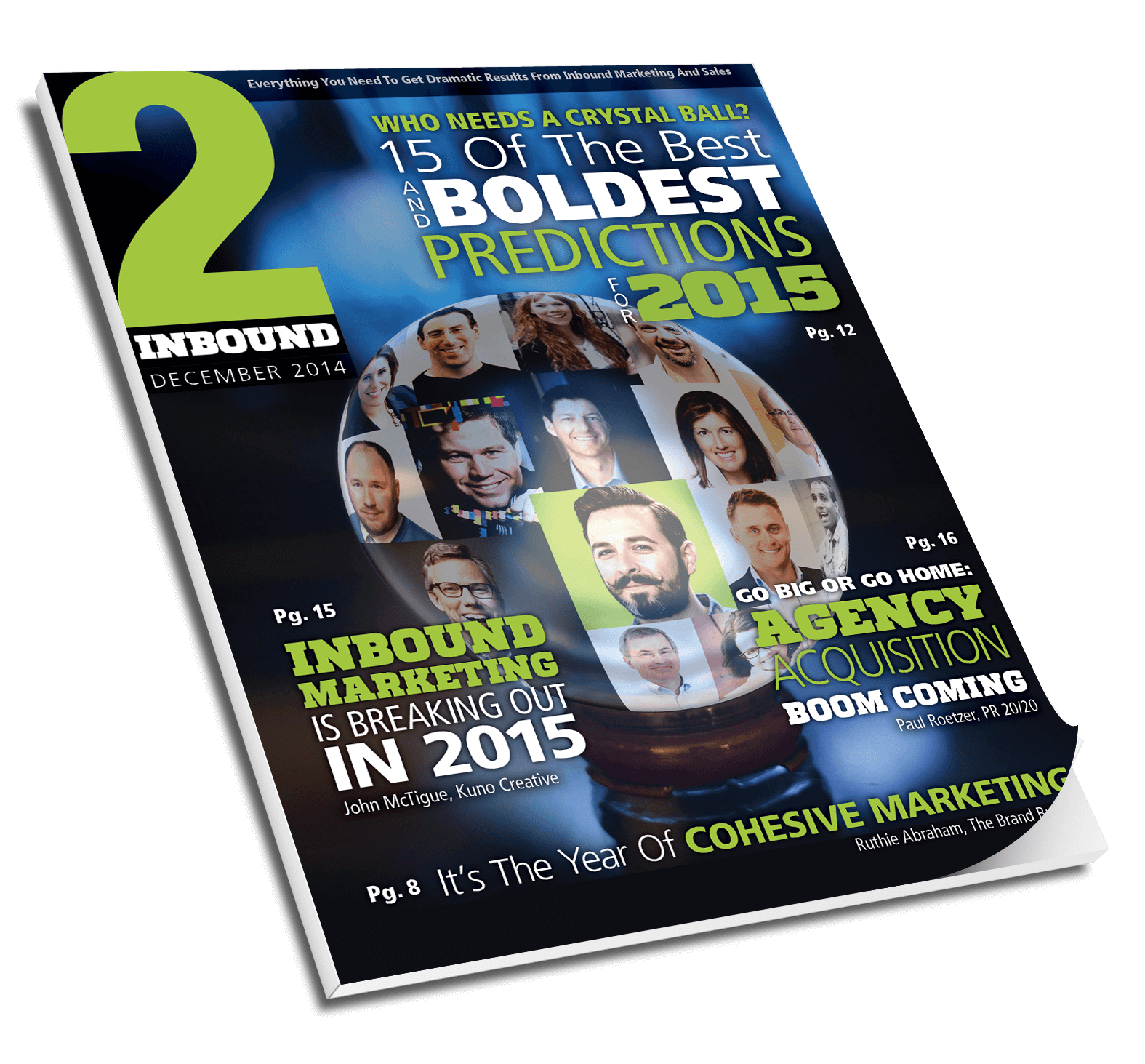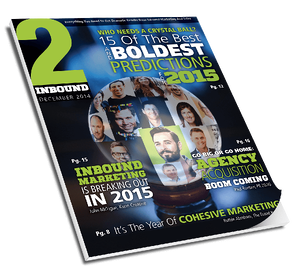 Being able to see into the future is often reserved for science fiction movies.
Yet, Wayne Gretzky once said that a good hockey player skates "to where the puck is going to be, not where it has been."
This always resonated with me. For us to be successful, we have to see where the market is going and make sure our companies are there in time to take advantage of it.
This month, we launched our December issue of 2Inbound, which is dedicated to helping all of you see what's coming and making sure you're in position to take advantage of it. We've collected some of the world's best and brightest marketing thinkers. We've asked them to tell us what they think is going to happen in 2015, and we put their insights all together in a MUST-READ edition of 2Inbound.
In today's blog article, I'm going to share some of my forecasts for 2015 to help all of you get there ahead of your competition and prepare for your inbound marketing planning exercises.
Inbound Sales Will Emerge
Since the beginning of time, sales and marketing have been separate departments and separate teams. This historic disconnect is going to begin dissolving in 2015. Marketing and sales departments are going to start merging into focused revenue teams. This means that the sales team is going to need an entirely new and innovative go-to-market approach. The sales processes will need to be reworked, and sales people will need to know how to include content in their outreach, how to educate instead of sell to prospects, how to use social media to connect with prospects and how to make prospects feel safe so they say yes to your business. Your current sales effort will need to become an inbound sales effort if you want to drive revenue.
Strategy And Planning Around Inbound Will Be Mandatory
Today, people are still practicing inbound without a plan or strategy. Not every inbound marketing agency does planning before starting the website, content and email marketing. However, our research, data and experience have shown that the plan and strategy are key factors of why some client programs deliver and some don't. In 2015, people will realize that these aren't optional. As much as some would like to jump right to the fun stuff, strategy and planning are requirements if you're expecting leads.
Performance-Based Engagements Will Become More Common
As inbound agencies get better at inbound, they're going to become much more comfortable with performance-based engagements. This type of engagement puts a percentage of the investment at risk based on the actual performance of the program. Typically, this means that your agency is committing to delivering a certain number of website visitors and/or leads into your sales process. If it delivers, the agency gets a performance bonus; if it doesn't, it gets a reduced payment from you.
Agency Acquisition Will Accelerate
There are so many agencies not calling themselves inbound agencies that it makes sense to see a roll-up of smaller ones into a mega inbound marketing agency. This bigger agency is going to offer clients advantages in the areas of expertise, training for its teams, tools it has access to and its ability to generate results for clients. Large agencies are also going to be able to offer performance-based engagements because there are internal processes, systems and methodologies in place to ensure that clients get the results they expect and more.
The world of inbound is changing very quickly, and that is going to continue in 2015. This means you have to be smarter about the decisions you make. If you're a business owner, CEO, COO or marketing executive, you need to be sure that your team knows exactly what they're doing from an inbound perspective. If you've decided to hire an inbound marketing agency, you need to be clear about the due diligence that's necessary to find the right one to get you to your goals.
Start Today Tip – The best way to get ready for 2015 and beyond is to start considering some of the predictions that our panel of experts are speaking to in the December issue of 2Inbound. Make sure their vision aligns with your plan for 2015. You still have time to make changes to your plan based on their vision and guidance. To see their predictions, click on the magazine below to sign up and download the December issue.
Square 2 Marketing – Leading The Reality Marketing And Inbound Marketing Revolutions!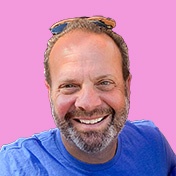 Mike Lieberman, CEO and Chief Revenue Scientist
Mike is the CEO and Chief Revenue Scientist at Square 2. He is passionate about helping people turn their ordinary businesses into businesses people talk about. For more than 25 years, Mike has been working hand-in-hand with CEOs and marketing and sales executives to help them create strategic revenue growth plans, compelling marketing strategies and remarkable sales processes that shorten the sales cycle and increase close rates.