INBOUND 2016 Is Filled With Hundreds Of Amazing Sessions; Here Are Four Of The Best
Today starts the influx of inbound marketing evangelists at HubSpot's INBOUND 2016 conference in Boston. With pre-registration allowing people to get into sessions before attendees even arrive in Boston, it's critical that you do your best to lock down and save your seat.
The worst-case scenario would be arriving at the session room only to be locked out by room monitors. Here are the four must-see sessions at INBOUND 2016; if you ONLY went to these sessions, I can promise you'll get very high ROI for your investment in the conference.
1) If you run an inbound marketing agency, this first session is for you: How Agile Marketing Transformed Our Agency: A Behind-The-Scenes Story Of Our Journey To Agile. Yes, this is my session. It's the only agency track session they allowed me to do, so if you want to see what Square 2 Marketing has been up to over the last year, this is the session for you.
I'll go into great detail about what worked, what didn't work, what you need to be considering and how you need to start thinking about using Agile marketing in your agency to make more money and get clients better results.
2) If you're into sales process improvement, inbound sales or how to help your sales team close more new customers, this is the perfect session for you: How To Press The Prospect's Buy Button With Inbound Sales. This is my session in the inbound sales track.
This session is for anyone and everyone who wants to be better at sales and use inbound sales systems and processes to achieve that goal. I'll show you why inbound sales works and why it's perfectly matched to today's buyer behavior. I'll show you how to use inbound sales to make prospects feel safe, how to appeal to their emotional side, how to help them rationalize their decision and how to create an experience that makes them say "yes" every time. You won't want to miss this.
3) Are you running an inbound marketing program and wondering why you're not getting better results? If so, Eric Keiles is your man, and you won't want to miss his session: Strategy Before Tactics: The Secret To Achieving Amazing Inbound Marketing Results.
We've seen hundreds of inbound marketing programs that are broken, and the missing ingredient time and time again is marketing strategy. Eric, the CMO at Square 2 Marketing, will go through all the steps required to create an inbound marketing strategy and show you why if it's missing you won't be able to get clients the results they expect. He truly is a great speaker, and you're sure to be entertained and educated.
4) If you're into the tactics and want to learn how to get more leads from your current website, this session from Gabe Wahhab is right up your alley: Demystifying CRO: A Beginner's Guide To CRO For Low-Traffic B2B Websites.
Getting your website to produce leads is a key component of inbound marketing, and Gabe will share some of our secrets to taking a website with low traffic numbers and optimizing it so the site produces results. There aren't a ton of resources that focus on CRO for B2B; most focus on B2C and big brands with hundreds of thousands of monthly visitors or more. Gabe, director of interactive services at Square 2 Marketing, will show you how to drive leads with some simple and easy-to-implement CRO techniques.
INBOUND can quickly overwhelm you with panels, options, breakouts and general sessions. To help you get the most from your time, in addition to these sessions, look for speakers with known reputations as both speakers and practitioners. People like Paul Roetzer, Marcus Sheridan, Oli Gardner, David Baker and Rand Fishkin all provide amazing content, amazing sessions and leave you with clear learning to help you get more from your inbound marketing.
Square 2 Marketing – Inbound Results Start With ME!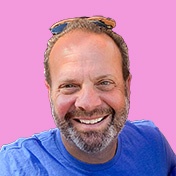 Mike Lieberman, CEO and Chief Revenue Scientist
Mike is the CEO and Chief Revenue Scientist at Square 2. He is passionate about helping people turn their ordinary businesses into businesses people talk about. For more than 25 years, Mike has been working hand-in-hand with CEOs and marketing and sales executives to help them create strategic revenue growth plans, compelling marketing strategies and remarkable sales processes that shorten the sales cycle and increase close rates.