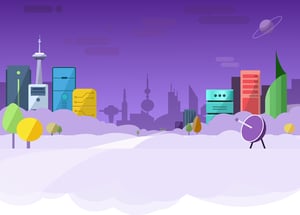 With best practices constantly evolving, company websites can quickly become outdated. While running a small business can be overwhelming, it's crucial that the face of your company makes a great first impression. Our attention spans are shorter than ever, and a strong website design is key to keep visitors on your site and to convert them into customers.
Kloudville, founded in 2013, was due for a website upgrade when we took them on as a client. As a suite of cloud-based business applications, Kloudville helps small business owners streamline their operations.
Communicating your company's unique value through your website is a crucial part of the inbound methodology. To be recognized as an industry leader, Kloudville's website needed to reflect their values and the high quality of their enterprise-grade products.
The Challenge
Kloudville is a unique and innovative company—but their website did not reflect that. The cloud-based technology platform is highly customizable, but due to the lifeless images and graphics on their website, it appeared to be like any other company. The homepage banner was dull and corporate. Generic stock photos used throughout did not engage visitors or set Kloudville apart from its competitors, causing visitors to quickly leave the website.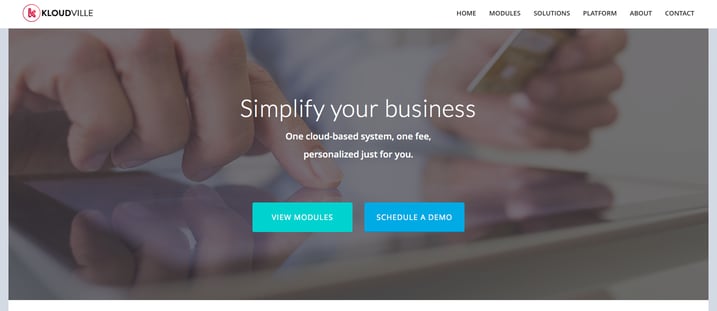 Our client wanted a custom design solution that would be true to their brand. Small business owners can be inundated with information and tools to help them run their companies, so we needed to make Kloudville's exceptional product stand out.
The Redesign
The homepage is one of the most important website pages. Creating a new banner was thus a crucial part of the website redesign. Our in-house graphic designer created a new custom banner that brings Kloudville to life. The futuristic city made up of CPUs and computer towers represents the name of the company—the city in the sky. This creative banner demonstrates how business owners can run their company through one central cloud-based system.

To convey the benefits of Kloudville, the headline is clear and simple. We avoided jargon and technical language so users can immediately understand how Kloudville can help them. Due to increased white space, users can now easily find all the information they need.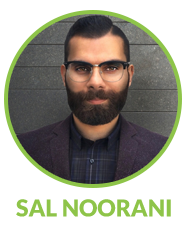 "SalesHub passionately brought Kloudville's essence to life through this banner, which illustrates a fictional village. The buildings are in the form of computer towers, servers, and databases all suspended in a futuristic city in the clouds, which successfully represents our cloud-based product offerings."
—Sal Noorani, Business Development Analyst
The newly added calls to action on the homepage enable users to easily navigate the site and take steps to become leads. Through action-oriented language and bright colours in the CTAs, we encourage users to take the next step—whether to request a demo or learn more. Our animated icons match the colours of the banner to ensure consistency and thus strengthen Kloudvile's brand identity.
We also included an animated video so users can learn what Kloudville is all about in under a minute. Since Kloudville aims to help business owners organize their companies and boost productivity, their website no doubt needed to be organized and clean.
In addition to the new home page design, we designed and built a custom resources page to showcase all of their great whitepapers, case studies, and videos. Using the HubSpot COS, we were able to create easy-to-use modules that make it easy for our client to add a new resource, tag it, and sort it by content type.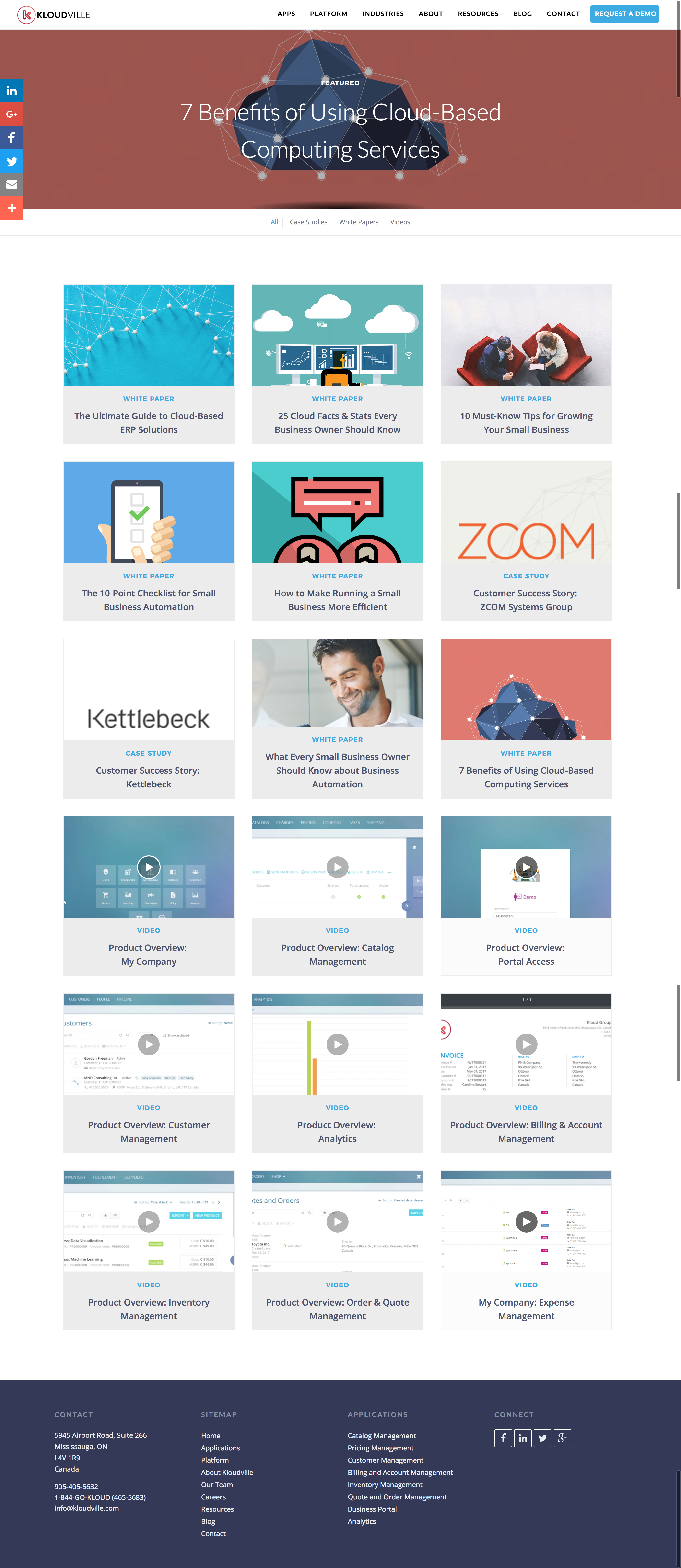 We also created a custom PPC landing page that uses animation to focus the visitors' attention to two of the most important areas of the page.
The first is obviously the "Schedule Demo" CTA. We designed a satellite that points at the button to create a line of sight. Additionally, we used CSS animation to show radio waves coming from the satellite, lighting up the button. When visitors click on the demo button, a form pops up to collect their information in exchange for the free demo.
Second, we wanted to draws visitors' attention to the animated explainer video we created for the client. We used an animated GIF from a section of the video that loops perfectly, prompting visitors to click and watch.
To make this page easy to share on social media, we used the floating bar social share buttons from AddThis.
The image below is static, but you can see the live animation here.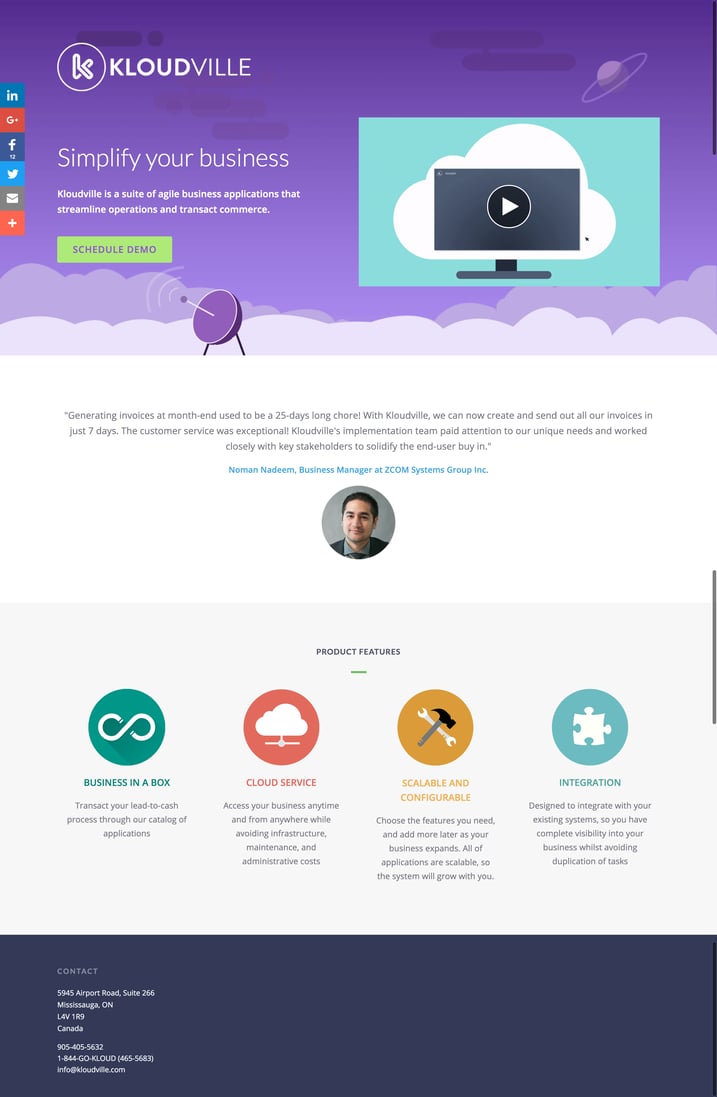 The Results and Impact
Our custom website design played a key role in converting traffic into leads. After migrating the Kloudville website to HubSpot and redesigning it in March 2017, we've had over 6,000 views, a 3.8% submission rate via paid search, and over 100 new contacts.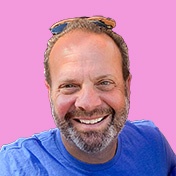 Mike Lieberman, CEO and Chief Revenue Scientist
Mike is the CEO and Chief Revenue Scientist at Square 2. He is passionate about helping people turn their ordinary businesses into businesses people talk about. For more than 25 years, Mike has been working hand-in-hand with CEOs and marketing and sales executives to help them create strategic revenue growth plans, compelling marketing strategies and remarkable sales processes that shorten the sales cycle and increase close rates.