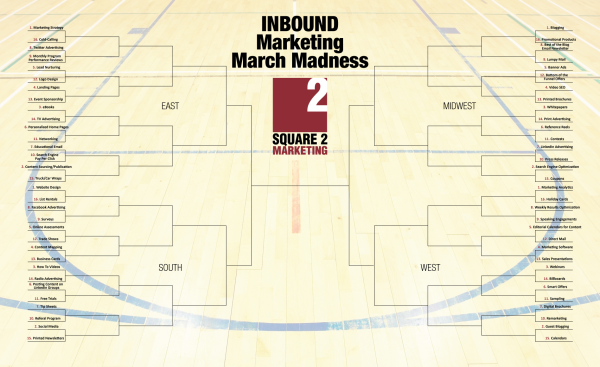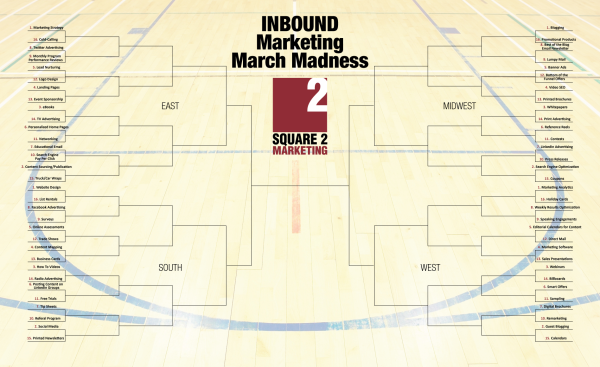 Today starts the frenzy known as March Madness, when 64 of the top college basketball teams fight for the national championship.
So, I got to thinking, what if we did a field of 64 for the top marketing tactics and played those out over the course of the NCAA tournament in a similar way, selecting tactic by tactic until we finally find the best inbound marketing tactic to crown as our Inbound Marketing Champion?
Click on the image to see it in a larger, more easy to read, format.
To the right, you will find the field of 64 – the 64 most popular and time-tested marketing tactics, including traditional outbound tactics and some of the newer inbound marketing tactics.
Every day, while the actual NCAA Tournament plays, we will follow the same schedule. Since the tournament starts today, we will play 16 games today and report on those results tomorrow. Tomorrow, another 16 games kick off, so we will report on those on Saturday, and so forth until the tournament is completed in early April.
Sounds like fun, right?
Here we go. Take a look at the bracket to the right. I know it's small, but tomorrow, you will be able to click on it and see it larger to get a good look at the field of 64 marketing tactics.
These were selected based on 10 years of experience working with businesses big and small, businesses in all industries, businesses just like yours. If you look closely, I'm sure many of you will recognize tactics that you've tried in your businesses, some successfully and others maybe not so successfully.
Over the next few weeks, we will select winners in each game based on the following criteria. As you might expect, the criteria includes elements of Reality Marketing, inbound marketing, experiences generating results for clients and our scientific approach to marketing.
Is it quantifiable? One of the major tenets of Reality Marketing is measurement – if a tactic isn't measurable, or isn't easily measurable, it might not advance too far in our tournament.
Does it earn attention or have to buy the attention of your prospects? Today's buyers don't want to be advertised to; they want to learn and be educated. So, if the tactic doesn't add value, but simply interrupts, it might not go too far, either.
Do we have actual performance data on a specific tactic? If we've been able to generate real results for real clients using the tactic, it's probably going to do well in our tournament.
Does it contribute to an experience for your prospects? Today, marketing is about differentiation and creating remarkable experiences for your prospects, which typically starts from a prospect's very first visit to your website. So, the tactics that contribute to delivering that experience are going to do well.
Does it move prospects through the sales funnel? Educational tactics and lead nurturing tactics are going to be successful when they go up against tactics that are more promotional in nature.
Each morning during tournament game days, I will collect the combined wisdom of the team here and share their views on which tactics get to advance and why. Your comments are welcome as the tournament progresses, but to keep things simple, all decisions are final.
We would love it if this activity sparked an active debate on which tactics work well and which ones don't work as well. Our goal here is to share experiences and results, as well as to help all of you benefit from the work we have done with clients over the past 10 years.
Start Today Tip – Get out a pen and get involved. Fill out your own bracket and watch the tournament live on our blog. Well, maybe not so live, but you will get to see the tactics progress through the tournament over the next few weeks. Perhaps you are executing a few of the tactics that get knocked out early. This might prevent you from investing money in tactics that will get out-performed by other tactics – perhaps even less expensive tactics. Stay tuned.
Square 2 Marketing – Leading The Reality Marketing And Inbound Marketing Revolution!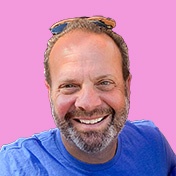 Mike Lieberman, CEO and Chief Revenue Scientist
Mike is the CEO and Chief Revenue Scientist at Square 2. He is passionate about helping people turn their ordinary businesses into businesses people talk about. For more than 25 years, Mike has been working hand-in-hand with CEOs and marketing and sales executives to help them create strategic revenue growth plans, compelling marketing strategies and remarkable sales processes that shorten the sales cycle and increase close rates.