Marketing experts all over the world are talking about content marketing. Buyer behavior has changed, and today, your prospects are looking for educational content in order to feel safe engaging with your business. The real question is not, "Should we create this content?" but, "How much content do we need to drive up lead generation?"
There are very few inbound marketing agencies that have the research, data and experience of running inbound marketing campaigns for well over 100 clients. As a result, very few have tested and evaluated a multitude of content configurations as part of an inbound marketing program.
Good news, we know exactly how much content you need to create in order to impact leads for your company.
I mentioned a few days ago that your website visitors are coming to your site over and over again. That's a behavior we want to encourage, and our research has shown that your marketing program needs to include at least one new piece of educational content every single month.
This means you need to plan for 12 original pieces of content in 2014. These include e-books, whitepapers, research studies, tip guides and infographics. Make sure that they are all downloadable and shareable.
Here's an example of a six-month content calendar for one of our IT Services clients.
January – At the beginning of the year, you should consider focusing on prospects who are thinking about planning for 2014, or thinking about doing something different to kick off the new year. E-book: The Latest Tips And Trends For Outsourcing Your IT Support In 2014.
February – Each month should offer its own special connection to events or holidays occurring in that month. You should consider weaving these into your content titles. Tip Guide: 12 Remarkable Services Progressive IT Firms Provide That You'll Love. (A Valentine's Day theme.)
March – Continue with the idea of connecting your content to the world with a March Madness-themed infographic in March. Infographic: The Top 64 Improvements You Should Make To Your IT Infrastructure To Increase Productivity Across Your Small Business.
April – Everyone has to deal with the tax man in April, so focus a whitepaper on cost savings. Whitepaper: 8.5 Ways To Save Money (So You Can Pay Your Taxes) By Outsourcing Key IT Support.
May – You may have noticed that we are cycling through different forms of content: e-books, tip guides, infographics and whitepapers. This doesn't impact performance, but it keeps an element of variety in your content plan. For May, return to an e-book. E-book: 30 Days To Putting A Spring Into Your Step By Moving Mission-Critical Software To The Cloud.
June – People in this industry are constantly discussing how to measure whether an outsourced IT provider is doing its job or not. So, for June, we give prospects an answer to that question with a tip guide. Tip Guide: 10 Key Metrics You Should Use To Measure The Performance Of Your Outsourced IT Provider.
When you create your content marketing calendar, make sure you keep two important concepts in mind. First, know your keywords. Make sure those keywords are used in the titles and in the actual copy for all of your content. Second, make sure these titles answer the questions your prospects have when they participate in your sales process. For instance, one of the most common questions our IT Services firm gets in its sales process is, "What are the steps that go into moving software to the cloud?" You should have noticed that the May content selection was a direct answer to that question. Answering prospects' questions is important for both prospect engagement and search engine optimization.
Start Today Tip – Content doesn't get created overnight. Start with an understanding of your keywords and the questions you need to answer. Then, create an editorial content calendar like the one above. Once this is created, you should get started writing the individual pieces. Remember, all of your content needs to be professionally edited and designed, and must include landing pages, CTA buttons, confirmation emails and delivery emails.
A lot of work goes into a content marketing effort. If you aren't comfortable doing it on your own, engage an inbound marketing agency or content marketing firm to help you with the process.
Square 2 Marketing – Leading The Reality Marketing And Inbound Marketing Revolutions!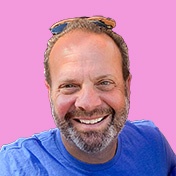 Mike Lieberman, CEO and Chief Revenue Scientist
Mike is the CEO and Chief Revenue Scientist at Square 2. He is passionate about helping people turn their ordinary businesses into businesses people talk about. For more than 25 years, Mike has been working hand-in-hand with CEOs and marketing and sales executives to help them create strategic revenue growth plans, compelling marketing strategies and remarkable sales processes that shorten the sales cycle and increase close rates.