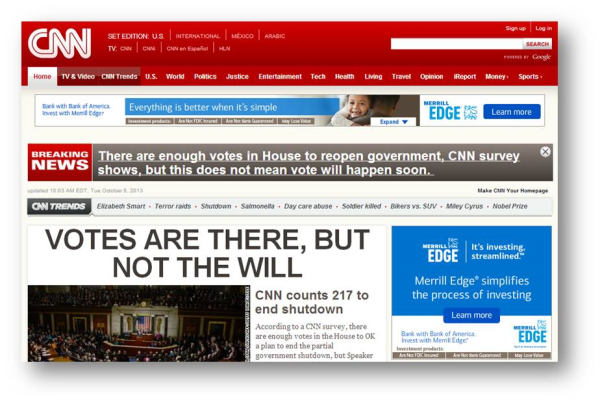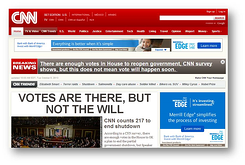 The tide has turned. Prospects don't want to be sold, they want to be educated. Given this, your old-school, e-brochure website has to be transformed into something different. What it should be transformed into is an inbound marketing oriented news site.
What does that mean? It means your website design has to deliver timely, relevant and engaging content. This can be accomplished by making your website appear more like CNN.com or MSNBC.com.
Let me illustrate what I mean.
Here is the CNN.com website. Try to look past the advertising banners; clearly, most corporate websites wouldn't feature that component. However, it is key real estate that CNN knows will get people to click, and we want people to click on your site, too.
The CNN website features a ton of content. Articles, videos, pictures, stories, weather and other news feeds. This information is designed to educate the visitors, keep them entertained and keep them on the site. These goals are the same as the goals of your corporate site. The more content on your site, the longer your visitors will stay and the greater chance you have of turning them from visitors into leads.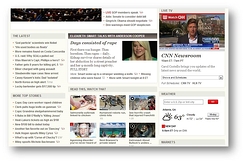 The site is longer than your screen. That's right. The days of making the home page fit neatly into just the visible screen are over. People are comfortable and aware that they need to scroll down to see everything on a corporate home page.
Take a look to the left. All this content is below the fold. It is some of the best stuff – the live feed, a selection of popular videos, special interviews, the most popular news stories, weather and more.
So how do you rethink your website to take advantage of this website design evolution?
Strategy before tactics – Please don't start reworking your website without a clear understanding of the people you want to attract and then turn into leads. This dictates the direction of your entire project. Don't skimp on your marketing strategy. A solid marketing strategy, plan, budget and calendar should take about six to eight weeks to create.
Use multimedia – Today's websites must contain a variety of different media. Your website needs interesting pictures, pictures that your target market connects with and pictures that they can see themselves in. If your visitors relate to your site, they will want to do business with you. People love video, and your website home page needs video, as well. Graphics and illustrations do wonders when it comes to explaining what you do and how you help people just like your visitors.
Articles and feeds – Like I said, your prospects want to be educated. Your website has to deliver fresh, current, creative, entertaining and educational content day in and day out. One way to do this is with a blog. By blogging a few times a week and adding a blog feed to your website, your site is updated regularly with fresh, thought leadership content that your prospects are seeking from your site.
By adding free reports, whitepapers, tip guides, infographics and other educational content, you are giving your visitors the opportunity to learn. In exchange, you get to know the people who are interested in your company, your products and your services.
Deliver an experience – These news sites all have one thing in common: They are working hard to deliver an experience. Headlines, shocking videos and news feeds all help to keep their visitors connected to their brand and their news. You have to think the same way. Your website is going to be the first experience most potential prospects have with your company. If that experience isn't interesting, they are probably going to move on and research your competitors. If the experience is remarkable, it's highly unlikely they are going to consider doing business with anyone but YOU, and that should be your goal.
Start Today Tip – You don't have to start an entire website redesign or rebuild project just to enact some of the changes above. But you do have to think about your site strategically. It has to resonate with your prospects, and you only have 10 seconds (or less) to make that connection. It has to have content, offers, blog posts and educational information, because that's what your prospects want. It has to have video, because people want to watch instead of read. It has to have thought leadership, because such content is hard to produce and most of your competitors won't even bother. This is where your remarkable experience begins.
Square 2 Marketing – Leading The Reality Marketing and Inbound Marketing Revolution!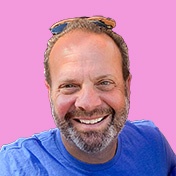 Mike Lieberman, CEO and Chief Revenue Scientist
Mike is the CEO and Chief Revenue Scientist at Square 2. He is passionate about helping people turn their ordinary businesses into businesses people talk about. For more than 25 years, Mike has been working hand-in-hand with CEOs and marketing and sales executives to help them create strategic revenue growth plans, compelling marketing strategies and remarkable sales processes that shorten the sales cycle and increase close rates.