Over the past few days we showed how to turn a viral video and a Yellow Pages ad into an inbound marketing and lead generating tactic. Today we focus on one of the tried-and-true marketing tactics businesses have been sinking money into for decades: the trade show.
While I am not a fan of the trade show, businesses across virtually every industry insist on exhibiting at and attending them. One of my favorite quotes is, "if we don't go to that show, people might think we are out of business." Maybe. Or they might think you were smarter than they were for not wasting your money on that trade show.
Do you know that trade shows cost an average of $10,000 per person participating in the show? This includes all the show costs plus the travel, entertainment, lodging and time away from the office. So if you are planning on setting up a trade show booth and sending four employees, then you're looking at an investment of $40,000. That's a significant investment. Make sure you know exactly how many leads you need from the show and what your close rate on those leads are going to be to make sure you have a strong ROI for your efforts.

Of course, there are a number of ways to ensure you get your return before you even sign up for your next trade show. Most of these ideas are inbound marketing tactics that convert passers-by into leads the same way inbound marketing attracts new visitors to your website and then turns them into leads.
Idea 1 – Don't just show up and wing it. You need a marketing strategy that includes pre-show, in-show and post-show proactive communication with your target audience. You need to create a compelling message that will drive attendees to WANT to stop by and talk to you. Most businesses think that because they are there and attendees are there, under one roof, everyone will stop by.
That is false thinking. A great way to create that compelling message is by offering education. This can be educational content, educational sessions, educational advice or assessments. This offer is going to do much more to attract people to your exhibit than offering a free iPad, t-shirt, mug or stress ball with your logo on it.
Idea 2 – Don't wait until after the show to follow up. By offering educational content at the event, you are able to capture lead information right there on the spot. That means lead nurturing emails can be sent during the show. This shows your company's proactive nature and allows you to quickly qualify those who are actually interested now vs. those who are just starting their research.
It's actually feasible for you to start your sales process right at the show, where both your prospect and your sales people are already located. This helps prospects feel comfortable and accelerates the sales process.
Idea 3 – Know your numbers. If you're going to invest $40,000 into a trade show, you better know how many leads you need to create a compelling ROI. If your average sale per new customer is $10,000 and your close rate is 25% on leads from trade shows and you want a minimum ROI of 100% (or 2x) then you need 32 sales opportunities from the show. That's sales opportunities, not just leads.
To get 32 sales opportunities you are probably going to need between 250 and 350 leads. Plan this lead acquisition out in detail. How many days is the show floor open? How many attendees? How many exhibitors? Keep in mind that show organizers often include exhibitors in the projected attendee numbers. To hit these types of lead numbers you are looking at a show with over 1,000 attendees. Do the math before you commit. If the numbers don't add up, don't do the show.
Trade shows are a huge distraction and a major time suck for most of the people participating in them. If you can't make the ROI work, then don't worry about what other people will think if you aren't there. Just skip it and see what happens. You can do a lot with that money that will contribute even more to reaching your lead goals and new business objectives.
Start Today Tip – If you have a show coming up, try to apply some of the thinking from above and please, don't wait for three weeks before the show to get organized. If you want to get the most out of any trade show participation, you need to be planning for it three months in advance, minimum. This is the only way you maximize the marketing available to you, communicate proactively and have the time to get a remarkable program together.
If you are considering a show, but haven't yet committed, run the numbers and make sure it's going to deliver the return on marketing investment that makes sense to you. If it doesn't, then don't do the show. I promise you won't regret it.
Square 2 Marketing – Leading The Reality Marketing and Inbound Marketing Revolution!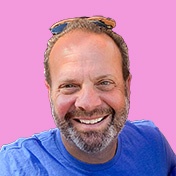 Mike Lieberman, CEO and Chief Revenue Scientist
Mike is the CEO and Chief Revenue Scientist at Square 2. He is passionate about helping people turn their ordinary businesses into businesses people talk about. For more than 25 years, Mike has been working hand-in-hand with CEOs and marketing and sales executives to help them create strategic revenue growth plans, compelling marketing strategies and remarkable sales processes that shorten the sales cycle and increase close rates.