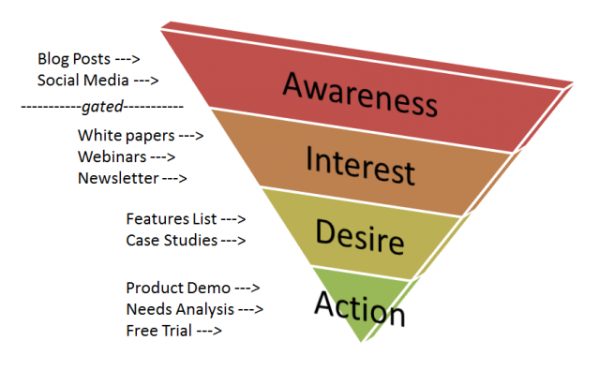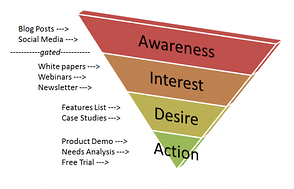 You've been listening. You understand why you need educational content on your website, but what's the best way to strategically place this content in your website design to convert visitors into leads?
First, you should be familiar with the Trio of Offers. Making sure you have content that appeals to prospects at all stages of the buying process ensures that you get leads for the top, middle and bottom of the sales funnel.
This means that most (if not all) pages on your website need a No Risk, Low Risk and Direct Business Offer. A more strategic approach is to map this content to the types of questions your prospects might typically ask while they are spending time on a specific web page.
This is the same exercise we take inbound marketing clients through when we map content to their sales process. The objective of this process is to try and answer a prospect's questions with educational content. Whether in the sales process or paging through your website, your prospects have questions and strategically placing educational content across your website gets them the answers they need to feel comfortable hiring your company.
Take a look at a sample page on your website. Most businesses have a "Services" page. One question a prospect might ask, while looking at this page is, "How do your services compare to some of your competitors?" A brilliant use of content on this page might include a comparison chart—one that highlights the differences in your services vs. the competition's services.
Another piece of content could be a whitepaper titled, "10 Questions To Ask When Comparing Services." This arms your prospect with information they might need to make a solid and safe purchase decision. Now you are educating them instead of selling and this positions your company as helpful, instead of salesy. That positioning goes a long way toward building your prospects' trust in you, your people and your company.
Keep in mind that people purchase emotionally and then rationalize that decision. The more you can do to emotionally connect a prospect to your company, the closer you are to closing the sale. In addition, no one is going to buy anything (no matter what you do or say) until their pain becomes acute. You don't control this, but you can be there when that pain does become acute.
If a prospect remembers you when their pain becomes acute, and they are emotionally connected to your company, you have a very good chance of getting the business.
Content marketing, lead nurturing and inbound marketing as a whole all do wonders for putting you in a position to "get the business."
To be honest, it's a little more complicated than just placing educational content on your website. There is a process that strong inbound marketing supports. Once a visitor clicks on a call-to-action, you need a well-designed landing page that ensures the conversion from visitor to lead. You are going to need clear and concise email communication to deliver the content. You are going to need to start a lead nurturing campaign that strategically delivers additional content timed out to be helpful and not pushy.
These inbound marketing services need to be planned and thought-out in advance. It needs to be part of an overall plan and marketing strategy that ensures the proper delivery of the right message at the right time to the right person.
The better you plan, the better chance you have to help your business get found, get leads and drive sales.
Start Today Tip – Take an inventory of the content assets currently available at your company. Most businesses have educational content in the form of presentations, whitepapers, collateral or case studies. Most of these are probably going to be too salesy, too focused on you and not educational. But if your company is like most, you have some content you can start using right away.
Next, go through the mapping exercise and find out what's missing. Prioritize those missing items and start creating them and placing them on your website as soon as they are finished. Track and test to see which content is the most popular and then do more with the popular items while you sunset those that your prospects don't find interesting. Before you know it, your website will be generating leads and your sales will be growing.
Square 2 Marketing – Leading The Reality Marketing and Inbound Marketing Revolution!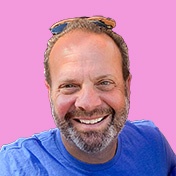 Mike Lieberman, CEO and Chief Revenue Scientist
Mike is the CEO and Chief Revenue Scientist at Square 2. He is passionate about helping people turn their ordinary businesses into businesses people talk about. For more than 25 years, Mike has been working hand-in-hand with CEOs and marketing and sales executives to help them create strategic revenue growth plans, compelling marketing strategies and remarkable sales processes that shorten the sales cycle and increase close rates.