One aspect of inbound marketing that has people confused is how to use the educational content you create on your website.
In short, how do you take all your whitepapers, research studies, eBooks, videos and recorded webinars and repurpose them to drive new visitors to your website?
One marketing activity we all relate to is—the trade show. If you think about a trade show, the experience is a little like this: You show up with your booth and materials. You stand around waiting for people to walk by and then you try to strike up a conversation with them in the hopes that they're a prospect and someone who is interested in what you do, sell or provide. Does that sound about right?
The challenge with the trade show scenario is that it probably costs you around $10,000 to attend the show if you include all the shipping, travel, meals and other associated costs. Another common challenge is that show organizers like to over-promote the number of actual attendees at the show. So if they are expecting 1,000 attendees, you can be sure that only about half will be actual prospects for your business.
The success of these tradeshows depends on the perception that they are the only way to reach so many targeted prospects at once. But, there is a better way. One that's more effective, less expensive and, best of all, doesn't come around just once or twice a year.
The social media site LinkedIn has Groups. Groups are collections of like-minded individuals who are organized to discuss challenges and opportunities that pertain specifically to their industry or their role. There are groups formed around specific philosophies like the Online Lead Generation group. There are groups formed for people who use a specific type of software like the HubSpot Users group. There are groups for virtually everything and everyone.
These groups are frequented by their members on a regular basis and information is freely shared within them. Most of these groups are open for anyone to join. Some of these groups have membership requirements, so you might have to request access. Most offer little resistance to new members who want to join. As a result, almost any business can find a number of groups that include their perfect prospects and most of these groups will be happy to have you join them.
Once you join, you have the ability to post your educational content and gain the attention of these members. Just like you do at a trade show but without all the expenses. More importantly, if you become a respected member of these groups, you can provide your content to fellow members on a monthly, weekly or even daily basis.
Now think about being associated with enough groups to get in front of over 100,000 potential prospects. Now think about how easy it's going to be to post helpful information for those 100,000 people and how many of them could potentially click on your info, travel to your website, convert on your dedicated landing page and become a lead for your business. All for far less than it would take to attend a single mediocre trade show.
Start Today Tip – Spend a few minutes searching LinkedIn Groups. Put in your industry, your specialty or the title of the person you want to speak with about your product or services. With the click of a button you will see a wide variety of groups. Join a few. Spend some time in those groups getting a feel for the discussions, the posts and the flow of information. Make sure you understand each group's ground rules and follow them religiously. Try a few posts to get your feet wet. Then set up a series of educational content-oriented posts and a landing page back on your website. This might take some getting used to but it's one of the fastest and most efficient ways to drive qualified traffic to your site and get leads for your business.
Square 2 Marketing – Leading The Reality Marketing Revolution!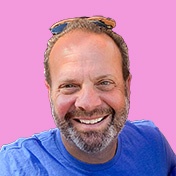 Mike Lieberman, CEO and Chief Revenue Scientist
Mike is the CEO and Chief Revenue Scientist at Square 2. He is passionate about helping people turn their ordinary businesses into businesses people talk about. For more than 25 years, Mike has been working hand-in-hand with CEOs and marketing and sales executives to help them create strategic revenue growth plans, compelling marketing strategies and remarkable sales processes that shorten the sales cycle and increase close rates.