If you've been paying attention then you know the search techniques that used to work are less and less effective in today's world. The changes being made by Google, Yahoo and Bing all favor content and social conversations.
Here are nine ways to improve your ability to get found on all three of the major search engines and focus that effort on converting this new traffic into leads for your business.
1. Know your keywords – Every client we meet thinks they know what keywords their prospects are using to search for their companies. Every time we do the search research other more popular search terms present themselves. You need a strategy around keywords that MUST be set before you start your search engine optimization efforts.
2. Create a portfolio of keywords - The key is to create a collection of keywords and keyword phrases that allow your business to quickly rank highly. Be wary of popular keywords with high difficulty ratings. As attractive as these are its going to take a long time to get you ranked for these words.
3. Think like a private detective – There are some creative ways to get found too. One of the best is to track down all the online properties where your target prospects spend their time. Just like a detective tracks its targets, you need to track your prospects. What blogs do they read? What emails do they subscribe to? What websites do they frequent? What associations are they members of? What trade group websites do they visit regularly?
4. Seed these sites with content - Once you create this list of frequented website properties you strategically place educational content with links back to your website. The more you seed, the more your site will get found and your traffic will increase.
5. Search and social are connected – The major search engines have already recognized that the more we're talking about something on social media the higher up in the rankings that content should appear in search.
6. Get people talking - In addition, conversations, reviews and discussions are going to be the search results consumers are looking for and thus what Google, Yahoo and Bing will be serving up. Don't underestimate the power of social media when you are looking for search results for your company.
7. Blog and blog often – Its Google's world and we just live in it. Their latest update started rewarding websites with the freshest content. This means you have to be updating your website with NEW content weekly at a minimum. The best and easiest way to do this is through your blog. Blogging offers so many search oriented advantages it's hard to ignore. Every time you blog, its fresh content and a new page on your site. If you use your keywords it's an improvement to your on-site effort. If you link a keyword like website design to a page on your website it also serves as a back link to your site.
8. Use a variety of content types – YouTube is the second most used search engine behind only Google. You need to create a variety of content for placement on social media and relevant websites across the internet. Video, ebooks, podcasts, slide shows, presentations, infographics and whitepapers all need to be part of your content development strategy and search engine optimization effort.
9. Monitor monthly – Never in the history of marketing have we had the insight and ability to impact the performance of your marketing program. Monitor the performance of your keywords. Track your site's ability to be found and make small trackable adjustments to your site weekly to see full program optimization.
Start Today Tip – Change your thinking from getting on the first page of Google to getting found. Fire your search engine optimization consultant and start implementing a few of the techniques above. You will see results early and often. As you go through the process make small adjustments to optimize performance.
Square 2 Marketing – Leading The Reality Marketing Revolution!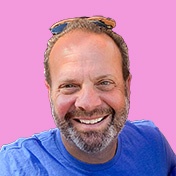 Mike Lieberman, CEO and Chief Revenue Scientist
Mike is the CEO and Chief Revenue Scientist at Square 2. He is passionate about helping people turn their ordinary businesses into businesses people talk about. For more than 25 years, Mike has been working hand-in-hand with CEOs and marketing and sales executives to help them create strategic revenue growth plans, compelling marketing strategies and remarkable sales processes that shorten the sales cycle and increase close rates.