Today's blog is from one of our inbound marketing gurus Joel Capperalla. Joel is Senior Vice President of Customer Solutions with Yoh, a provider of IT staffing solutions including recruitment process outsourcing and social media recruiting strategies. Joel is also a regular contributor at The Seamless Workforce, a blog that covers the latest workforce news, and provides expert insight on staffing industry trends.

Does your inbound marketing play book include a page about taking time to prognosticate? If not, it probably should.
Why? Consider the chart to the right generated from Google's trends tool. It displays the level of search interest to the term 'trends' coupled with a specific year, "2012 trends" for instance.
You will notice that, no matter the year, not only can you predict that in the late fall months interest in the following year's trends will increase, but that the interest level remains fairly high throughout the year slowing only when the calendar has just a couple of pages left. The inbound marketing takeaway? Start predicting the future for your buyers.
How do you start tuning in your crystal ball? These six inbound marketing tips for generating content geared towards annual trends should help you get your soothsayer on.
1. Highlight Trending Product or Service Line: Towards the second half of each year it probably becomes clear which products or services are driving the most promising portion of your sales pipeline. It is likely that there is some nuance or change in the product or service or the demand that represents the increased interest. Take time to list out what represents these changes and how it impacts the growing demand. Be as discrete as possible and turn the observations into easy to read trend lists. Again, this can yield more than one blog post or eBook if the details are broken down discretely enough and applied differently to the different verticals you sell into.
2. Interview Customers: Hopefully you have nurtured your more critical customer relationships over the course of the year. If you have done so, then it should be easy to ask them to comment on what they see coming in the New Year. If possible, get them agree to a recorded phone call or a webcam interview. Turn these interviews into a series of 2013 trends. And if your customer's company prefers that the company name is not used? Then simply take the interview and produce it so that the company name is not given.
3. Provide Leadership Insight: This next tip works best for the organization where leadership understands the nature and value of the openness and transparency of the social web. If this is the case, then schedule time to interview the entire management team on the topic of trends in the coming year. Keep the interviews short and focused on demonstrable activity that is driving your company's publicly accessible product development plan. Do not, however, limit the conversation to just product or service roadmaps. Include every element of your operation and share the emerging trends that will ultimately have an impact on your customers or the marketplace in general. Will buying cycles be different? Will there be changes in evaluating the value of the products and services? What are the external economic or environmental factors that could have an impact?
4. Connect with Journalists, Authors and Bloggers: It is a good best practice to be connected with journalists, bloggers and authors that operate in or cover your market. Take time to solicit one or two paragraph statements that suggest a potential trend in the coming new year. The state of the business of journalism is such that it is as important for the journalist to get digital ink as it is those they write about. Another approach is to simply engage other bloggers in an offer to have a quid pro quo shared post of trends for the coming year. They write one for you, and you write one for them. Lastly, be on the lookout for new publications that are discussing something new in the coming year and have been recently released or will be released in the first quarter of the new year. Interview the author. Believe me, they'll be more than happy to give you a fifteen minute conversation.
5. Invite Competitors: This suggestion is not for everyone, especially those that feel as though their competitive landscape is too cut-throat to take a 'rising tide' approach to content development. If that is not the cases for your industry, however, put yourself in the role of curator for the entire industry. Reach out to your competition and offer to them an opportunity to share what they believe will be coming down the pike in the New Year. Categorize the entries and feature them prominently on your blog for a week or so before and after December 31.
6. Elevate the Ecosystem: No business exists in a vacuum. It is always a member of a larger ecosystem. Define the nature of your ecosystem and solicit feedback from some of the more integral players. Are there changes to delivery models? What will most influence buying patterns? Will the ecosystem at large see any significant categorically new members? Either record the interviews or simply take notes and turn them into blog posts.
You don't have to use each of the suggestions, just choose the approach that feels the most comfortable and get busy forecasting. To have this content inject the most life into your inbound marketing strategy be sure to make the proclamations bold, provide tangible examples when possible, and always align the overall narrative to the value that your product or service offers to the marketplace.
Lastly, do your best to turn these brief pieces of content into something that is a little richer and make it available for download. If properly aligned, these become excellent 'top of the funnel' offerings and should gain plenty of traction throughout the year.
Square 2 Marketing - Leading The Reality Marketing Revolution!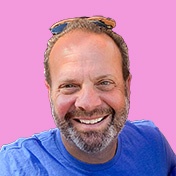 Mike Lieberman, CEO and Chief Revenue Scientist
Mike is the CEO and Chief Revenue Scientist at Square 2. He is passionate about helping people turn their ordinary businesses into businesses people talk about. For more than 25 years, Mike has been working hand-in-hand with CEOs and marketing and sales executives to help them create strategic revenue growth plans, compelling marketing strategies and remarkable sales processes that shorten the sales cycle and increase close rates.