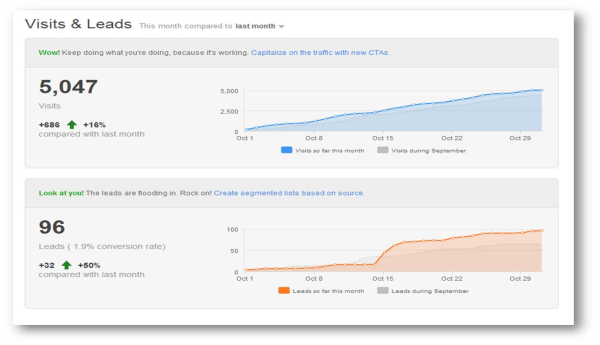 While marketing and advertising used to be considered an art, today it's a science. John Wannamaker's famous quote, "I know half my advertising is working, I just don't know which half," is a thing of the past.
Today, access to information, software tools like HubSpot and new tactics associated with inbound marketing have made tracking the performance of marketing programs a standard operating procedure and "best practice" at most companies.
Here are a couple of key metrics you should be considering for your company's marketing program.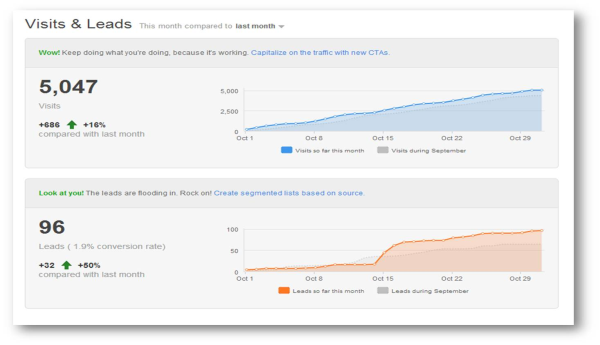 You should have an overview, dashboard, or summary view of overall program performance. In the image shown here, we see website traffic month over month. We also see leads month over month. Access to information like this should be available daily and in real-time. Why?
For the first time in a long time, you can actually impact the performance of your marketing in real-time. Look a little closer at the leads graph (orange) in the image to the right. That bump in the middle of October was the result of a single guest blog post. One guest blog post caused us to exceed our lead goals in the month of October. You could impact your lead generation in the same way.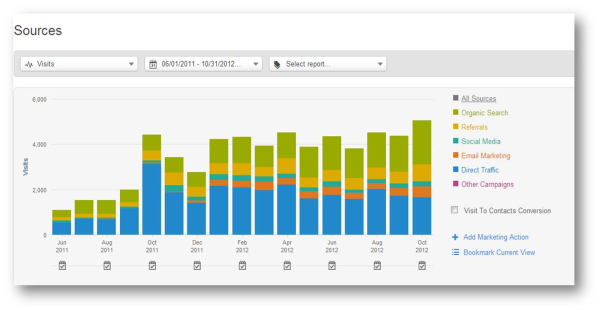 You're going to want to look at sources of website traffic too because this graph gives you insight into which marketing tactics are working and which ones need to be improved. This view shows an overall breakdown of website traffic from a variety of sources. This gives you a good high level view of performance.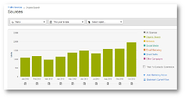 This chart to the right shows you website traffic from organic search efforts. In the month of October, we hit a new record in organic search traffic to our website. If you are reviewing the performance of marketing tactics like organic search, referrals from other sites, social media, email marketing or other tactics, you'll see direct impact on website traffic day by day, week by week and month over month.
This gives you the information you need to make decisions around budget, resource allocation and more. Never before have you had real time insight into the performance of your marketing.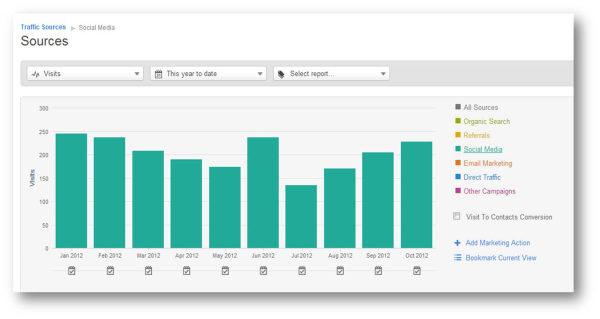 Another important view is the performance of our social media effort. You clearly see an improvement in traffic from the social media efforts when we started aggressively working on including social media in our inbound Marketing Machine.
There are a variety of tools you can use to get this kind of information. We use HubSpot for our internal analytics and we recommend HubSpot to our clients. The software provides charts and graphs like these as part of the standard reporting package. We use the dashboard to review our own marketing program performance three or four times a day and make modifications usually twice a week...sometimes more if the data supports additional changes.
This is how the most successful companies are thinking about their marketing today.
Start Today Tip – You don't need new software to get this information. Google Analytics is a free tool that you can add to your website today. HubSpot allows a free trial for 30 days and both will give you the same insights we discussed above. If you need a little help review the metrics or making changes based on the data, please feel free to reach out to one of our Marketing Strategists, we will review it with you, share some insight based on our experience with other clients, and make a few recommendations on how to improve your ability to get found, get leads and close sales.
Square 2 Marketing – Leading The Reality Marketing Revolution!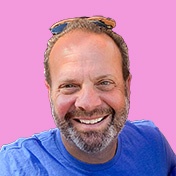 Mike Lieberman, CEO and Chief Revenue Scientist
Mike is the CEO and Chief Revenue Scientist at Square 2. He is passionate about helping people turn their ordinary businesses into businesses people talk about. For more than 25 years, Mike has been working hand-in-hand with CEOs and marketing and sales executives to help them create strategic revenue growth plans, compelling marketing strategies and remarkable sales processes that shorten the sales cycle and increase close rates.